This thai peanut quinoa bowl is the perfect healthy and delicious meal to make! This quinoa bowl is made with tempeh, cauliflower, black beans, edamame, carrots, and peanut sauce, which makes it high in protein and nutrients!
Quinoa bowls have become a huge staple in my life. I swear by them to the point where they have become a weekly staple in my diet. They are also a perfect on the go or meal prep option. All you have to do is cook a bunch of quinoa at the beginning of the week and it lasts forever.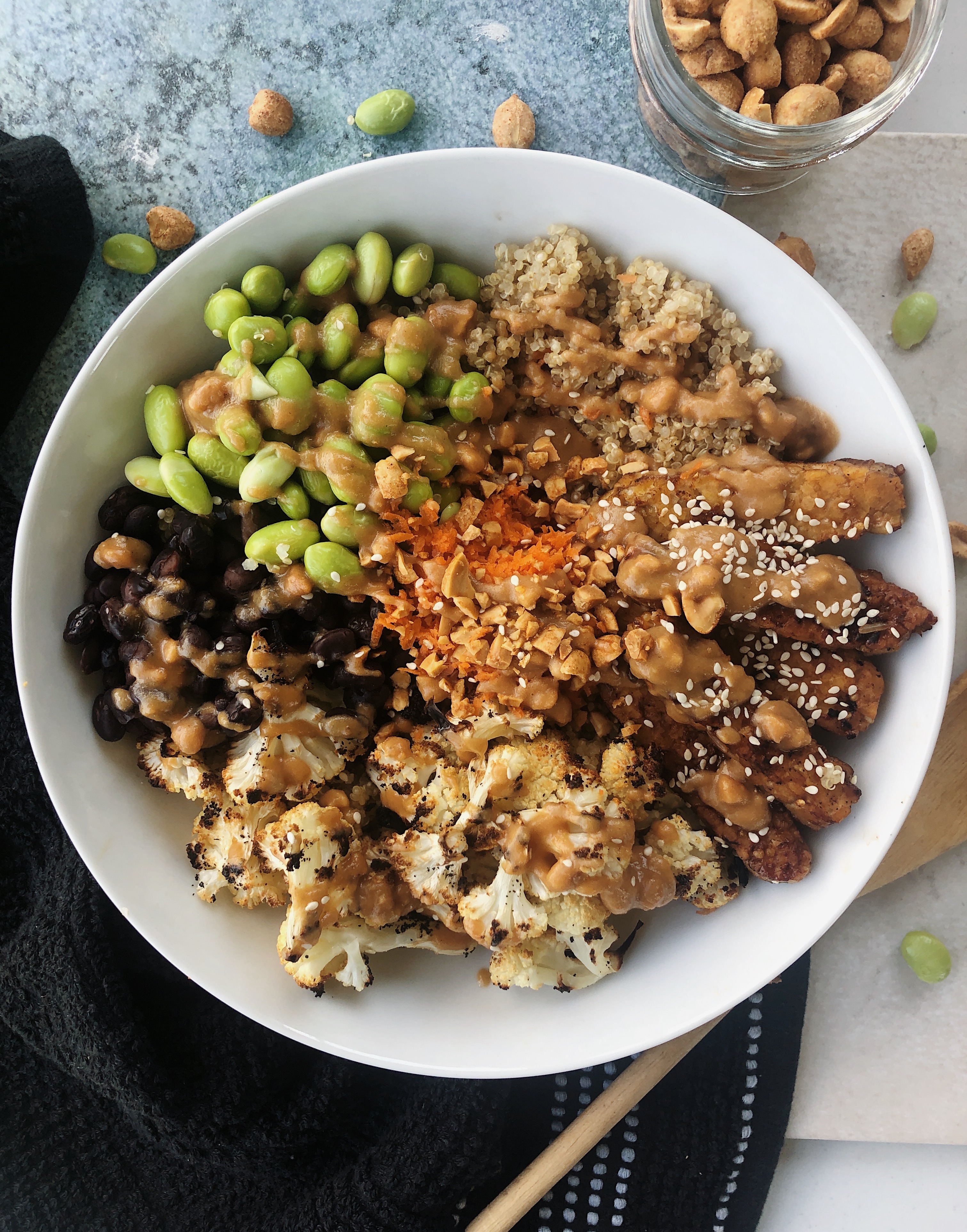 Benefits of Quinoa:
Quinoa is something I try to eat every day or at least every other day. It is one of the only plant foods that is a complete protein (meaning that it contains all nine essential amino acids).
Quinoa is a good source of:
Another benefit of quinoa is that it is extremely high in fiber. 95% of Americans do not get enough fiber in their diets. Fiber is a protective component of our foods. It helps regulate bowel movements, keeps us full longer, lowers blood cholesterol, and regulates blood sugar. For those reasons, it helps prevent colon cancer and heart disease.
As you can see, quinoa is a great food to add as a staple in your diet, whether your vegan, vegetarian, or a meat-eater. It's also relatively cheap. A 16oz bag of organic quinoa costs me about $3.50, and I swear it lasts forever. Just 1/2 a cup of dry quinoa makes two servings. I also like to mix it with rice to make it last even longer and to provide a mix of textures and textures.
How to Make Thai Peanut Quinoa Bowls:
So, today, I have for you a super delicious recipe that has quinoa as the base. Buddha bowls are one of my favorite ways to eat this gluten-free super grain, and I have for you a thai peanut quinoa bowl with tempeh.
Tempeh
For the longest time, I avoided tempeh. I always had it in my mind that it was gross and super salty. I think that came after a bad experience with someone who didn't cook it correctly. Because now I love it! If you struggle with tofu, this may be a better option for you. It's denser and a lot crunchier. It also is a little easier to cook.
To cook the tempeh, chop it into strips and coat it in whatever sauce you want to marinate it in (for this recipe, I use the Thai Chile sauce from Trader Joes). Then you lay it in a saucepan with a little bit of water and I added a little soy sauce, and cook it on both sides on medium heat until it is slightly browned. Super simple and super tasty.
The sauce I used in this recipe has also become a staple of mine because it tastes so dang good. It's equal parts peanut butter, soy sauce, and maple syrup. You just slightly melt the peanut butter and then add in the soy sauce, and maple syrup, and mix together.
Cauliflower
For the cauliflower, I just prepared it by baking it at 350 F for about 20-30 minutes or until crispy. Coat it with a little bit of oil and any seasonings you prefer.
Black Beans and Edamame
For the black beans, I just use one can and add it into a saucepan. I cook it in boiling water for about 5 minutes to soften the beans.
For the edamame, I typically buy it frozen and then add it into the saucepan as well and cook it in boiling water for about 5-10 minutes or until softened.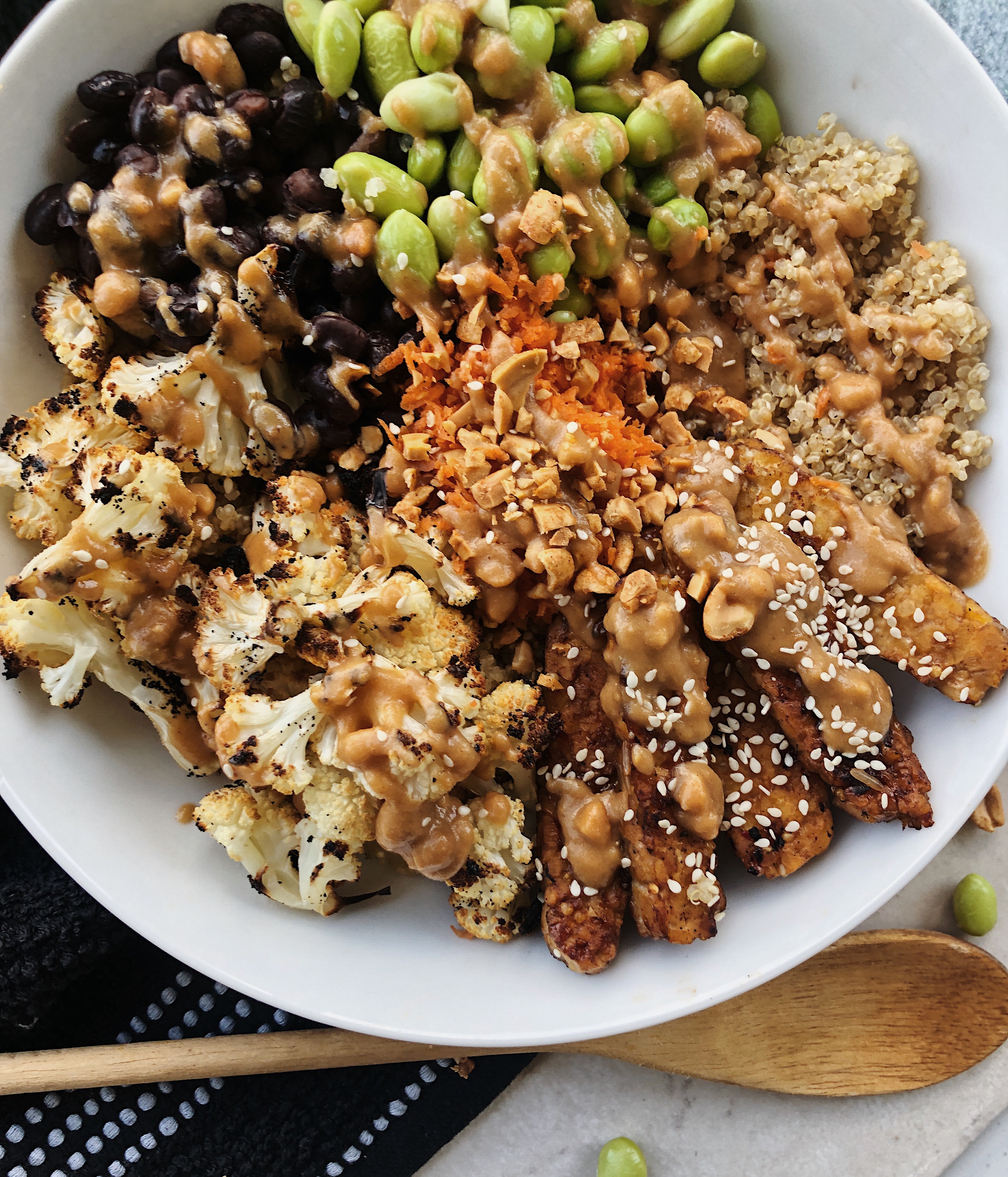 Looking for More Quinoa Bowls to Make? Try These:
Thai Peanut Quinoa Bowl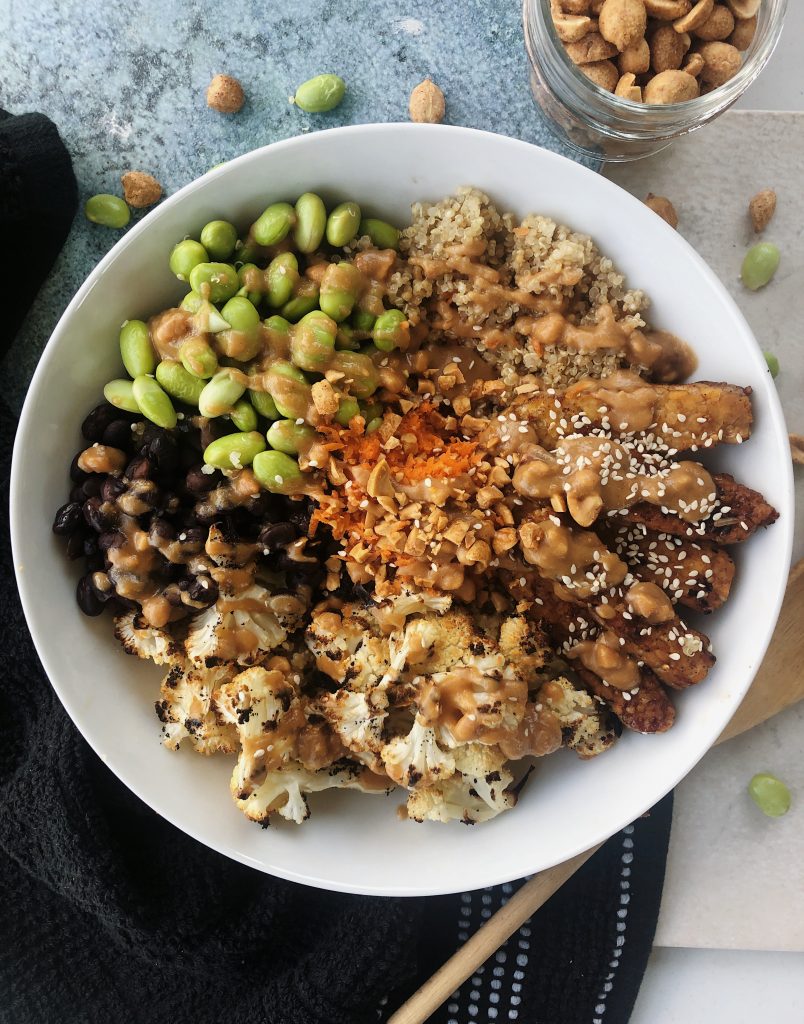 Ingredients
For the Bowl
1/2 cup dry quinoa
1 8oz package of tempeh
2 cups cauliflower
1 cup black beans
1 cup edamame
1 cup shredded carrots
Trader Joes Thai Chile Sauce
For the Sauce
1/4 cup peanut butter (crunchy or smooth)
1/4 cup soy sauce
1/4 cup maple syrup
Directions
Step 1

Preheat the oven to 350.

Step 2

Spray a medium-sized baking sheet with cooking oil and lay down the cauliflower. Spray the cauliflower with oil and add in any spices that you choose (I like to use garlic powder). Bake for about 25 minutes or until slightly crisp.

Step 3

In a medium-sized saucepan, add in the quinoa and a cup of water. Boil the water and then let simmer until the quinoa is fully cooked (all the water should be absorbed).

Step 4

Chop up the tempeh into thin strips. In a bowl, add in the Thai Chile sauce and evenly coat the tempeh in it.

Step 5

In a separate saucepan/ skillet, lay down the tempeh. Add in a few tbsps of soy sauce and water. Cook evenly on both sides until the tempeh is slightly browned and crisp.

Step 6

Once the quinoa is done, pour it into a separate bowl and set aside. In that same saucepan, add in the black beans and cook in boiling water.

Step 7

Do the same for the edamame once the beans are done.

Step 8

Shred the carrots.

Step 9

In a small bowl, add in the peanut butter and heat in the microwave for about 30 seconds or until it is a liquid consistency. Add in the maple syrup and soy sauce and evenly mix.

Step 10

Combine the quinoa, cauliflower, tempeh, beans, edamame, and carrots in a bowl and top with the peanut sauce. Sprinkle crushed peanuts on top and serve.
Meal Cost:
1/2 cup quinoa: $0.87 (A 16oz bag is about $3.50-$4)
1 8oz package of tempeh: $1.69 (From Trader Joes)
1 cup Edamame: $1 (a 16 oz bag is about $2)
1 cup Black Beans: $0.30 (A can of black beans is about $0.60)
1 cup Cauliflower: $0.50 (About $2 for a head of cauliflower)
1 cup shredded carrots : $0.50 (About $0.99 for a 1lb bag of baby carrots)
1/4 cup Peanut Butter: $0.15 (About $1.25 for a 16oz jar of creamy peanut butter)
1/4 cup soy sauce: $0.60 (About $2.49 for a 10 oz bottle of soy sauce)
1/4 cup maple syrup: $1.25 (About $5 for a 8 oz jar of maple syrup)
Total Cost for this Meal: $6.86
Total Cost for all these Items in Full: $19.52
*All prices are based off the grocery stores (Kroger, Aldi, and Trader Joes) where I do most of my shopping*