This protein-packed taco bowl is the perfect weeknight meal to make for dinner or to meal prep for the week! It requires very few ingredients and is super easy to put together. 
Well hello!! It's been a minute since I updated on here and I'm trying my best to make some new recipes for you all! Life has just been crazy, so let me catch you all up on this past month. I started the month with exams, projects, and case studies that seemed like they were coming out of nowhere. Then, it was fall break, which was so much fun but not restful at all. I thought I would have more time than I did and those four days just flew by so fast. Then, the last two weekends of October I was out of town. One, for an amazing retreat. The other for FNCE, which was held in Philadelphia.
I have been working on pushing myself out of my comfort zone recently, and I feel like I accomplished that this month. Two years ago (or even a year ago) I never would have considered going on a retreat where I hardly knew anyone or go on a 7-hour drive trip to Philadelphia with people from my class (who I didn't know super well). Both turned out better than I could have imagined though and I made some amazing friends through both experiences. In Philadelphia, I talked to a ton of vegan companies that I love, heard amazing lectures about GI nutrition, and was inspired by so many amazing people in my field. Now that Octobers over, I can see how much I grew in a short time. I feel more inspired than ever in all aspects of my life. Plus, the weather is finally cooling down, the leaves have changed color, and I'm currently helping my mom set up the Christmas tree (yes, we have now become that family that sets up the Christmas tree before Thanksgiving). So, October was incredibly busy but also was filled with so many areas of growth, learning, and fun times.
Andddd to top it all of, I have a new recipe!! Another quinoa bowl because you guys know that those are my favorite. I was inspired by a Jackfruit booth I stopped by at FNCE and decided to make a pulled jackfruit taco bowl.
How to Make: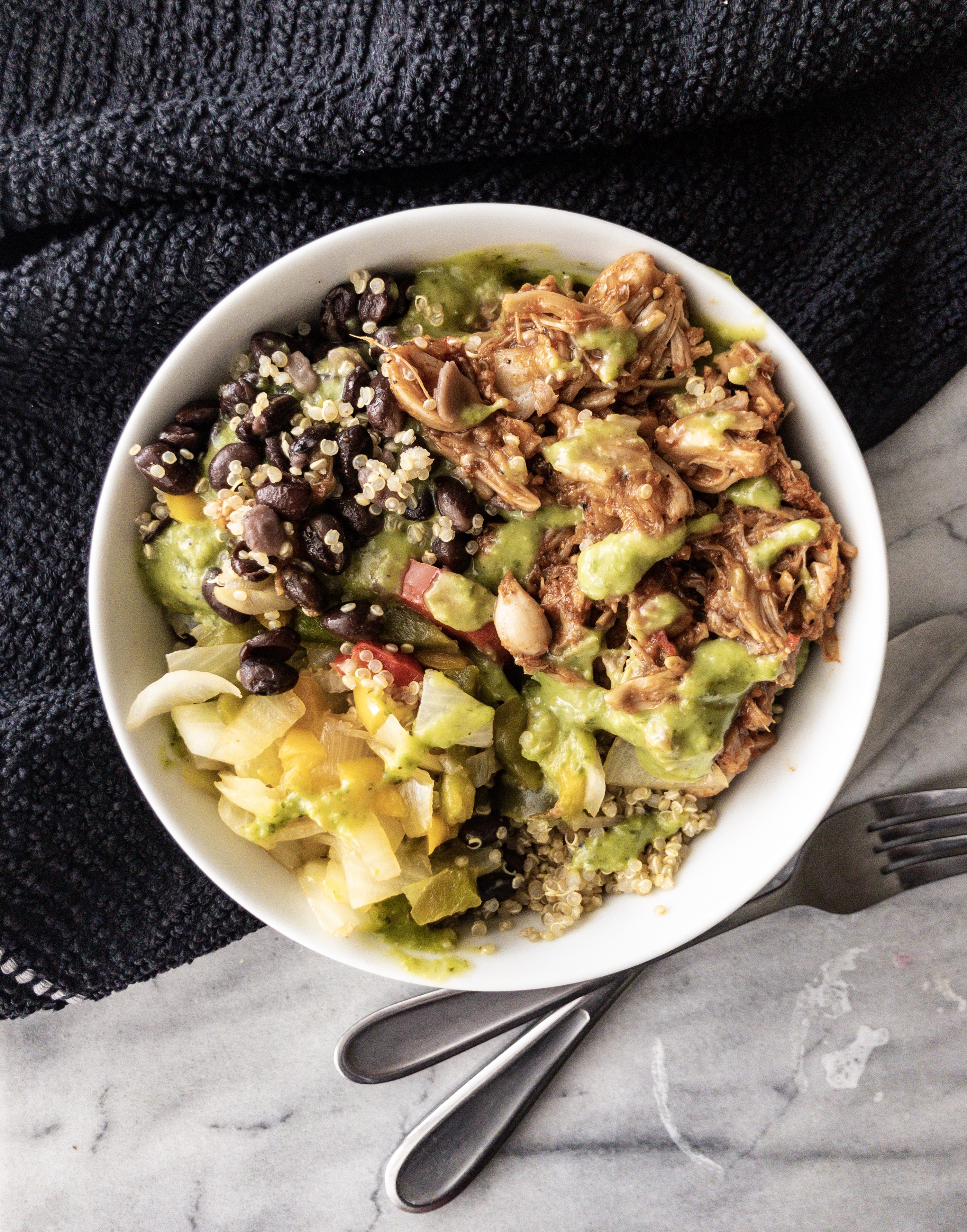 Jackfruit is super easy to make and surprisingly tastes a lot like pulled pork or chicken, depending on how you marinate it. I tend to cook it the easiest way possible, but I know there are plenty of other ways to get it super close to that meaty texture. I use the tinned jackfruit from Trader Joe's because it's way cheaper and way easier. All you have to do is drain and rinse the jackfruit and add it to a saucepan with a little water. I cook it on medium-high heat and keep adding water as it evaporates. Then, once soft enough, I take a fork and mash/ shred the jackfruit. For flavoring, I used a whole packet of taco seasoning and about 1/4 cup of barbecue sauce. Add water if the mixture is too dry.
Then for the bowl, I sauteed some onions and peppers and cooked some black beans to add on top. I then finished it off with Trader Joe's Green Goddess dressing, which I have now become obsessed with.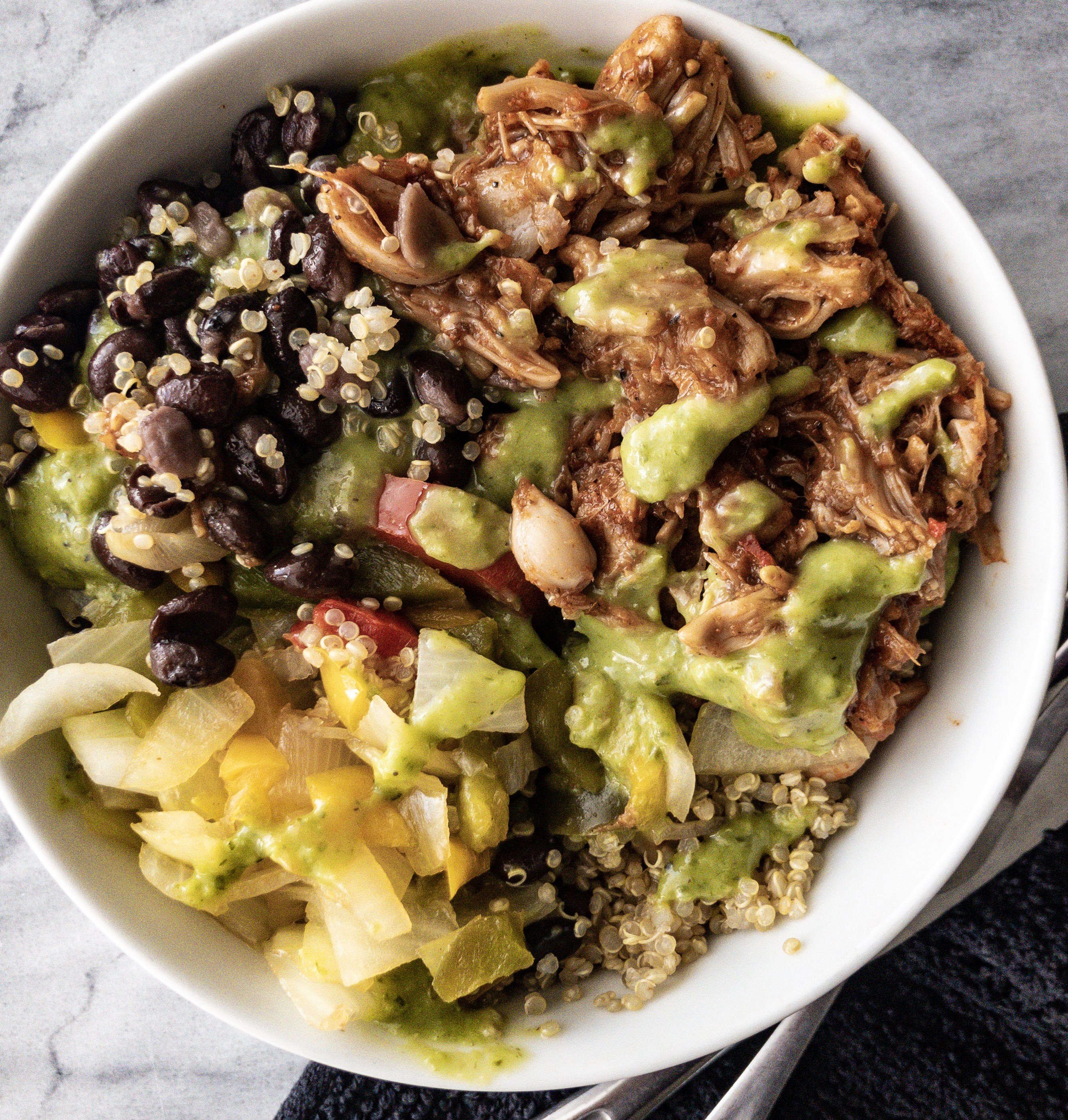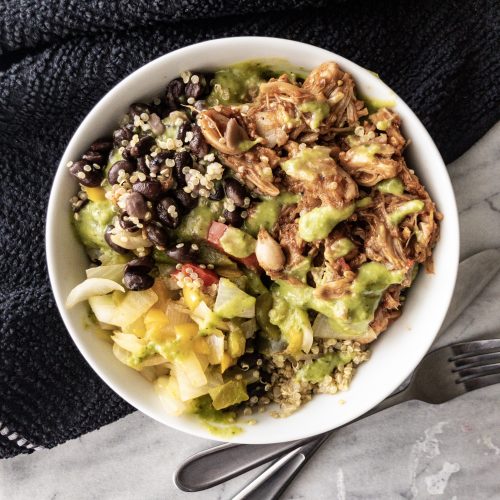 Jackfruit Quinoa Taco Bowl
Ingredients
2

20 oz tins

jackfruit, drained and rinsed

1

packet

taco seasoning

1/4

cup

barbecue sauce

1

white onion, diced

2

cups

frozen mixed peppers

2

15 oz cans

black beans, rinsed and drained

2

cups

quinoa
Instructions
In a large saucepan, add the jackfruit and one cup of water. Cook on medium-high heat until soft. In a separate medium saucepan, add the onion and peppers. Saute with a little bit of water on medium-high heat until soft and slightly browned.

In a medium pot, add the quinoa with four cups of water. Bring to a boil and then reduce to low-medium heat. Once the quinoa is done, place in a separate bowl and use the same saucepan to cook the beans.

Once the jackfruit has softened, use a fork to mash/ shred the large chunks. Once shredded, add the taco seasoning and barbecue sauce and allow to marinate on low heat for five minutes.

Combine all the ingredients into a bowl. Optional: top with Trader Joe's green goddess dressing.