This heart-healthy, nutrient-dense Mediterranean salad is perfect for springtime weather. Eat it as a main dish or add it on the side of your favorite meal! It's super simple to put together and is perfect for a healthy family meal.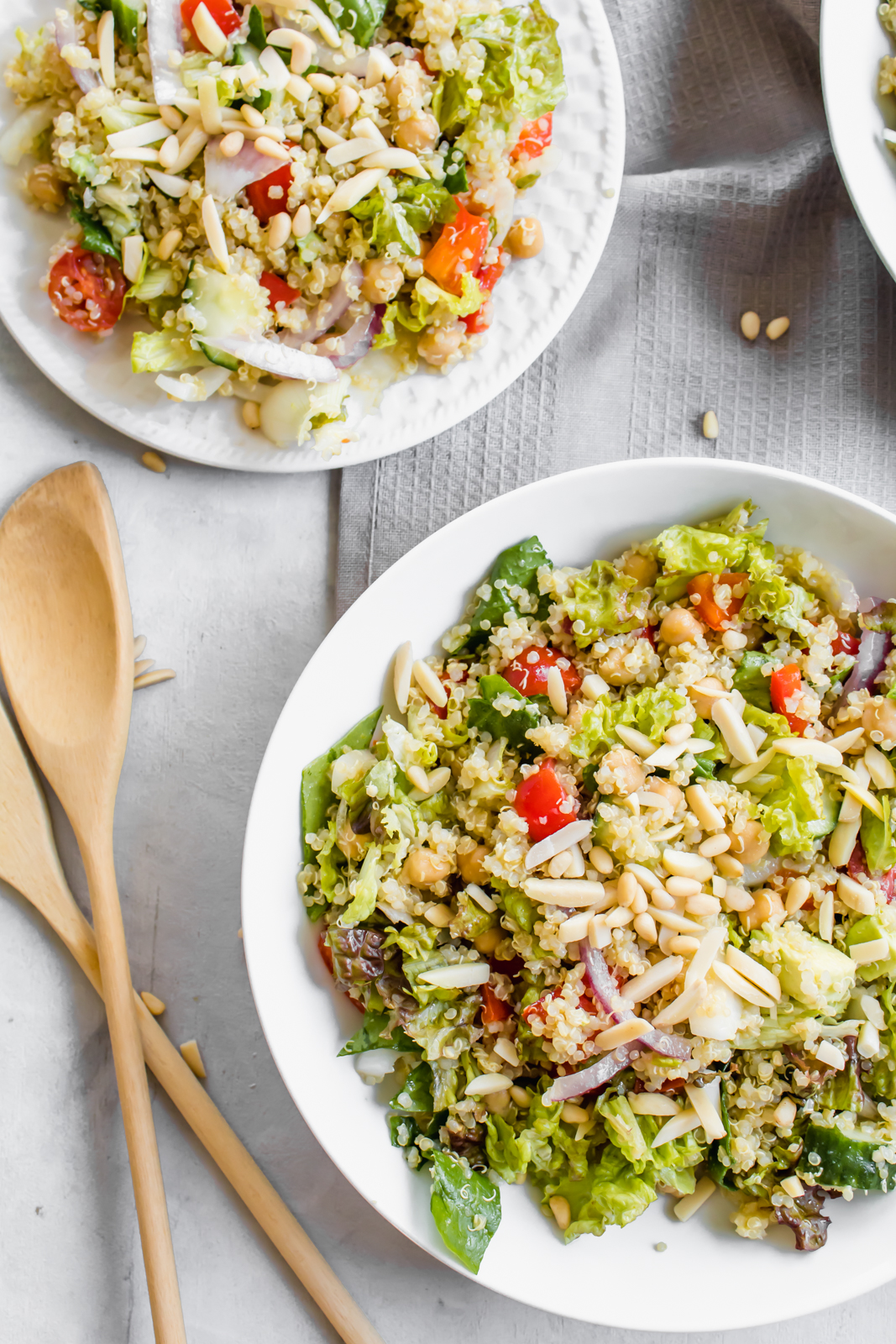 I've got to be honest and say that I am not a salad fan. Like, I have to be in the perfect mood, craving a salad in order to eat one. However, for a school assignment, I had to come up with a recipe and film a video putting it together. For the assignment, I did this Mediterranean quinoa salad and it turned out so good that I had to share it with you guys.
How to Make
What You'll Need:
Ingredients
2 cups romaine lettuce
2 cups quinoa
1 can chickpeas
1 cucumber
1 avocado
1 red onion
1 red pepper
1 cup sliced tomatoes
1/3 cup olive oil
juice from one lemon
2 tbsp maple syrup
1 tbsp garlic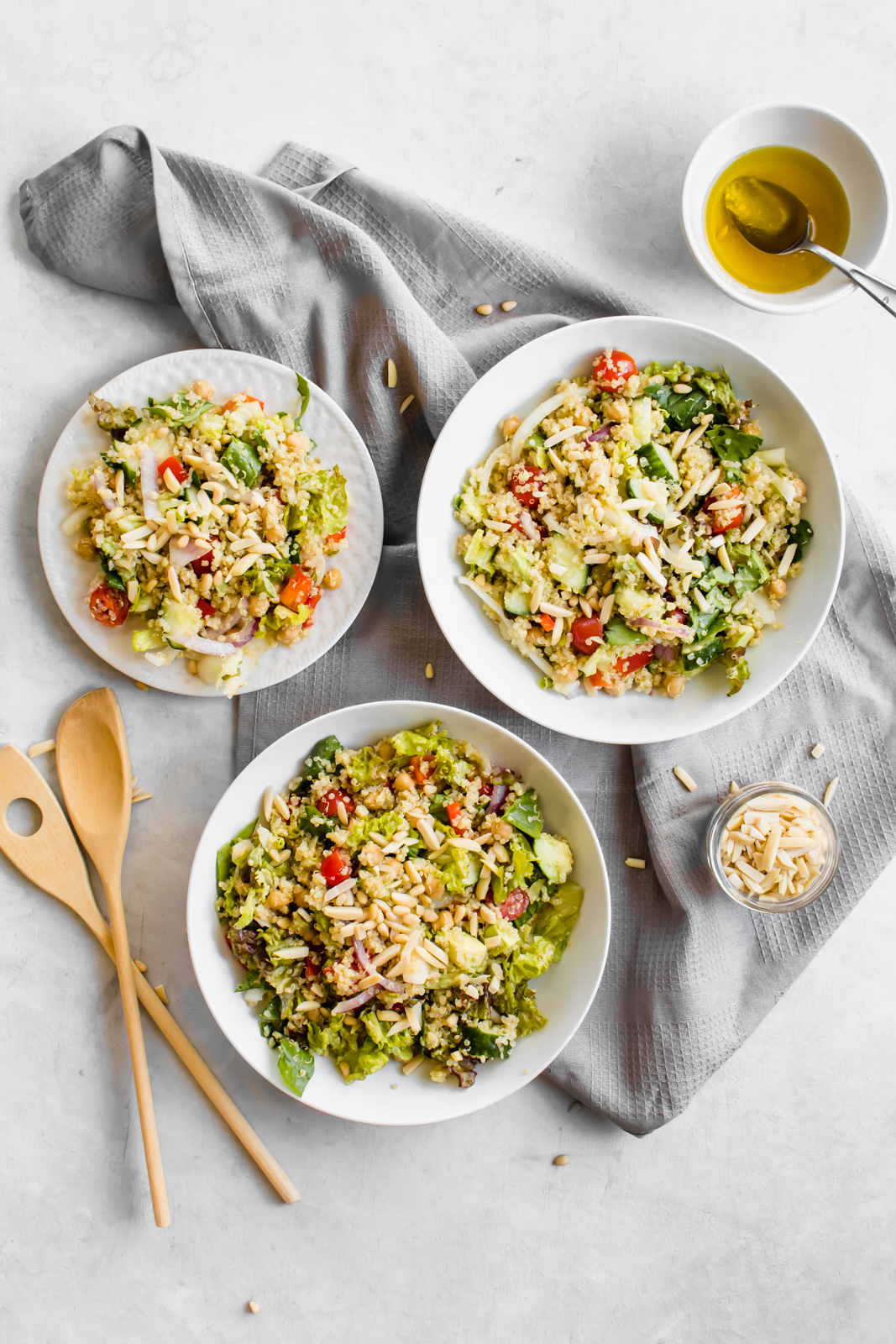 Ok, the best part about this recipe is that you literally just combine all of the ingredients into a bowl. Seriously, that's it.
First, you want to add in two cups of romaine lettuce as the base. You could also use any other kind of lettuce such as arugula, lettuce, mixed greens, etc.
Quinoa
First, you want to cook the quinoa prior to adding it to the salad. This is the part that takes the longest. Quinoa takes forever to cook. In a saucepan, combine two cups of quinoa with fur cups of water. Boil and then reduce to a low-medium heat. You'll know when it's done when the quinoa soaks up all of the water. Then you want to let the quinoa cool before adding it to your salad. Once cooled. Pour it right on top and mix with the romaine.
Quinoa is a great food to add to your diet because of all the benefits it brings. It is one of the two plant-based complete proteins, which means that it contains all nine essential amino acids that your body can't make. It also is extremely high in fiber, which is important for gut health and will leave you feeling full for longer.
Chickpeas
For this recipe, you are just going to add one can of chickpeas straight into the salad. You'll want to drain the liquid out first, but there's no need to cook them. Chickpeas are also a great source of protein and fiber.
Veggies
You can honestly add in any veggies that you have in your fridge to this salad. Some of my favorites to include are tomatoes, lettuce, cucumber, red onion, red pepper, and avocado.
Dressing
For the dressing, you want to combine 1/3 cup olive oil with 2 tbsp lemon juice, 2 tbsp maple syrup, and 1 tbsp minced garlic. Then whisk it all together and add into your salad.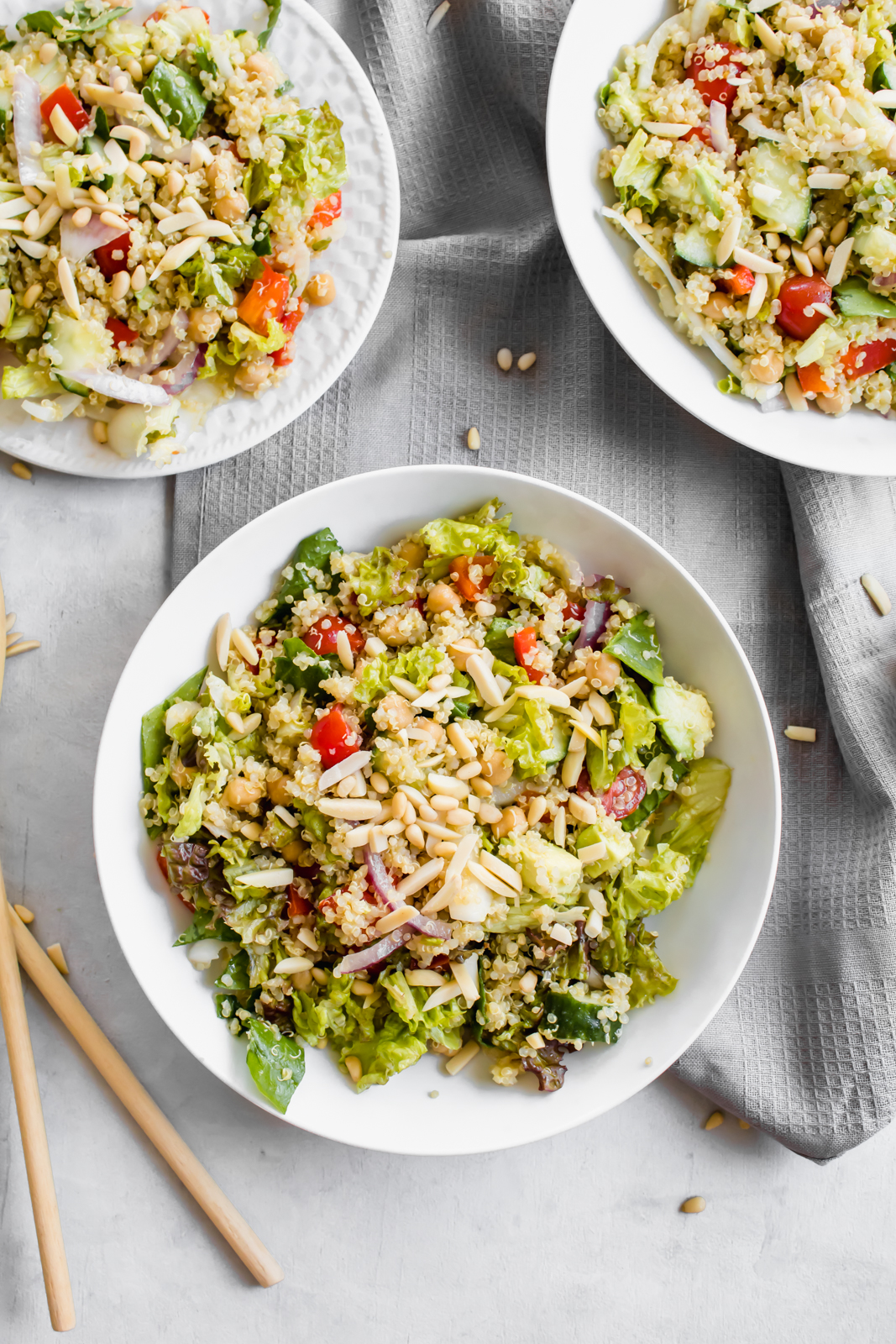 Storage
Store this recipe in an air-tight container in the fridge for up to 5 days. Store the dressing separately.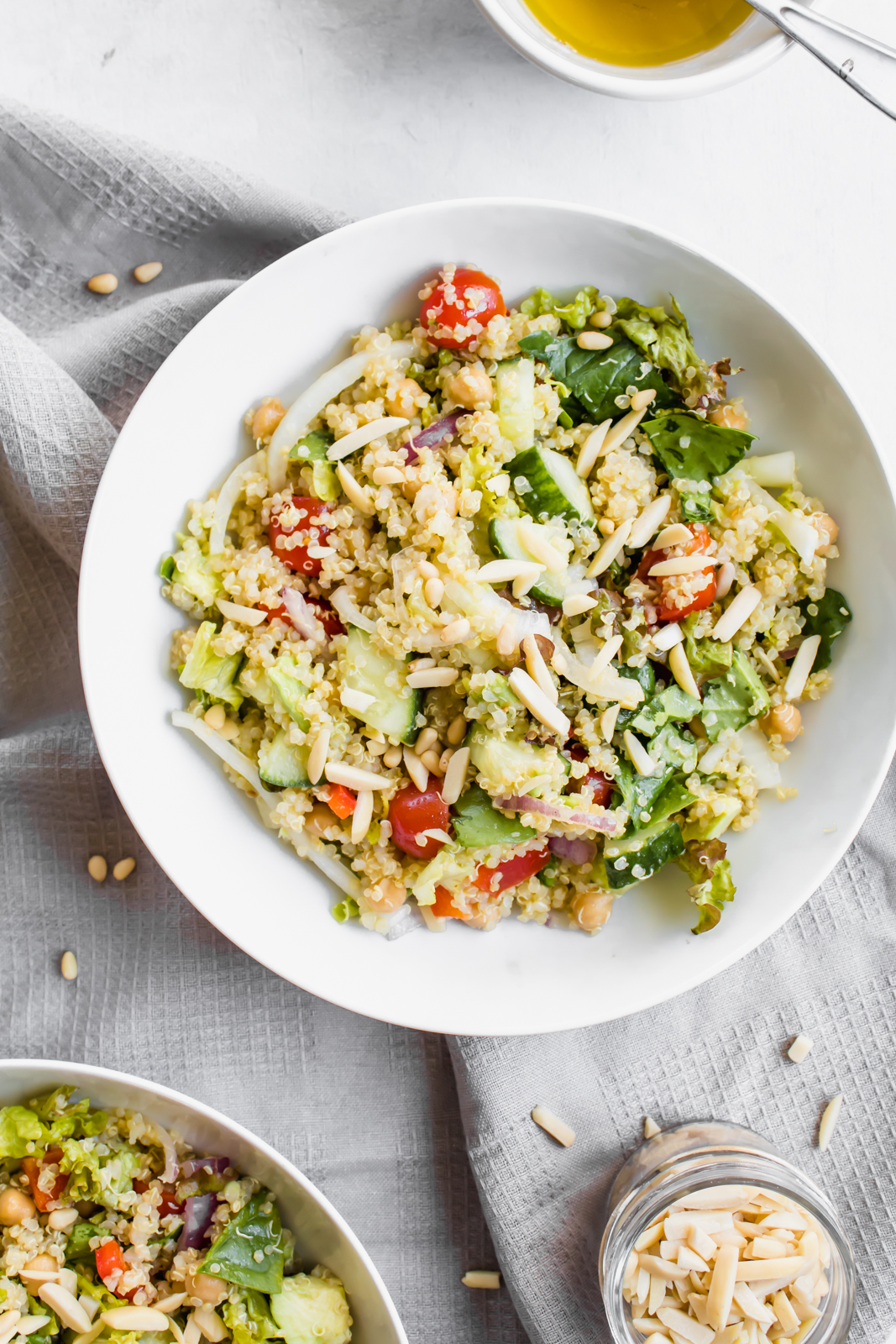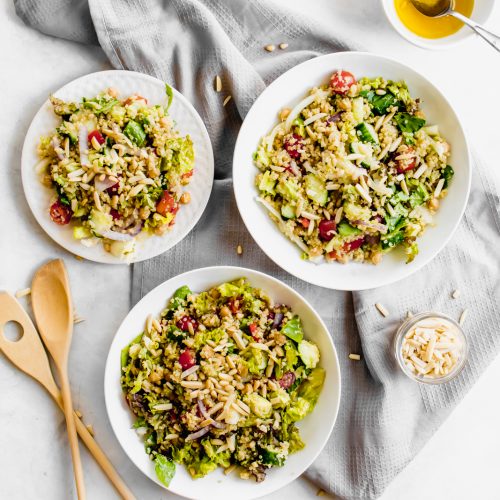 Mediterranean Quinoa Salad
Ingredients
2

cups

romaine lettuce

2

cups

cooked quinoa

1

can

chickpeas

1

red pepper, chopped

1

red onion, chopped

1

cup

cherry tomatoes, sliced

1

cucumber, chopped

1

avocado, cubed

1/3

cup

olive oil

1

lemon, juiced

1

tbsp

maple syrup

1

tbsp

minced garlic
Instructions
First, cook the quinoa. Add two cups of quinoa and four cups of water to a saucepan. Bring to a boil and then let simmer on low-medium heat until all of the water is absorbed.

Combine the lettuce, quinoa, pepper, onion, tomatoes, cucumber, chickpeas, and avocado to a bowl.

In a separate bowl, mix together the olive oil, maple syrup, lemon juice, and minced garlic. Drizzle on top of the salad and serve.
Add this Recipe to Pinterest!