Make these spicy jackfruit and black bean taquitos for your next meal or a yummy appetizer! They are super simple to put together and will soon become your new favorite meal!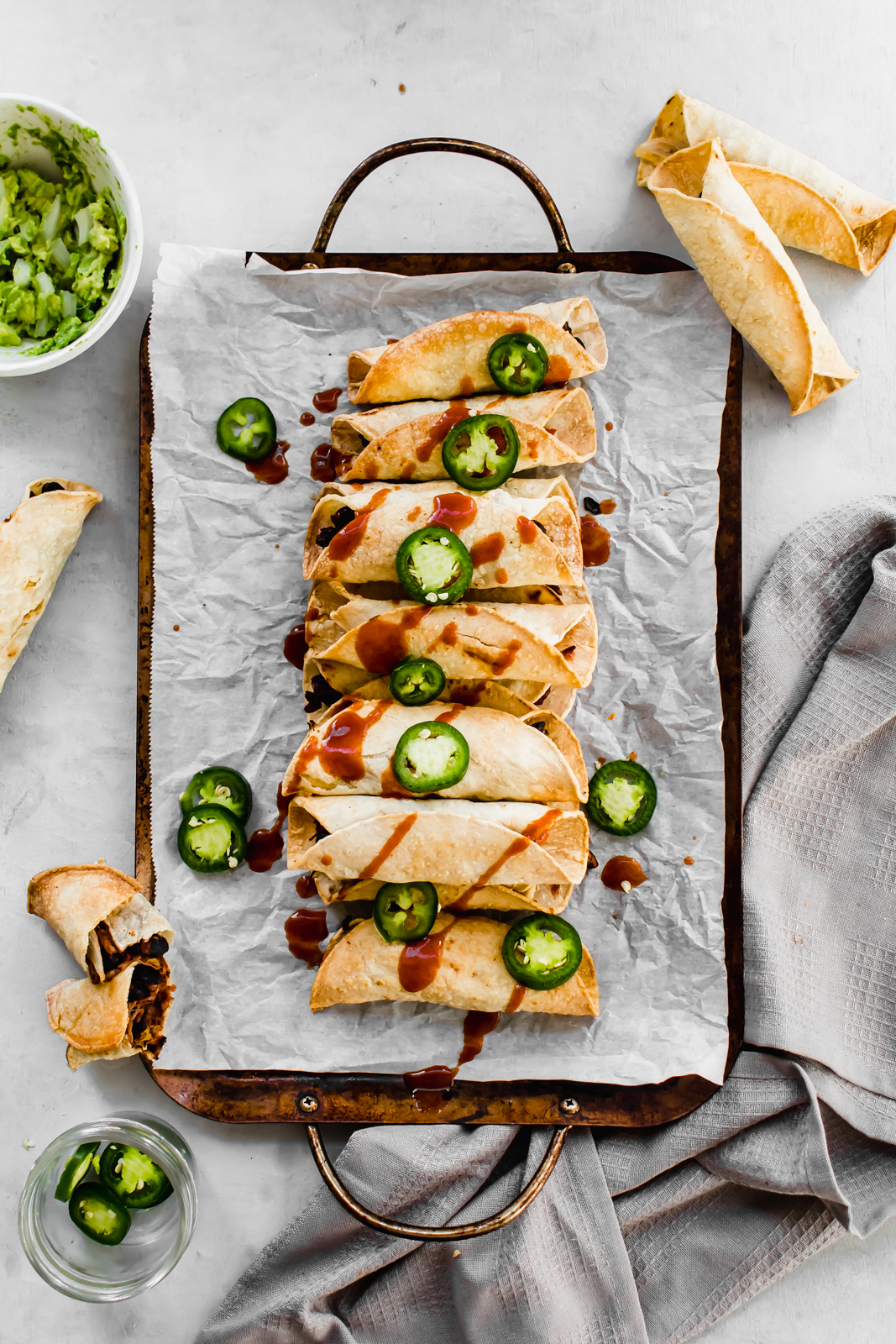 Well, if you can't tell, I am on a jackfruit and Mexican/ Tex-Mex kick. Don't ask me why, but these have been some of my favorite recipes to make. To be completely honest, I have actually never had taquitos before. I saw a recipe for them pop up on my Pinterest page and was immediately inspired to make my own vegetarian version. I think you guys are probably aware of my obsession with jackfruit, and if you aren't;t then hi welcome. I am obsessed with using jackfruit as a meat substitute because it has the same texture as pulled pork/ chicken and takes on any flavor you want. The only downside is that it's not a very good source of protein, so I typically pair it with beans or a different protein source.
Taquitos
So what even are taquitos? I literally had no clue so I looked it up. Essentially, its a rolled-up tortilla that is filled with some kind of meat and then baked. Theres also a Mexican dish called flautas, which are essentially taquitos but made with flour tortillas. Taquitos are typically made with corn tortillas. Honestly, for the purpose of this recipe you could use either flour or corn tortillas, I promise I won't tell anyone.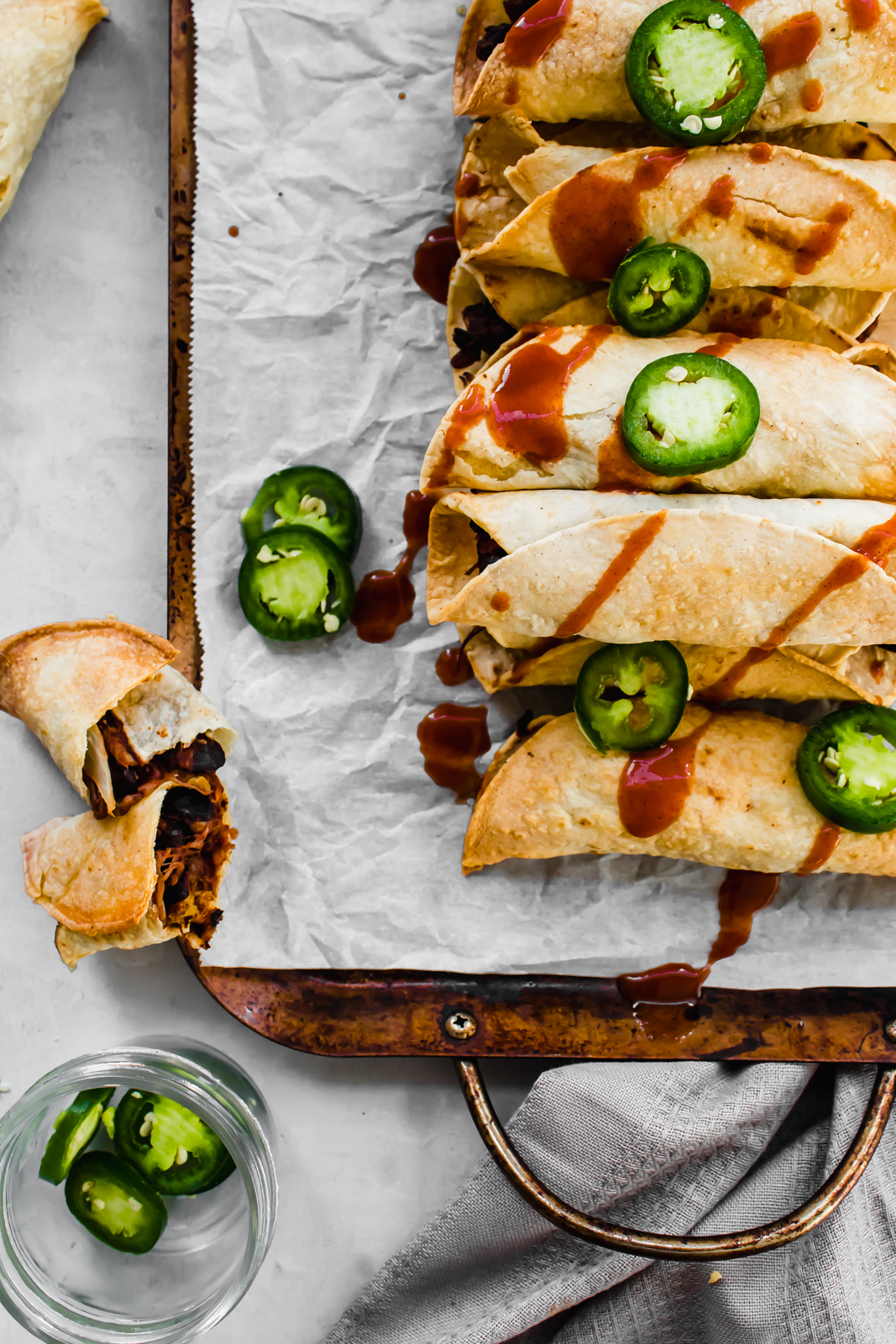 How to Make
For this recipe, you only need a few ingredients to pull it all together.
Jackfruit
I have talked about jackfruit so much on this blog but every time I cannot stress enough how easy it is to cook. Especially if you buy it canned. I always buy it canned from Trader Joes because it's super cheap and way easier to cook with that way. I then drain the liquid from the can and pour the jackfruit into a saucepan with a little bit of olive oil and water. You'll want to cook the jackfruit until it's soft enough to shred with your fork. Once you've shredded it, then add in taco seasoning, spicy taco sauce (I used Trader Joe's), and BBQ sauce. If you want the jackfruit to be spicier, use less BBQ sauce and more taco sauce. You could also add in some chili powder.
Black Beans
For the black beans, I just used one can and drained and rinsed them. I then added them into the saucepan with the jackfruit. The black beans provide an additional meaty texture and add some protein into the dish.
Sauces and Spices
To marinate the jackfruit and black beans, I used taco seasoning, Trader Joe's taco sauce, savory BBQ sauce, and a little bit of garlic powder. Honestly, any combination of spices that you prefer will do. If you want the "meat" base to be spicier, then add in some chili powder and use less BBQ sauce.
Putting it all together
For this recipe, I used small corn tortillas. First, you want to heat them up in a microwave or on the stove so that they are soft and easy to roll. Then on one side of the tortilla, spray it with a little oil. On the other side of the tortilla, place a scoop of the jackfruit and black bean mixture and then top with tomatoes and onions. Then roll it up and place it on a baking tray. Keep doing that until you have used up all of the jackfruit and black beans. Then back at 350 for 8 minutes, flip over the taquitos, and bake for another 5-8 minutes or until crispy.
Storage
These taquitos can be stored in the fridge for a few days in an airtight container. The longer you leave them, the soggier and less crispy they will get. It is recommended to eat them fresh for the best flavor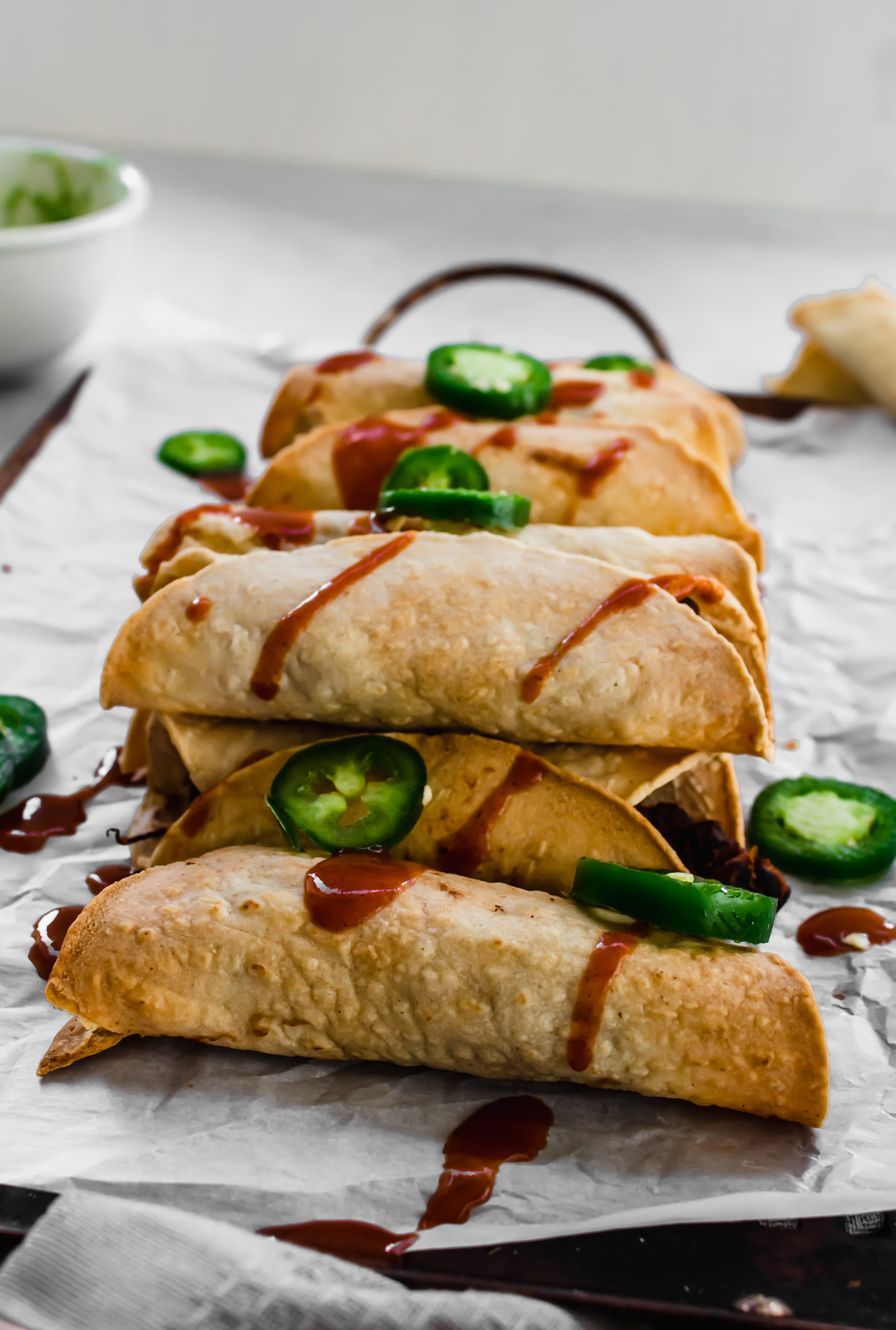 Save this Recipe to Pinterest!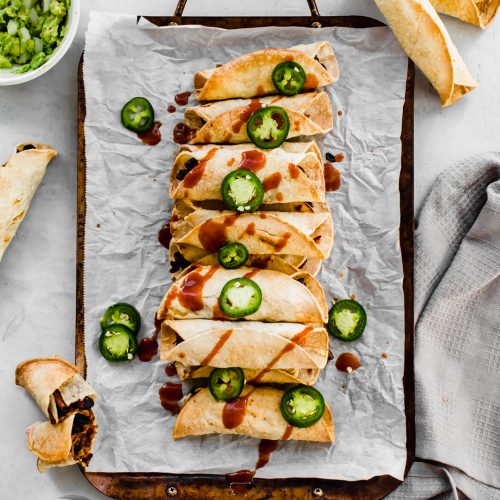 Spicy Jackfruit and Black Bean Taquitos
Ingredients
20

corn tortillas

1

can

jackfruit, drained

1

can

black beans, rinsed and drained

1

white onion

2

roma tomatoes

1

packet taco seasoning

1/4

cup

spicy taco sauce

1/4

cup

savory BBQ sauce

1

tbsp

garlic powder
Instructions
In a large saucepan, combine 2 tbsp olive oil with the drained jackfruit and the drained and rinsed black beans.

Cook the jackfruit until soft and then shred with a fork.

Add in the taco seasoning, taco sauce, BBQ sauce, and garlic powder to the saucepan. Mix until all of the jackfruit and black beans are coated in the sauce.

Chop up the onion and tomato and set aside.

Then, in a saucepan or in a microwave heat up the corn tortillas until they are soft enough to roll.

On one side of the tortilla, spray it with oil. On the other side add in a scoop of the jackfruit black bean mixture and top with onions and tomatoes. Roll up and set on a baking tray. Repeat for all 20 tortillas.

Bake the tortillas for 8 minutes and then flip over to the other side and bake for another 5-8 minutes or until crispy.

Serve with a side of guacamole and salsa.