All the favorites from a spring roll turned into a noodle bowl with a peanut sauce to top it off. This bowl is filled with crispy teriyaki tofu, carrots, cucumber, onion, lettuce, avocado, and rice noodles. 
A few months ago, I posted a spring rolls recipe on my blog and it has quickly turned into one of my favorite recipes to make. I swear my family and I make spring rolls at least once a week. They are super easy to make and are super delicious. Of course, I had to take the ingredients from my spring roll recipe and turn it into a spring roll noodle bowl. I swear this recipe is even easier to put together and is just as delicious! I also used the same peanut sauce on top and guys this is heaven. Think pad thai but better. This spring roll noodle bowl is definitely something that you need in your life.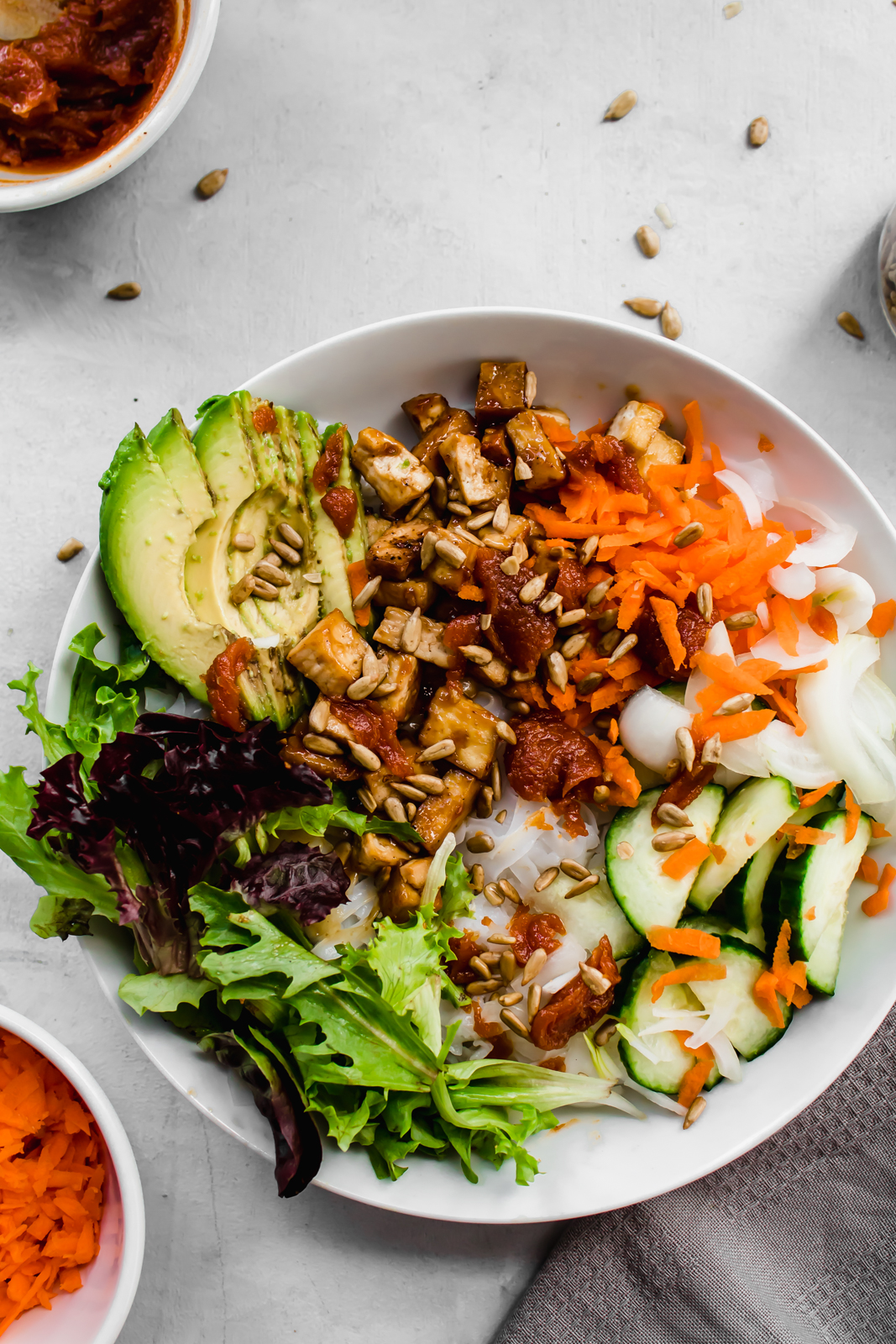 If you know me, you know I will add noodles to pretty much any recipe. Seriously. I love noodles, pasta, gnocchi. Just give me all the carbs and I will be set for life. Rice noodles have quickly turned into one of my favorites to cook with just because they are so versatile. You can make pad thai, drunken noodles, or this delicious spring roll bowl with them. Pair them with any sauce, vegetable, stir fry and I swear it will taste good.
I know rice noodles are one of those foods that you either love or you hate. My sister hates them because she thinks the texture is way too slimy. I personally love the texture. Does that make me weird? Maybe, but oh well. Rice noodles are a 10/10 for me. Another plus is that they are super cheap to buy and can typically be found in the Asian section of a grocery store.
How to Make
Rice Noodles
You can honestly use any kind of rice noodles that you prefer. One huge benefit of rice noodles is that they cook super fast. You have to be careful that you don't overcook them or they will fall apart. The way I've found to be the best for cooking rice noodles is to boil a pot of water before putting the noodles in. Then add them into the boiling water and let simmer for about 5-8 minutes. Once the noodles are soft enough, that's when they are done. Don't leave them in the water past that or they will overcook.
Tofu
Woohooo the best part of the recipe. You guys know my love for tofu and it definitely continues into this recipe. To make the tofu, drain and press two blocks of tofu. Then cut into small cubes, place on a baking tray, and coat in olive oil. Cook at 425 F for about 15 mins, then flip and coat in teriyaki sauce and bake for another 10-15 minutes. Add more teriyaki sauce if necessary.
Peanut Sauce
This peanut sauce is life-changing. The trick though is to heat up the peanut butter until it is a liquid consistency or else the sauce will be super thick and clumpy. So first, heat up 1/4 cup of peanut butter. Then add in 3 tbsp maple syrup, 3 tbsp soy sauce, 1/4 cup sriracha, and 2 tbsp sesame oil. Make sure to use certified gluten-free soy sauce or liquid aminos if you are gluten-free. Mix together until creamy and voila the most delicious peanut sauce ever. If it is too spicy, reduce the amount of sriracha.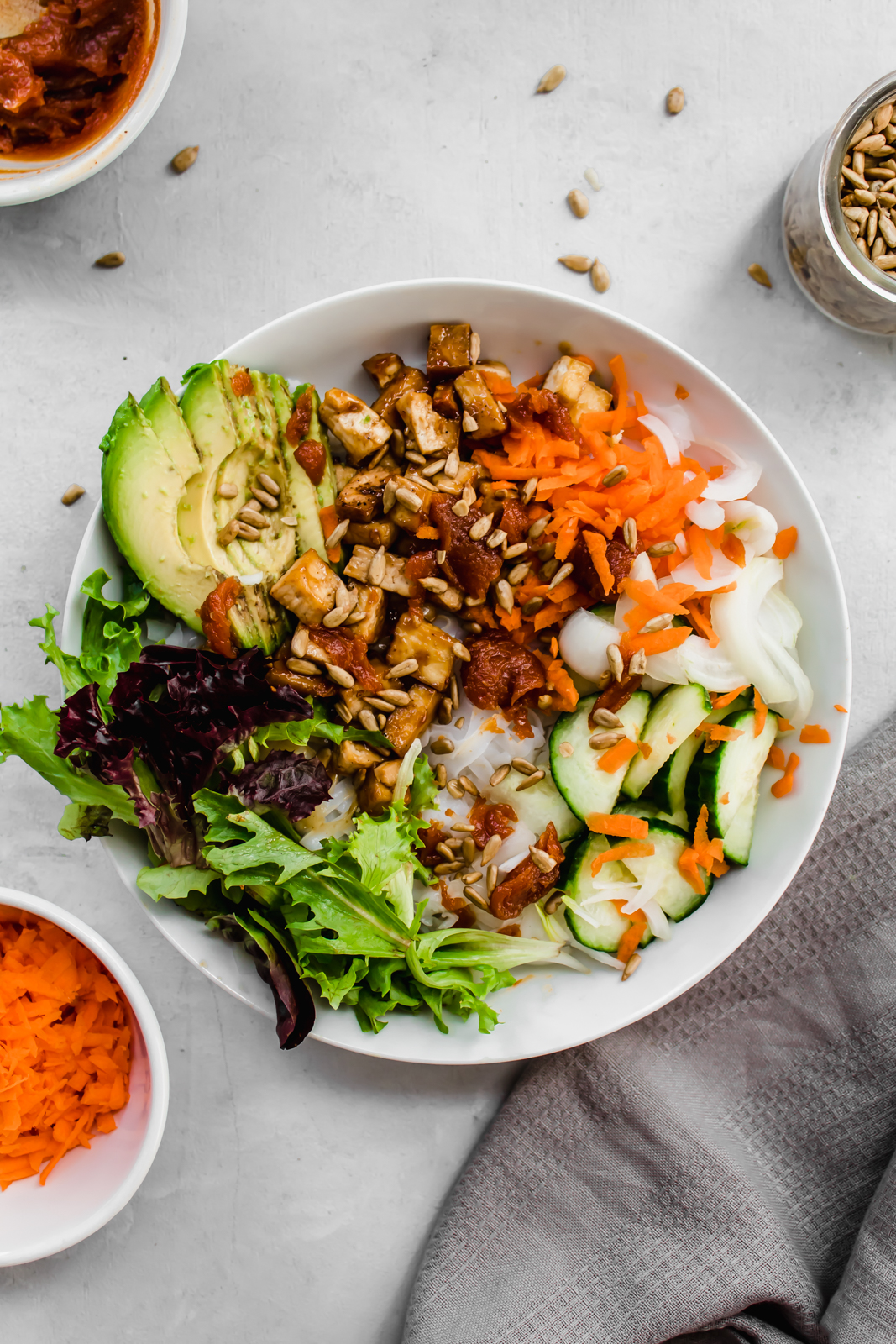 Can I substitute something for the peanut butter or use another sauce?
Yes, absolutely! Almond butter or tahini would also work great for this sauce instead of peanut butter! You could also use a teriyaki sauce, soy sauce, or sweet chili sauce on this recipe too.
Storage
Store the noodles separately to prevent from getting mushy. Store tofu and vegetables in an airtight container and can keep in the fridge for up to five days. The peanut sauce should be used within 1-2 days, store in an airtight container in the fridge. Noodles should also be stored in an airtight container and can be kept in the fridge for up to five days.
Save this Recipe to Pinterest!

3
Spring Roll Noodle Bowls with Peanut Sauce
Ingredients
For Noodle Bowl
1

14 oz pack

rice noodles

2

12 oz packs

extra firm tofu

1

large

carrot

1

white or red onion

2

avocados

2

cups

mixed lettuce
For Peanut Sauce
1/4

cup

peanut butter

1/4

cup

sriracha

3

tbsp

maple syrup

3

tbsp

soy sauce

2

tbsp

sesame oil
Instructions
Add 4 cups of water to a saucepan and bring to boil. Reduce heat to a simmer. Then, add in the rice noodles and cook for about 5-8 minutes until noodles soften. Then remove from heat, drain, and set aside.

Drain and press the packs of tofu. Chop into small cubes and place on a baking tray. Coat in olive oil and bake for 15 minutes. Then flip the tofu over and coat in teriyaki sauce. Bake for another 10-15 minutes, adding extra teriyaki sauce if necessary.

Using a cheese grater, shred the carrot. Chop the cucumber and onion. Slice the avocado.

While the tofu is baking, prepare the peanut sauce. Heat up the peanut butter until it is a liquid consistency. Then in a small bowl, mix together all the ingredients until the sauce is smooth and creamy.

Once tofu is done cooking, combine noodles, tofu, cucumber, lettuce, onion, and avocado into a bowl. Top with the peanut sauce and sesame seeds and serve.