Make this simple four-ingredient crepe recipe for your next breakfast or sprinkle some sugar on top for a yummy dessert! This recipe is delicious, easy, and something that the family and kids will both love.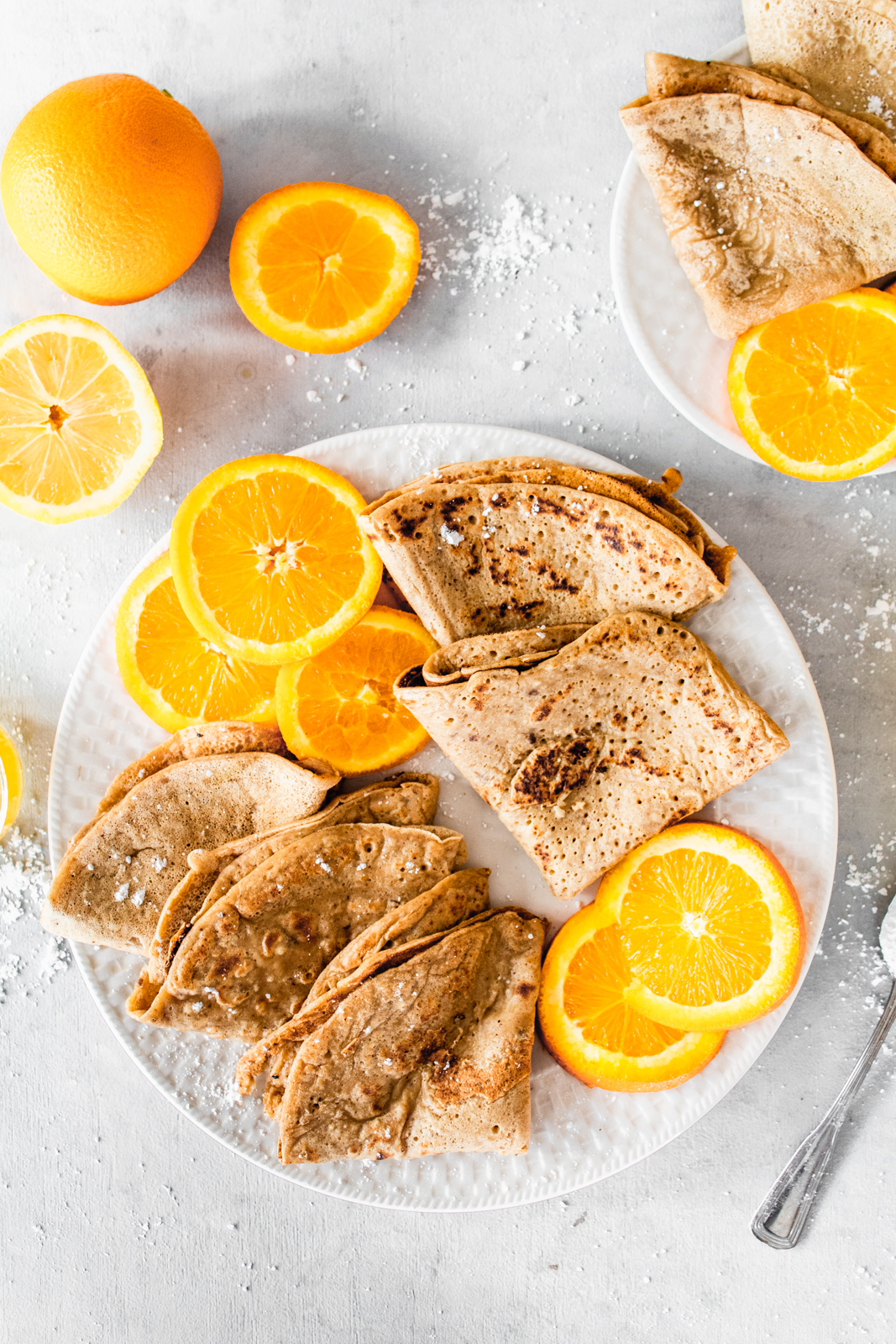 One of my favorite childhood memories is my mom making crepes for me and my sister for breakfast. She would make them on special occasions like birthdays, sleepovers, and pancake tuesday. She would always top them with a lemon and orange juice mixture and then sprinkle them with sugar. I decided to take my crepe recipe linked here and make it with a lemon-orange topping just like how my mom did.
How to Make
For the actual crepe, you'll want to combine 1 1/2 cups flour, 1 1/2 cups non-dairy milk, 1 flax egg, and 3 tbsp coconut sugar or regular sugar. If you want your crepes to be a little sweeter, use regular sugar. Then you'll want to mix the ingredients in a medium-sized bowl and make sure that all of the clumps are out. Then in a saucepan/ skillet, spray a little bit of coconut oil and heat to medium-high heat. Then, using a ladle, scoop a portion of the batter, place it on the saucepan, and spread it out with the ladle so that it's a flat, thin crepe. Then cook it on each side for about 1-2 minutes. You'll know to flip it when the one side starts to brown a little.
For the topping, you'll want to juice two lemons and two oranges. Then one the crepes are done, roll or fold them then pour some of the lemon-orange juice mixture on top. Then sprinkle some sugar on top and voila, you have the most delicious crepes you'll ever taste.
Storage
Store the crepes and toppings separately so that the crepes don't get soggy. Can store in the fridge in an airtight container for a few days.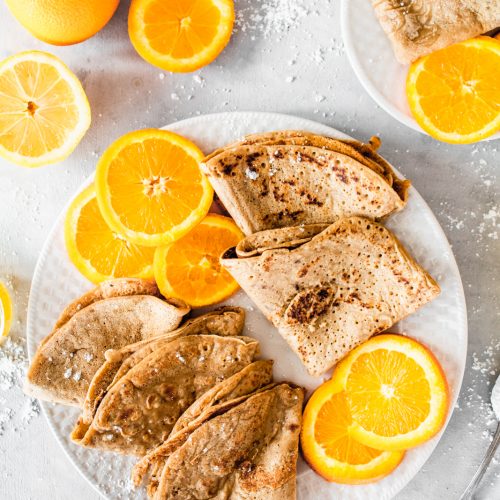 Lemon-Orange Vegan Crepes
Ingredients
For the Crepes
1 1/2

cups

flour

1 1/2

cups

non-dairy milk

3

tbsp

coconut or regular sugar
For the Topping
2

lemons

2

oranges

1/4

cup

white sugar
Instructions
In a medium-sized bowl, mix all the crepe ingredients together until the mixture is smooth and runny.

Spray a medium-sized saucepan with cooking oil and heat on medium to low heat. Using a ladle, scoop up an amount of the batter onto the saucepan and spread out into a thin, circular shape.

Cook the crepe on both sides for about one minute or until slightly browned. Make sure not to overheat, because it will burn easily.

For the cream sauce, combine all of the ingredients into a food processor. The mixture will be more liquidy than thick. If you want it thicker, add in more strawberries and raspberries.

Stuff the crepes with whole strawberries and raspberries and then drizzle the sauce over the crepes or inside the crepes.
Save this Recipe to Pinterest!