Looking for the yummiest, vegetable-filled, cashew cheese plant-based pizza? Well, look no further. This flatbread pizza is all kinds of comforting and has the perfect blend of savory and cheesy. The cashew ricotta blend is the perfect addition to this homemade pizza.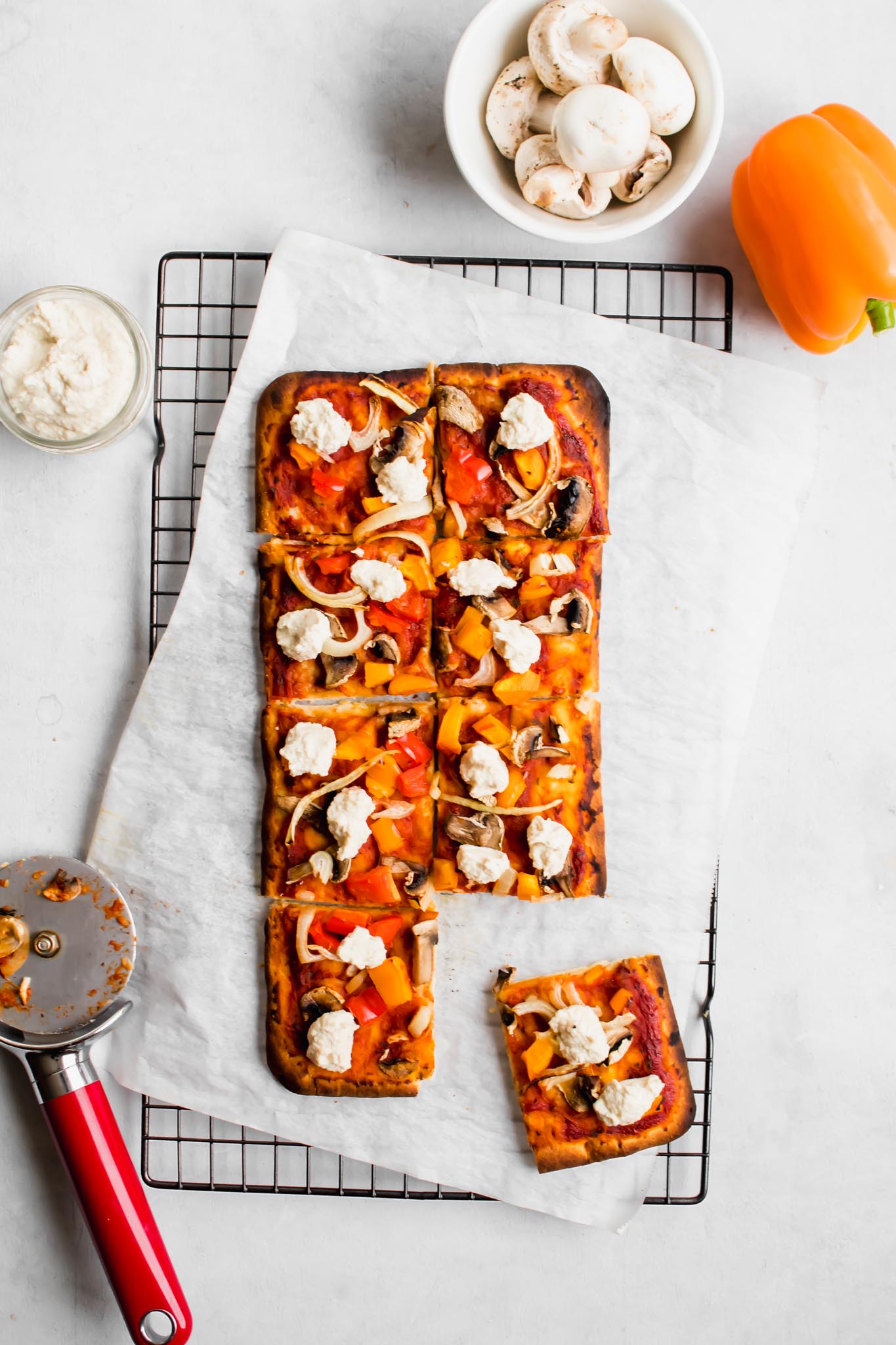 Although being quarantined due to the coronavirus has been making me a little stir crazy, it also has given me to perfect opportunity to finally make some new recipes that I've been wanting to try out. Cooking and baking have been great ways to take my mind off of all the stress that has been occurring over these past few weeks. I know it can be depressing seeing how much the world has changed in a negative way over the past two weeks or so, especially here in the United States. Some things that have helped me escape a negative, isolating headspace is reading, puzzles, baking, cooking, and making time for things that I didn't seem to have time for before. If you have some fun things that you've been doing during quarantine let me know in the comments or shoot me a message on Instagram. I would love some new ideas of things to do.
What's my suggestion to pass the time? Well, you can start by trying out this vegan flatbread recipe. A local pizza place near where I live makes the best pizza, with both vegan and non-vegan options. One of my favorite things about this restaurant is the cashew cheese that they put on the pizza. It's homemade and extremely delicious. So, I decided I would try and recreate their cashew cheese and make my own pizza, especially since most restaurants are closed.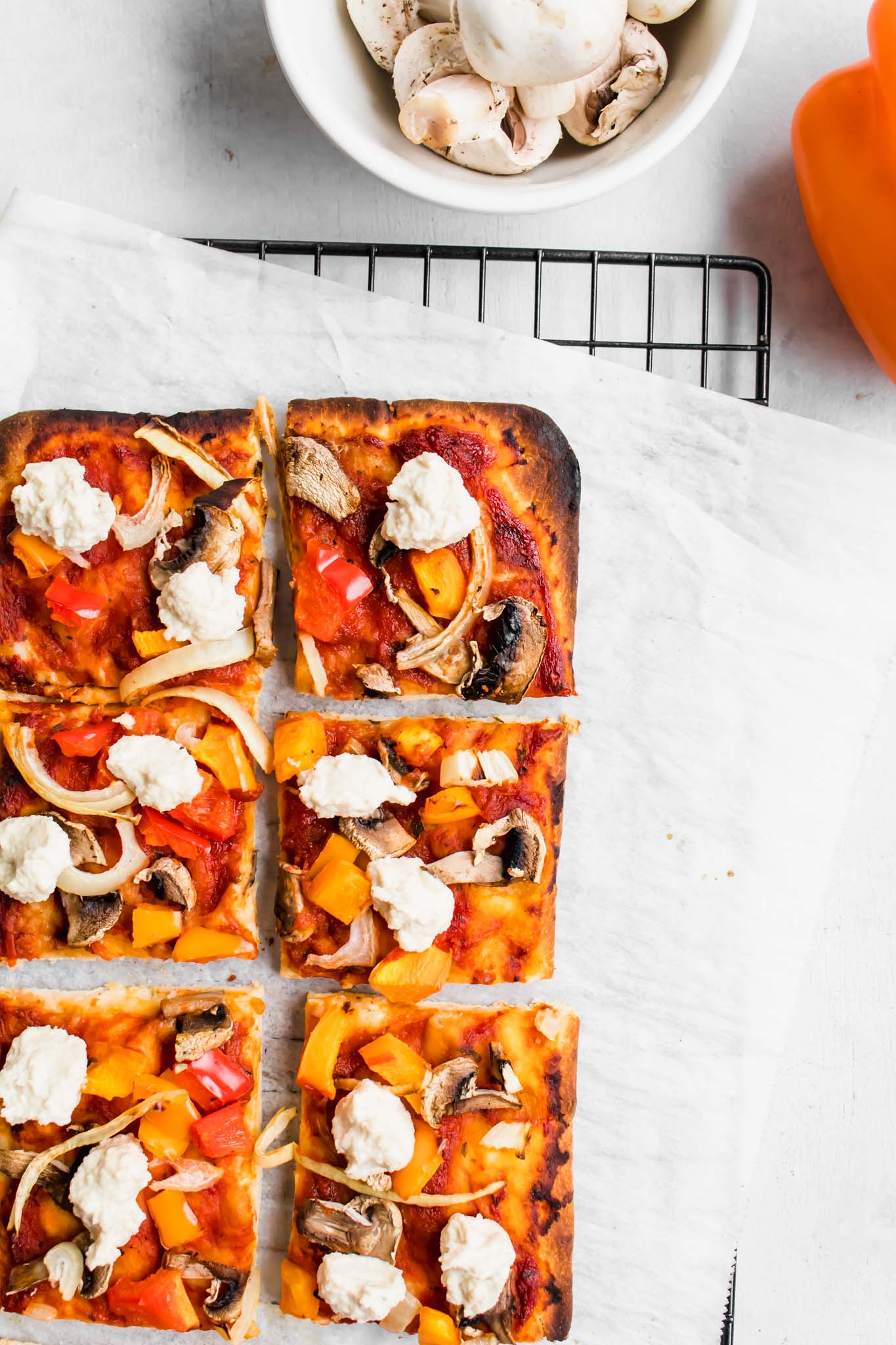 How to Make
If you are a pizza-making expert, then you could probably go ahead and make your own pizza crust for this recipe. I, however, am not. So I just used a store-bought flatbread as my base and then topped it with everything. The flatbread I used is by the brand Stonefire and I found it at my local grocery store.
For the pizza sauce, you could make your own or just use a store-bought marinara sauce. I try to keep my pizza as simple as possible, so that's why I try and simplify the ingredients. If you're looking for a huge family cooking event, then it may be fun to make your own dough and sauce. If you're just wanting a quick and easy Friday night pizza dinner, then a canned marinara sauce would be just fine. To make your own sauce, combine one 6oz can of tomato paste, 1/2 cup tomato sauce, 2 tbsp oregano, 1 tbsp minced garlic, 1 tsp basil, salt to taste, and pepper to taste. You could also add some red pepper flakes if you want to give your sauce a little spice.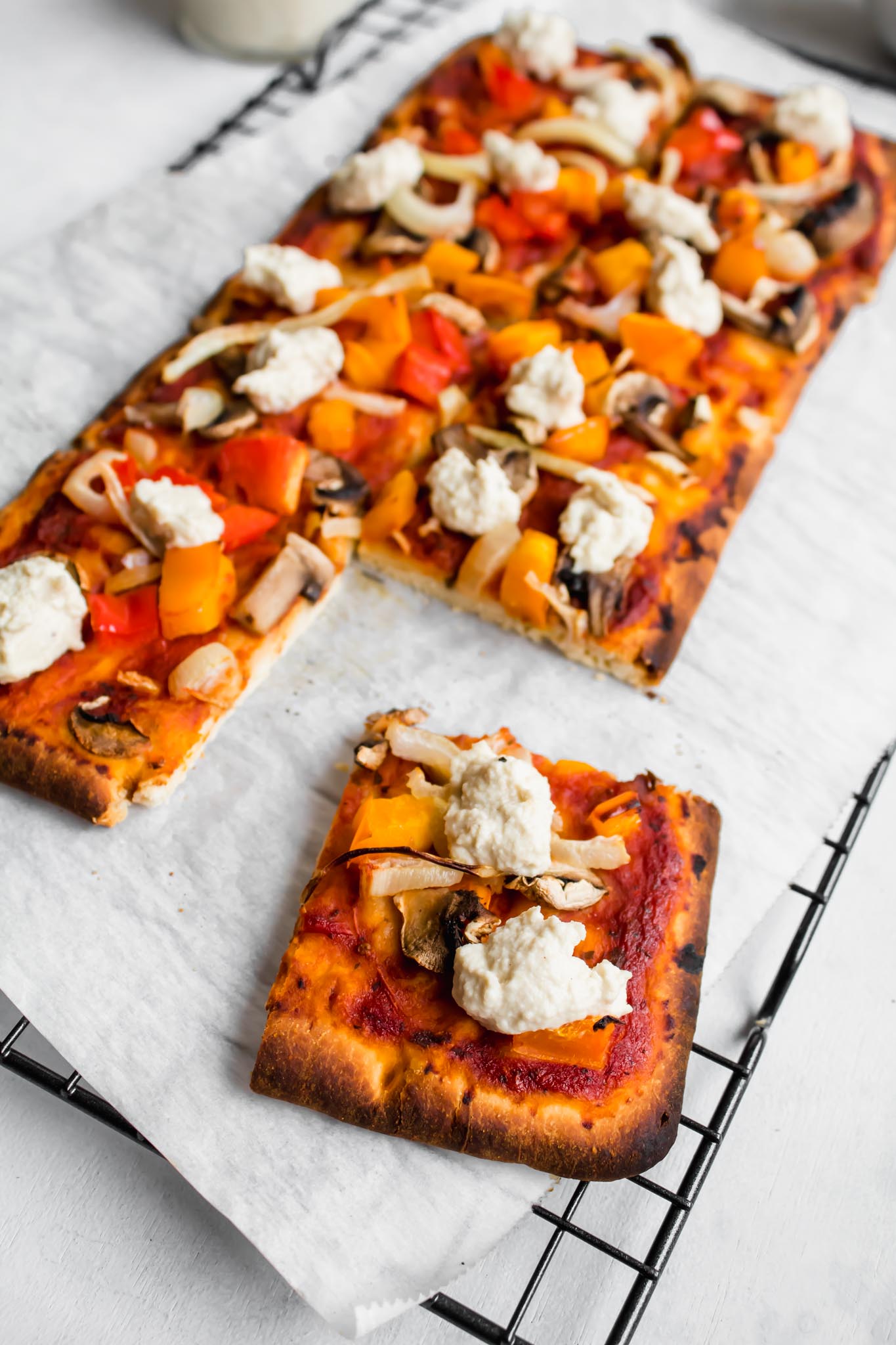 The best thing about pizza is that you can pretty much put any toppings you want on it. That's what makes this the perfect dinner option during this time of quarantine. Haven't gone grocery shopping? That's totally fine. Just pull out what vegetables you have and add them on top. My favorite toppings are peppers, onion, and mushrooms. I also like arugula, but I didn't have any to add this time.
Once the sauce and the toppings are on, place the pizza in the oven at 425 degrees and bake for about 10 minutes or until the edges start to brown.
Now for the cashew ricotta recipe!! This was honestly the best part and turned out way better than I thought. I looked up a bunch of recipes to see what to add, and modified mine based on those. To make about 3/4 cup of ricotta I used 3/4 cup of cashews soaked in hot water for 30 mins (important to soak them beforehand so that they soften and are easier to blend), 1 tbsp lemon juice, 1 tbsp minced garlic, 1 tbsp garlic powder, 1 tbsp onion powder, and salt to taste (i used about 1 tsp). Then blend it all up into a food processor until smooth and creamy. Then I let the mixture sit in the fridge for about 30 minutes to an hour in order to firm up a bit.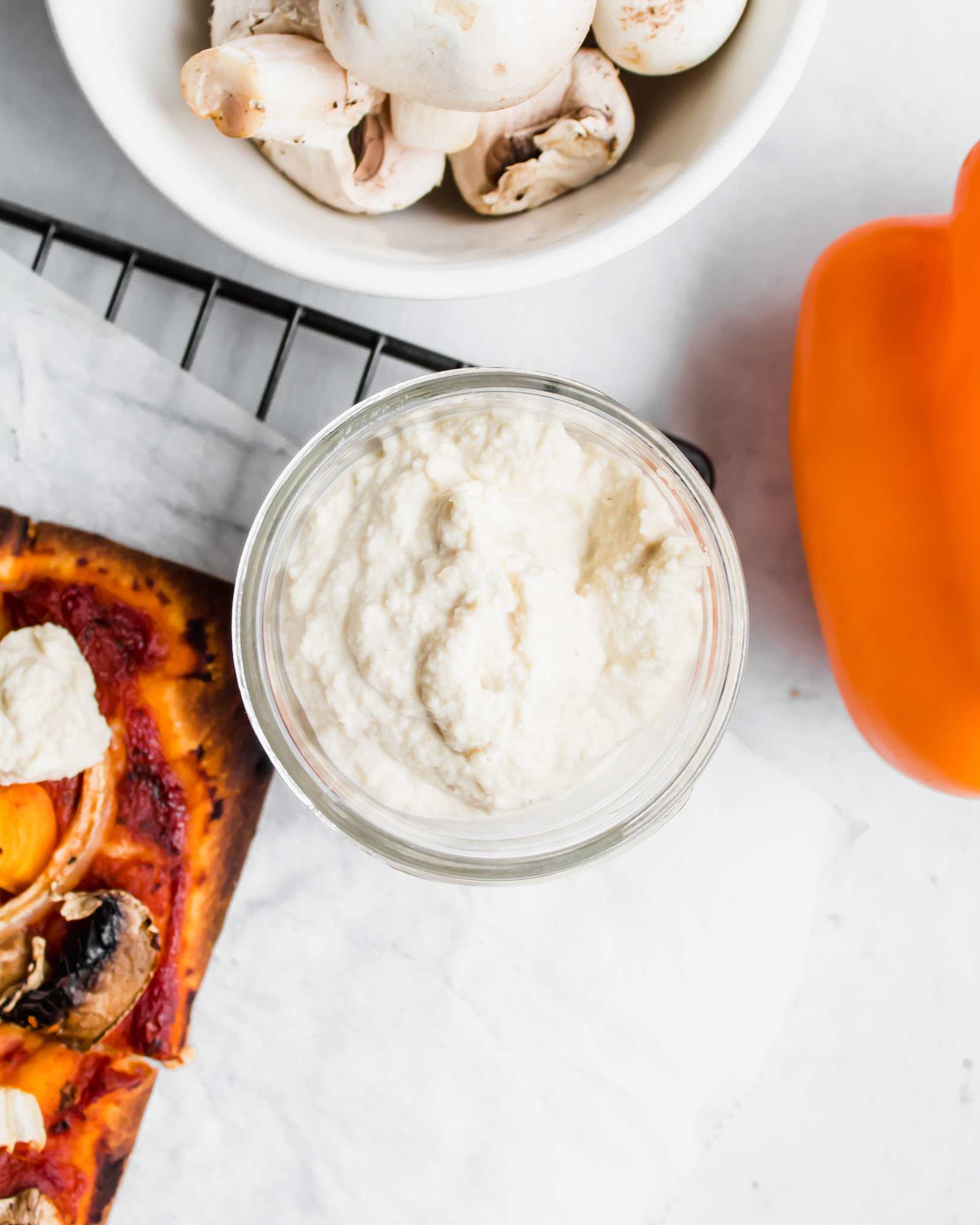 After the pizza is cooked, then add the ricotta in small dollops on top. Serve and Enjoy xxx
Ricotta Substitute?
Since I know not everyone likes or can eat cashews, there are other substitutes for the cashew ricotta. You can also make ricotta out of tofu. There's a really awesome recipe here by Simple Vegan Blog that only requires four ingredients.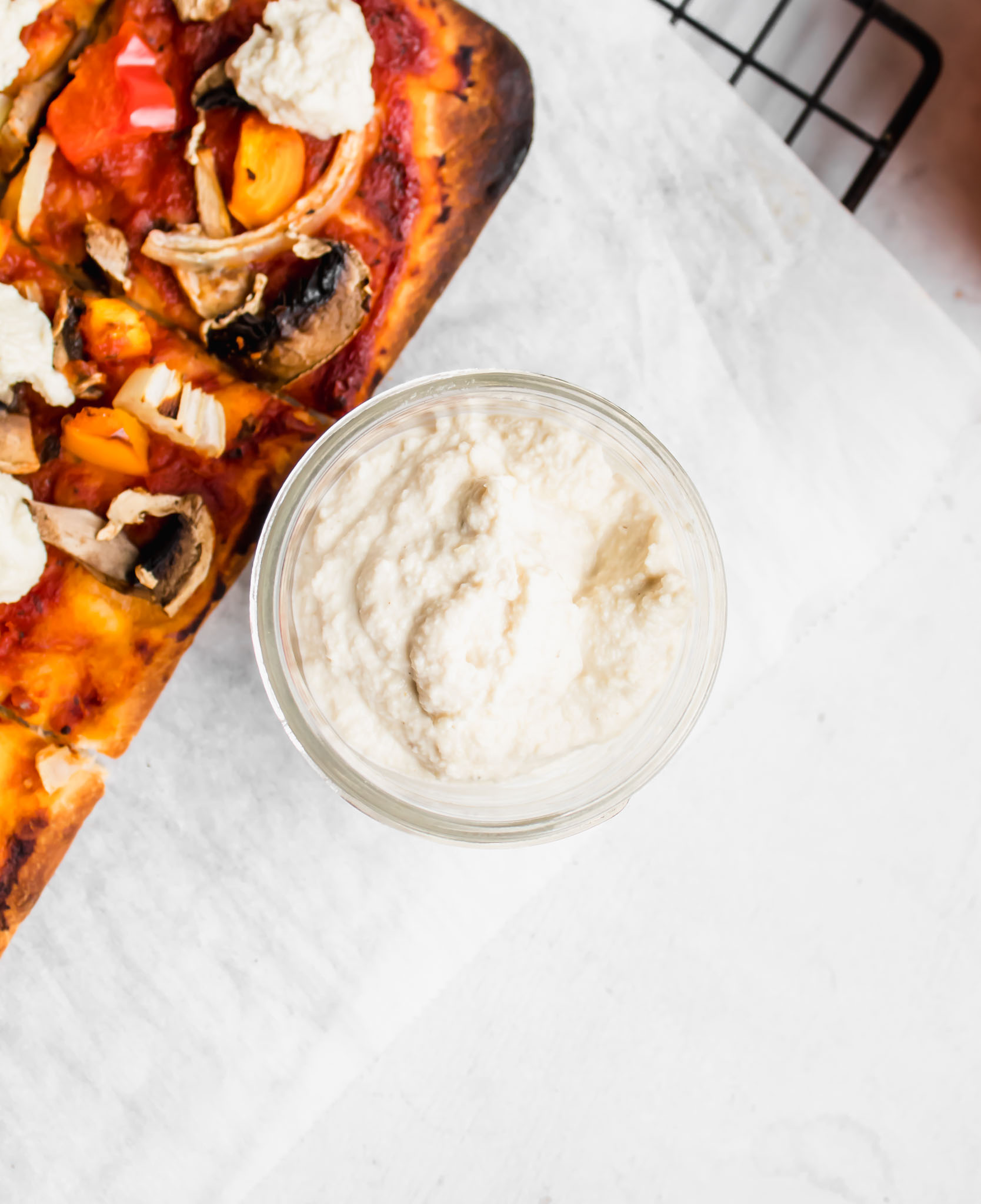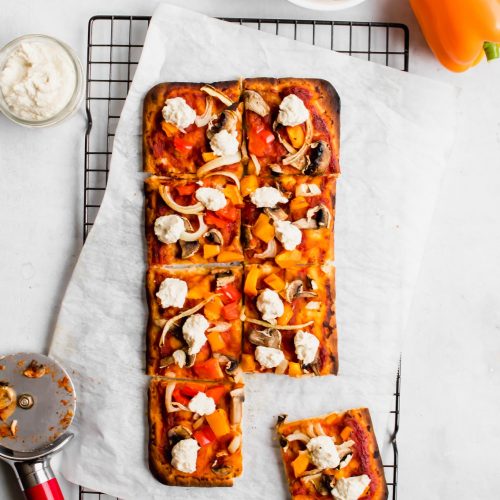 Vegan Flatbread Pizza with Cashew Ricotta
Ingredients
For the Pizza
2

flatbreads (I used Stonefire flatbreads but you can also make your own)

1

cup

pizza sauce (use store bought marinara sauce or see above for how to make your own)

1

cup

sliced mushrooms

1

cup

sliced red and orange peppers

1

cup

sliced onion
For the Cashew Ricotta
3/4

cup

cashews (soaked in hot water for 30 minutes or overnight)

1/4

cup

water

1

tbsp

lemon juice

1

tbsp

minced garlic

1

tbsp

garlic powder

1

tbsp

onion powder

1

tsp

salt (or more to taste)
Instructions
For the Pizza
Top the flatbreads with pizza sauce and mushrooms, onions, and peppers (or any other toppings you choose)

Place pizzas into the oven and bake for about 10 minutes or until edges turn golden brown.
For the Cashew Ricotta
Soak the cashews in hot water for 30 minutes or overnight.

Place the cashews, water, lemon juice, garlic, garlic powder, onion powder, and salt into a food processor or blender. Blend until creamy and smooth.

Let the mixture sit in the fridge for 30 minutes - 1 hour to firm up.

Top the pizza with small dollops of the ricotta and serve.