Switch up your regular Taco Tuesday recipe with these BBQ jackfruit tacos. This recipe takes less than 30 minutes and is a perfect plant-based recipe to add to your weekly meal plan.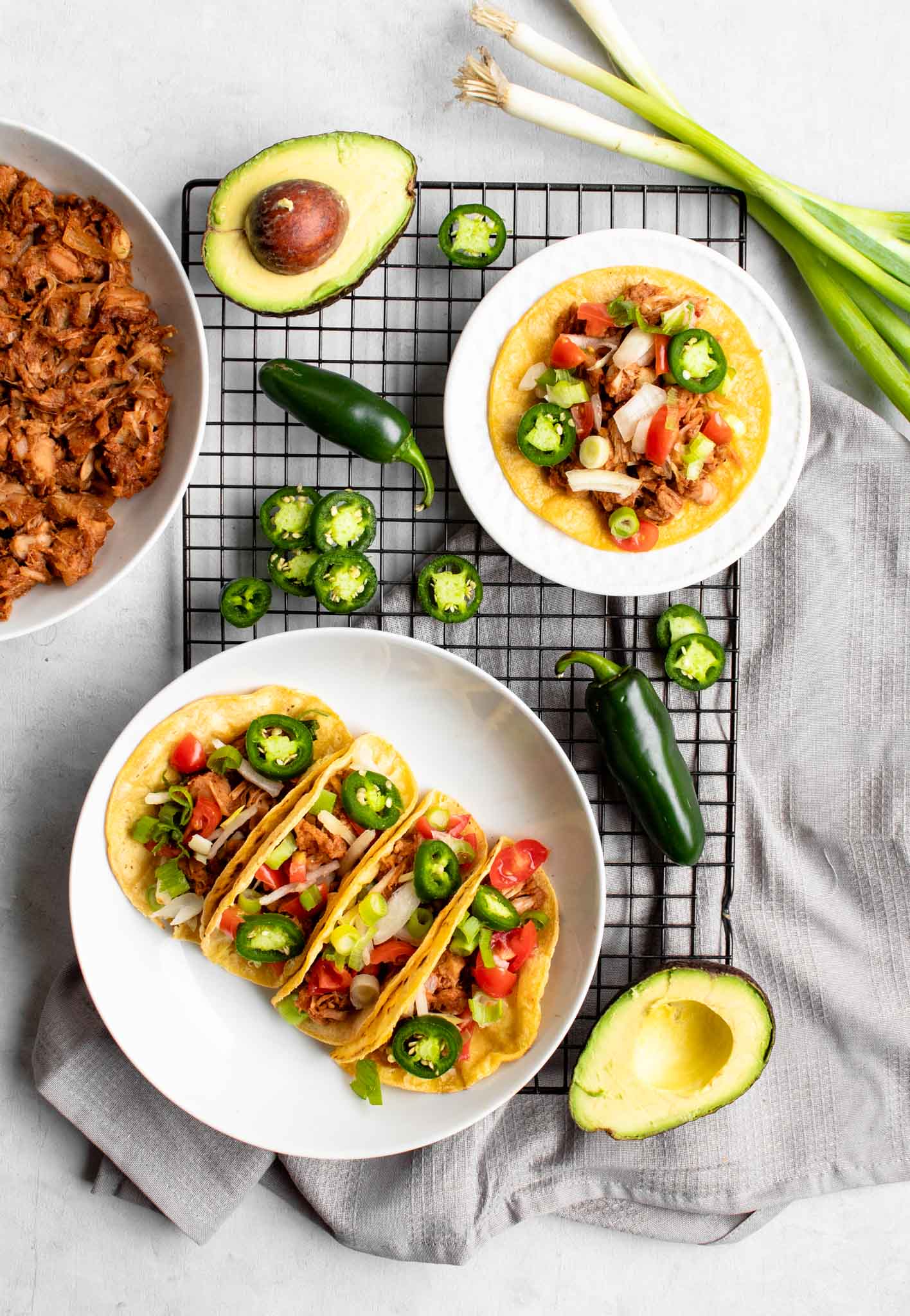 I think tacos might be one of my favorite meals of all time. I absolutely love the different things you can make tacos out of and how creative you can get with this recipe. I know that a typical taco recipe includes ground beef with different seasonings, guacamole, lettuce, cheese, beans, and sour cream. As someone who is plant-based, I have adapted many taco recipes to make them vegan. This recipe has to be one of my new favorites, and it even got an A+ from my dad who is pretty particular about his meals.
I can promise you that if you are a Mexican food fanatic, you will love these tacos. They have the perfect mix of sweetness, spice, and everything nice and will be enjoyed by every member of your family. Not a spicy food fan? No problem – I'm not either. Just tone down the spices in the recipe and remove the jalapenos, and you have the perfect combination of flavor and spice.
How to Make Jackfruit Tacos: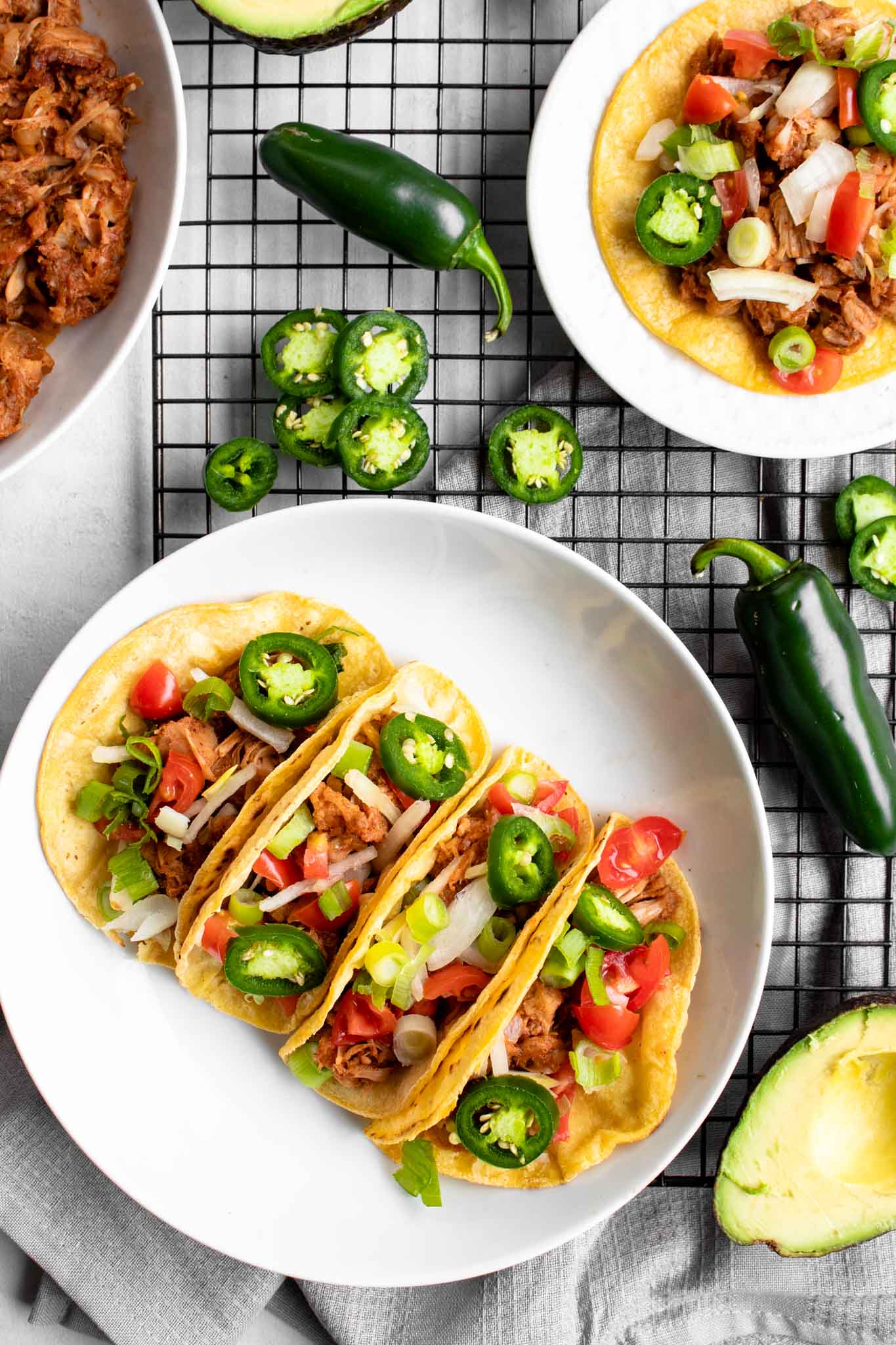 It's super easy to make these tacos. I've talked on my blog before about how to cook jackfruit and it really is one of the easiest things to make, especially if you buy it canned. I buy the canned jackfruit from Trader Joes that comes in brine. It is super affordable this way and makes the cooking process so much easier. All you have to do is drain the jackfruit from the cans and then add to a large saucepan with a small amount of oil. I chopped up one small white onion and added it to the pan too. Stir the jackfruit and onion frequently on medium-high heat. Once the jackfruit softens, begin shredding with a fork.
For the flavor, I mixed a little bit of barbecue sauce with onion and garlic powder and taco seasoning. You can use any kind of barbecue sauce that you prefer, but I chose one that was a bit tangier. I also only used half of a taco seasoning packet, but that was for personal preference. If you want your jackfruit to be spicier, then you can add in the whole packet.
For the shells, I used just plain corn shells that I picked up from the grocery store. I heat them up with a little bit of olive oil on the stove and fold them to my liking. This helps crisp them up a bit and gives the shells more flavor. For some other toppings, I used jalapenos, tomatoes, and onions. You can also add cilantro, lettuce, avocado, or anything else that you prefer.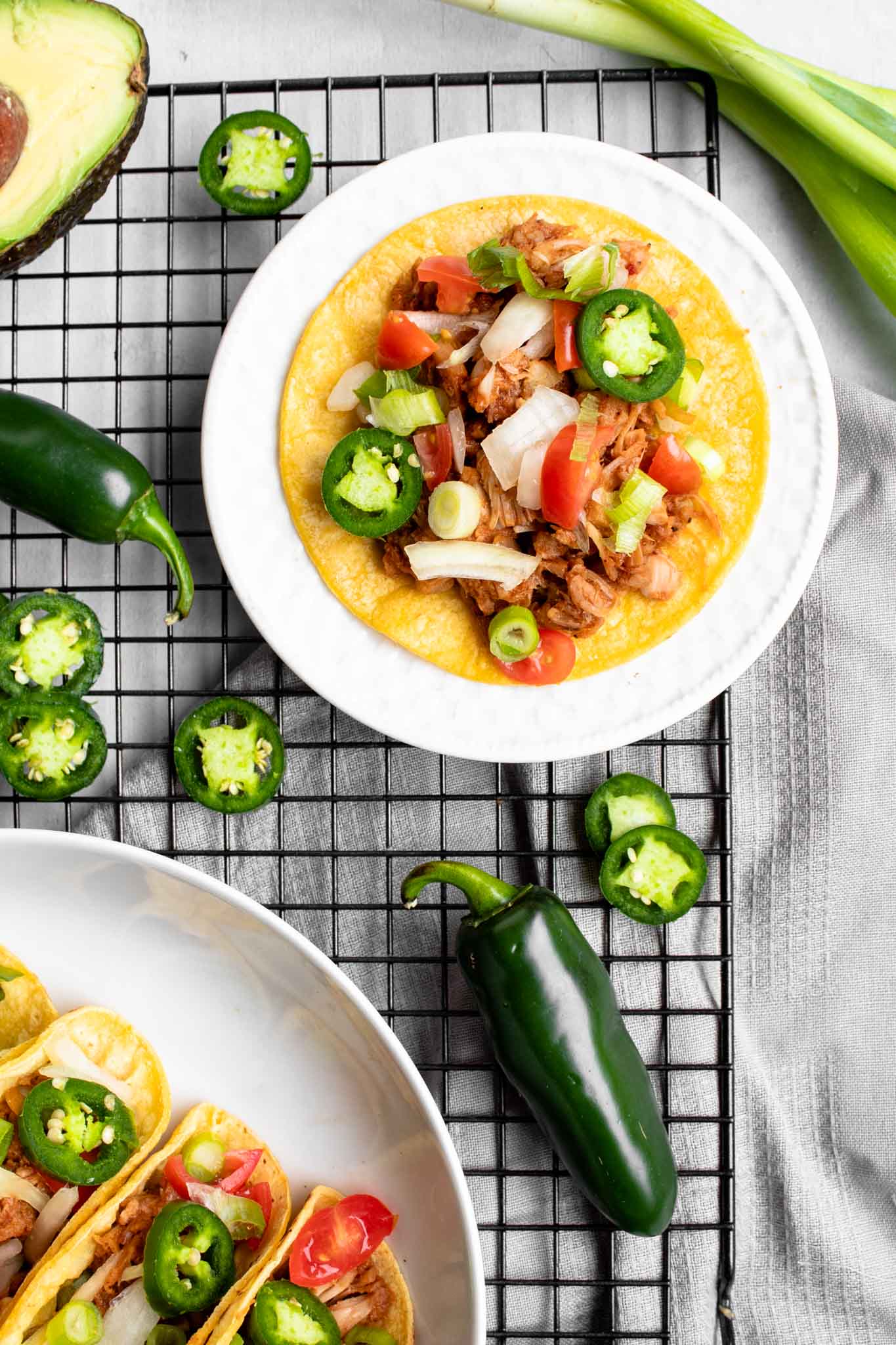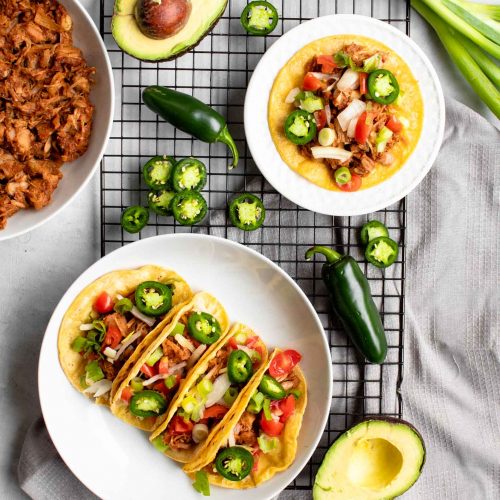 BBQ Jackfruit Tacos
Ingredients
8-10

small corn tortilla shells

2

20oz

cans of jackfruit

1

small

white onion

1/4

cup

barbecue sauce

1/2

packet

taco seasoning

1

tbsp

onion powder

1

tbsp

garlic powder

1/2

cup

sliced cherry tomatoes

2

green onions

2

jalapeno peppers

1/2

an avocado
Instructions
Drain the cans of jackfruit. In a large saucepan, add 1 tbsp olive oil. Add in the jackfruit and cook on medium-high heat.

Dice one small white onion and add into the saucepan. Cook until jackfruit softens.

Once jackfruit is soft enough, shred with a fork. Then add in the barbecue sauce, onion powder, garlic powder, and taco seasoning.

Heat up 8-10 small corn tortilla shells in the sauce pan with a little bit of oil. Cook till just crisy enough.

Add jackfruit to the tacos. Top with sliced tomatoes, green onions, avocado, and jalapeno peppers and serve.