Easy and delicious homemade spring rolls that are loaded with avocado, carrot, cucumber, and teriyaki tofu! Make these for an easy lunch to bring on the go or for a quick snack!
I swear sushi is my love language. Like if someone brought me sushi (or made me sushi) I would probably fall in love with them on the spot. I don't know if you personally would classify spring rolls as sushi, but since there's rolling and rice involved, I definitely do.
These have been one of my favorite things to eat for as long as I can remember. I would always buy them premade from Trader Joes and they came with the most delicious sauce. Sooo I figured since I love spring rolls so much, I should try and make some of my own. And they turned out pretty well if I do say so myself!
How to Make:
For this recipe you'll need:
rice paper
avocado
cucumber
carrots
lettuce
tofu
teriyaki sauce
peanut butter
soy sauce
maple syrup
I know it seems like a lot of ingredients, but once you put it all together it isn't too bad.
For the rice paper, I used Dynasty's white rice paper. Figuring out how to maneuver this was a little harder than I originally thought. So, with each piece of rice paper, you have to dunk it in water for a couple of seconds. This turned out to be a little bit of a problem when I first made these because I didn't think that the paper was softening when I put it in the water. So I left it in for well over a minute each time. This let to reallyyyy thin rice paper and spring rolls that kept falling apart. So the second time I made it, I only left it in for a few seconds. When you take the paper out, it will probably still be a little hard but it softens while you are putting the ingredients in. Once you come to roll it, it should be perfectly flexible.
For the tofu, I used two packs of extra firm tofu and cut them into long slices. Then I covered them in a little bit of oil, teriyaki sauce, and some soy sauce. I then cooked them on a saucepan for about three minutes on each side. After that, I placed them on a baking tray and broiled them for about 20-30 minutes. Frying the tofu before baking it helps get rid of some of that extra water and really helps the tofu to get crispy in the oven.
For the carrots, cucumber, and avocado, you want to slice them into really thin, long slices. The carrots I shredded on a cheese grater, which made it a lot easier.
After everything is cooked and sliced, then you can start putting together the rolls. In each roll, I put two slices of tofu, one/ two slices of avocado, lettuce, carrots, and two slices of cucumber. Then I rolled it up burrito style and voila.
This recipe is really great because you could honestly put anything that you want into the spring roll. You could substitute the tofu for chicken or shrimp and add in any veggies that you have laying around.
These rolls last in the fridge for about 3 days or so and are the perfect easy meal or snack. The only issue with storing them for longer in the fridge is that the rice paper tends to get a little hard, so the rolls don't taste as fresh. Also, if you use avocado, that tends to go brown pretty quickly.
For the sauce, combine about 1/4 cup peanut butter, 2 tbsp maple syrup, and 4 tbsp soy sauce and mix.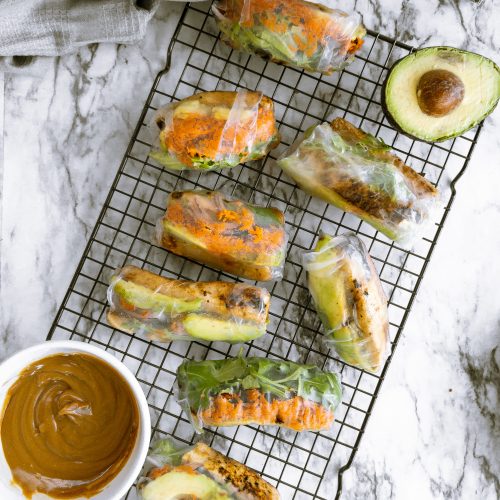 Tofu Spring Rolls with Peanut Sauce
Ingredients
For the Spring Rolls
2

14 oz packs

extra firm tofu

1

cucumber

2

large carrots

2

avocados

3

cups

lettuce

20

pieces

rice paper (typically comes in packs of 40 or so)

1/4

cup

teriyaki sauce
For the Peanut Sauce
1/4

cup

peanut butter

2

tbsp

maple syrup

4

tbsp

soy sauce
Instructions
For the Spring Rolls
Preheat the oven to broil. Drain and press the tofu. Slice into long pieces and coat with teriyaki sauce. In a medium saucepan, coat the bottom with a little bit of oil. Then, lay half of the tofu and cook on high heat for 3 minutes on each side. Repeat with the rest of the tofu.

Then, place the tofu on a baking tray. Broil in the oven for about 30 minutes, flipping the tofu halfway.

Slice the carrots, cucumber, and avocado. Place on a plate.

Once everything is cooked and baked, take one piece of the rice paper and dip it in water for about 3-5 seconds.

Then, combine two pieces of tofu, 1-2 pieces of avocado, shredded carrots, cucumber, and lettuce into the spring roll. Roll like a burrito and repeat for the rest of them.
For the Peanut Sauce
Combine the peanut butter, maple syrup, and soy sauce in a bowl and mix until fully incorporated.