Add this comforting, vegan dish to your meal prep for the upcoming week! Loaded with flavor, creaminess, and nutrients, this pasta is the perfect dinner!
If I could eat pasta every day for the rest of my life, I probably would. There's so many different things that you can do with it, including this creamy red pepper sauce. There are so many versions of this out on the internet, and I thought that I would try and make my own. I have to say, it turned out pretty good.
How to Make:
What You Need:
Red bell peppers
White onion
Minced garlic
Cashews
Tomato paste
Nutritional Yeast
Dairy-free milk
Salt and pepper
Red pepper flakes
Pasta of choice (I used penne)
The cashews are an important component of this sauce as they really add to the creaminess and make the sauce a great texture. The best way to incorporate the cashews is to let them soak in water overnight (or in boiling water for 2o minutes). This helps soften them so that they are easier to blend.
For the red peppers, you will want to slice them and bake them at 350 for about 20-30 minutes or until slightly crispy. You don't want them to blacken, just crispy enough to draw out the flavor. You also want to bake 1/2 of the white onion. The other half of the onion will just be added raw to the sauce
The garlic, salt, pepper, nutritional yeast, and red pepper flakes are for some additional flavor. The tomato paste also helps bring some flavor.
For the pasta, I used penne which I feel paired really well with the sauce. You could also use this sauce with any kind of pasta or spaghetti as well.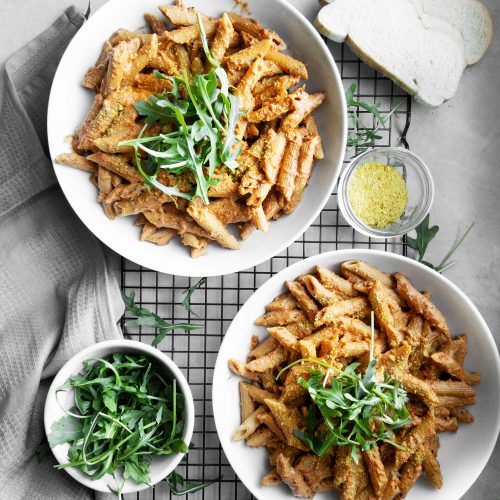 Creamy Red Pepper Pasta
Ingredients
2

red pepper

3/4

white onion

1

tbsp

minced garlic

1/2

cup

cashews

2

tbsp

tomato paste

2

tbsp

nutritional yeast

1

tsp

salt

1

tsp

pepper

1

cup

unsweetened dairy-free milk

1/2

box

penne pasta
Instructions
Soak the cashews in water overnight or in boiling water for 20 minutes.

Preheat oven to 350. In a medium saucepan, bring water to a boil and then add in the pasta. Cook for about 15 minutes or until soft.

Chop the red pepper and half of the onion. Add to a baking tray with a little bit of olive oil and bake for about 20 minutes or until slightly crispy.

Once the pepper and onion are finished baking, add them to a blender. Then add the rest of the onion, garlic, cashews, tomato paste, nutritional yeast, tomato paste, milk, salt, and pepper to the blender.

Blend everything together until creamy. Then add the sauce to the pasta and serve. Top with red pepper flakes to taste.