Looking for a breakfast recipe high in protein and that will keep you full and satisfied? This oatmeal recipe is the perfect quick and easy recipe to make that is filled with nutrients and tons of protein.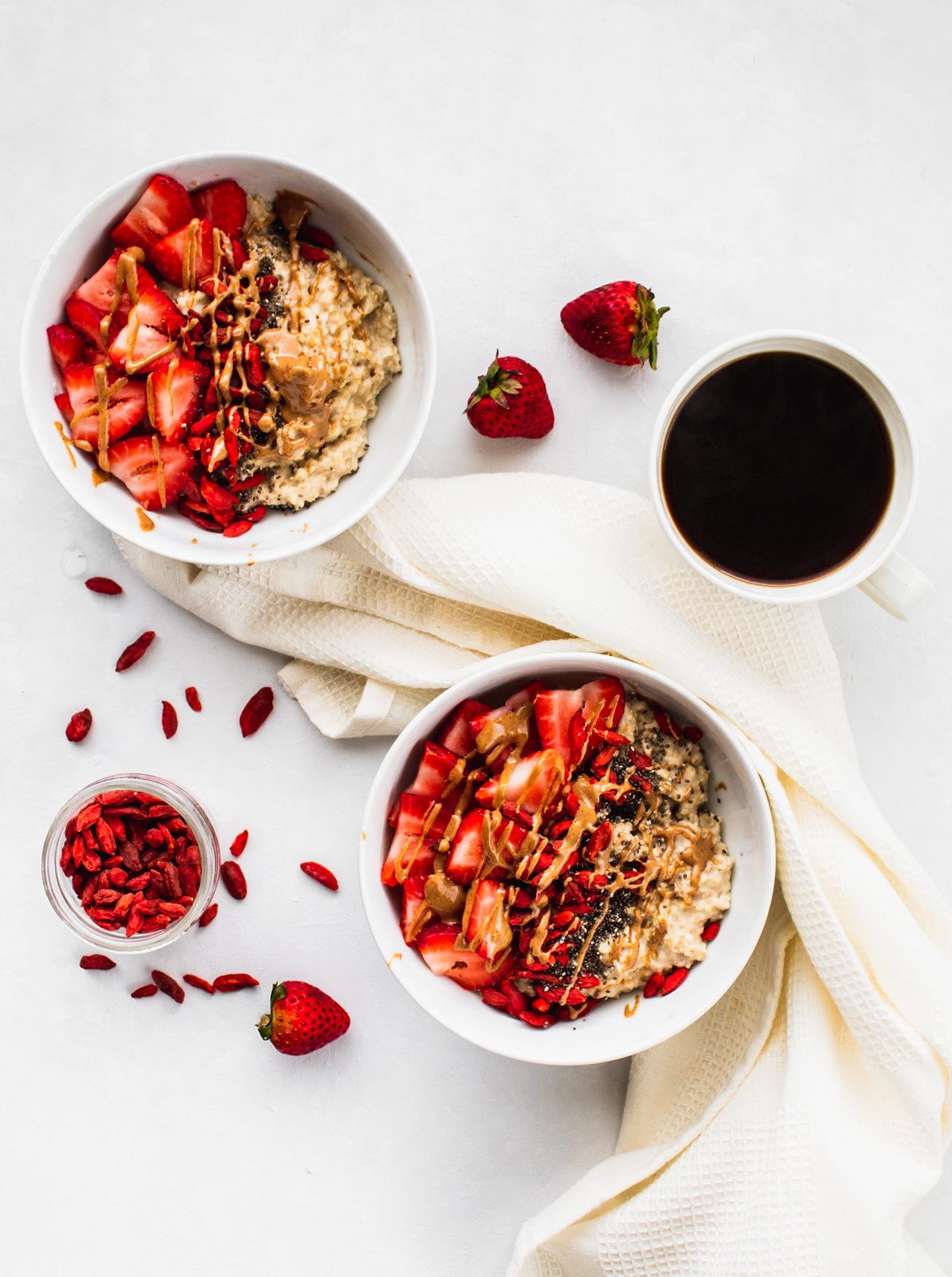 Oatmeal is probably one of my favorite things to make for breakfast. Before classes, this was my go-to as it took less than 10 mins to put together and kept me full till lunchtime. This recipe is pretty straightforward and it filled with protein and fiber, which is what keeps you full.
Benefits of Oatmeal
I don't think people realize how awesome oatmeal is. I mean it's versatile, it's easy to cook with, and it is filled with so many nutrients. It is rich in soluble fiber, which can help reduce cholesterol levels and can help keep you from overeating. It also is really beneficial for your digestive tract to keep things flowing. Oats are also high in antioxidants, iron, and zinc. They are a great way to get in some whole grains, which many people do not eat enough of.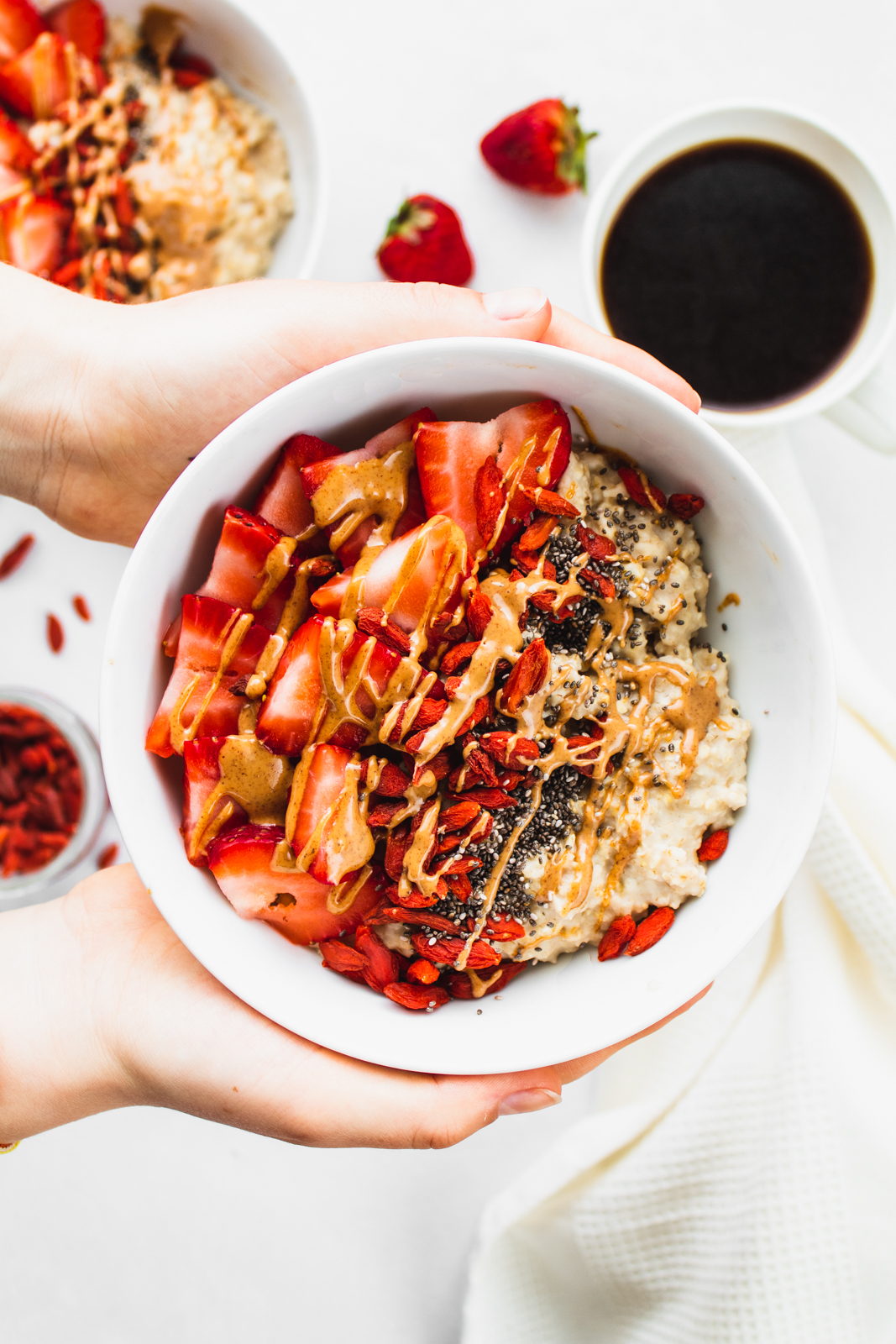 How to Make
So, I always cook with quick oats. I know that steel-cut are supposedly better for you and less processed, but quick oats are just way easier and still provide so many great nutrients. I typically cook mine with water, but you can definitely use any milk of your choosing. For every 1/2 cup of oats, you'll want to add 1 cup of liquid. If you prefer your oats less thick, add in 1 1/4 cup water for every 1/2 cup oats. Then heat on the stovetop on medium-high heat and continuously stir. It should only take about 5 mins.
For the toppings, I added strawberries, goji berries, chia seeds, and almond butter.
Strawberries
Strawberries are one of my favorite fruits!! I mean if you hate strawberries like what's wrong with you? Are you okay? They are filled with vitamin C and are perfect to add to this recipe, as vitamin C will help absorb the iron from the oats. They also are rich in potassium, which many people do not get enough of. Overall, strawberries are delicious and just a great fruit to add into your daily diet.
Goji Berries
Goji berries have been labeled a superfood, which honestly doesn't mean a whole lot in the nutrition world as it's just a marketing ploy. However, goji berries are pretty awesome and I guess could definitely be classified as a superfood. They are an awesome source of antioxidants, which are beneficial in protecting us from disease. They are also high in fiber, vitamin A, vitamin C, iron, and zinc.
Almond Butter
So, I buy this almond butter from Costco and I swear it's superior to all the other almond butters. It is the perfect drizzle butter, as it is more liquid-y and smooth than other nut butters. I also swear it tastes better. I love almond butter as it is a rich source of protein and healthy fats.
Chia Seeds
I try and eat chia seeds every day, as they contain so many wonderful benefits. They are high in omega-3s, which is beneficial for heart health. They are also rich in soluble fiber and protein.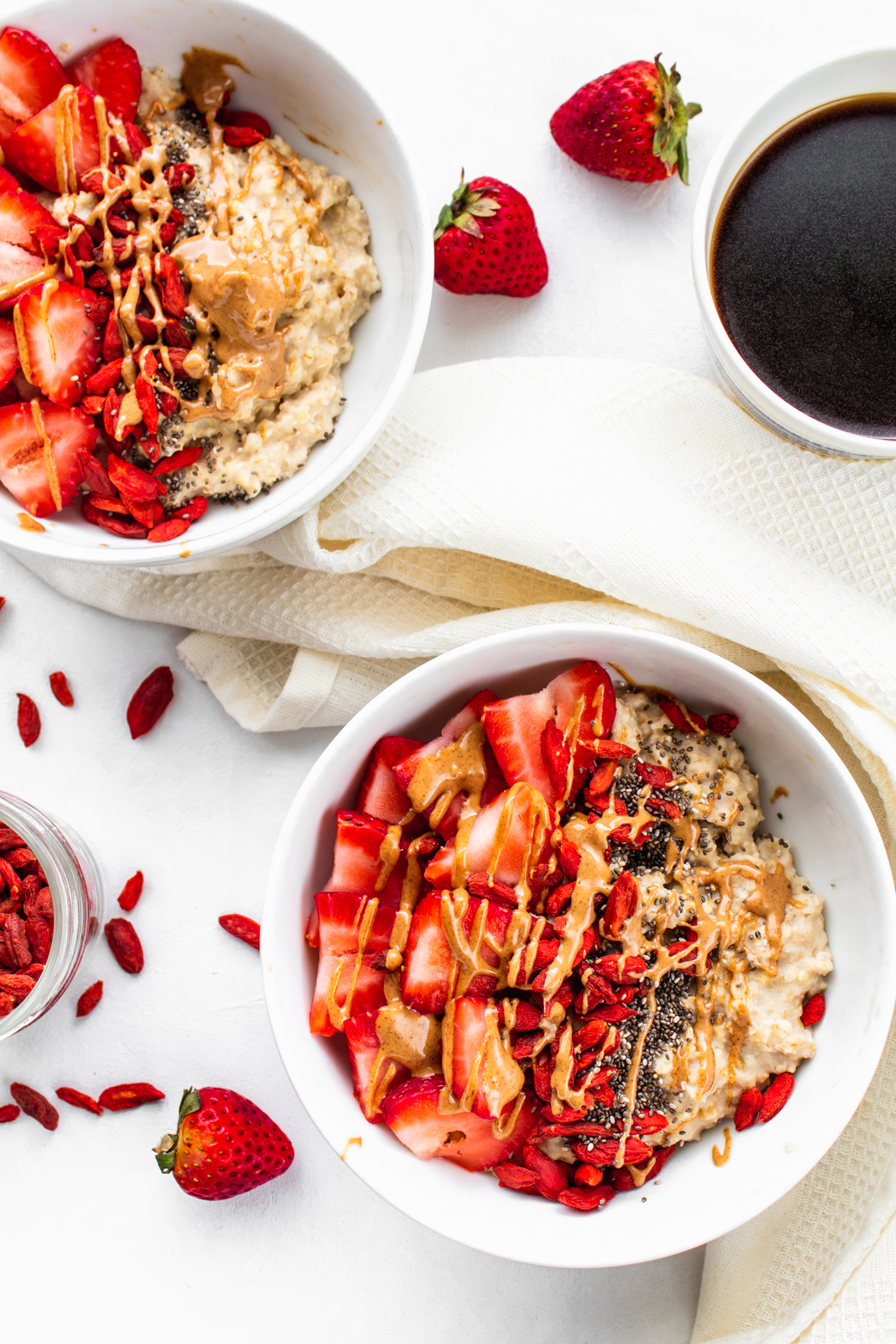 Save This to Pinterest!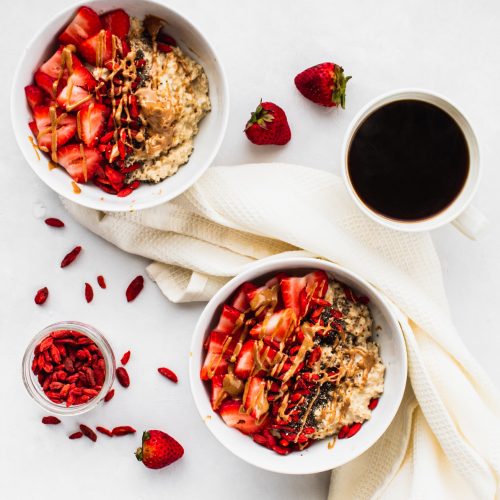 High-Protein Strawberry Oatmeal
Ingredients
2

cups

quick-oats

4

cups

water

4

tbsp

almond butter

1

cup

sliced strawberries

1/2

cup

goji berries

2

tbsp

chia seeds
Instructions
Add the oats and water to saucepan. Cook on medium-high heat for about 5 mins while continuously stirring.

Once cooked, pour the oatmeal into two bowls.

Top with the toppings and serve!