These delicious loaded nachos are perfect for any group event, appetizer, or just a fun and easy dinner! They are loaded with spicy jackfruit, tomatoes, onions, corn, guac, and vegan queso.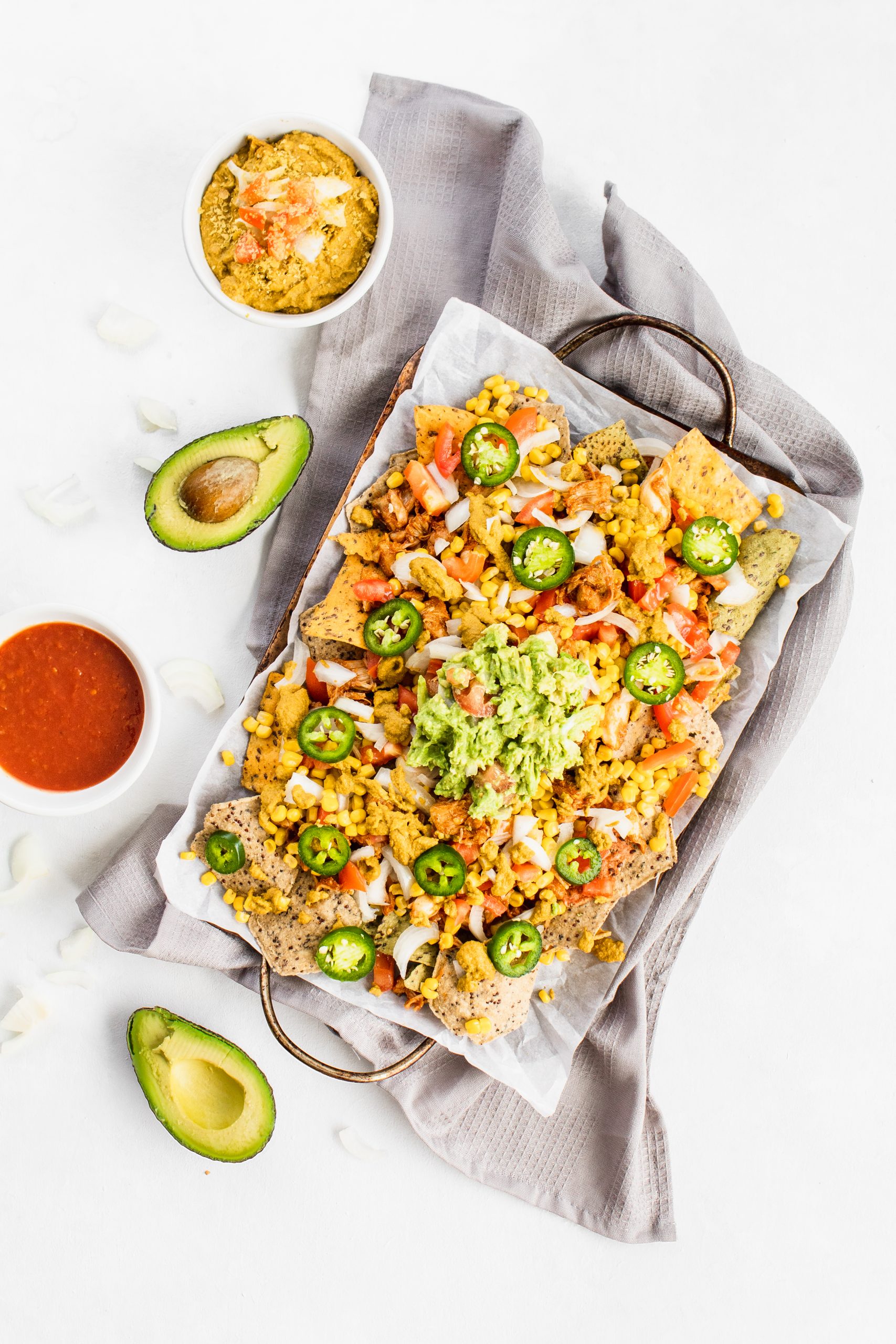 Did you guys ever make nachos in the microwave as kids? Just put tortilla chips and shredded cheese on a plate and microwave it until it melted. I'm pretty sure everyone has tried that at least once. I sometimes wonder looking back how we managed to survive as kids with half the stuff we ate. I can assure you though that these vegan nachos are wayyyy better than the ones you used to make as a kid.

How to Make
Jackfruit
You guys probably can tell that I have an obsession with jackfruit. It's so versatile, especially in Mexican- inspired dishes. It's a great substitute for pulled pork or chicken. I typically just buy the canned version from Trader Joe's, which simplifies the whole cooking process. First, pour the jackfruit into a saucepan with about 2 tbsp of olive oil. Then cook until the jackfruit has softened, and then shred. Add in any seasonings or marinade that you prefer. For this recipe, I used a combination of Trader Joe's taco sauce, BBQ sauce, sriracha, and garlic powder.
Vegan Queso
For this recipe, I used cashews as the base. You'll want to soak one cup of cashews in hot water for about 20 minutes. Then add the cashews, 1/2 cup nutritional yeast, 2 tbsp garlic powder, 1 tbsp onion powder, 1 tbsp paprika, 1/2 tsp salt, 3-4 slices of jalapeno, and 1/2 cup non-dairy milk to a blender. Then blend all together until the sauce is creamy.
Other Toppings
I added cooked corn, raw onions, and tomatoes on top of the nachos as well. These added the perfect complimentary flavor to the jackfruit and cheese sauce!
Tortilla Chips
I love Trader Joe's Flaxseed and black bean tortilla chips, which is what I used for this recipe. You could honestly use any tortilla chips that you have on hand! Also, I swear that I am not being sponsored by Trader Joes in any way, I just love their products a lot.
Guacamole
For my guacamole, I always do one avocado, 1 tbsp lemon juice, 1 tbsp sriracha, and a dash of black pepper. Again, you can make it any way that you prefer!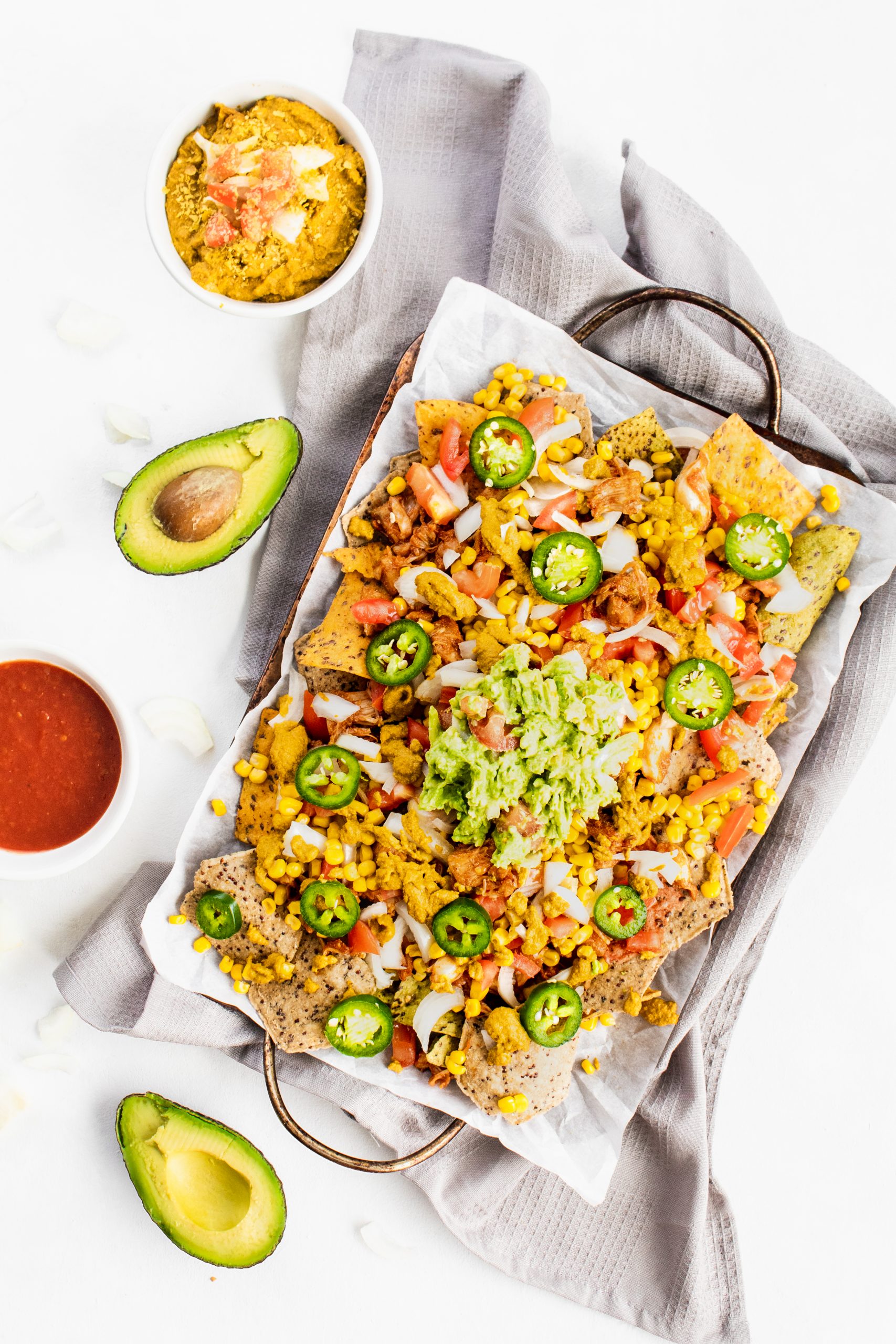 Save this Recipe to Pinterest!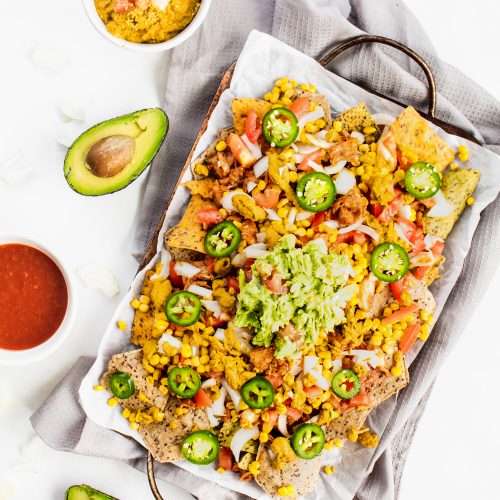 Loaded Vegan Nachos
Ingredients
For the Nachos
4

handfuls

tortilla chips

1

can

jackfruit

1/4

cup

taco sauce

4

tbsp

sriracha

4

tbsp

BBQ sauce

1

cup

cooked corn

1/2

cup

chopped onion

1/2

cup

chopped tomato

1

avocado
Vegan Queso
1

cup

cashews, soaked

1/2

cup

nutritional yeast

2

tbsp

garlic powder

1

tbsp

onion powder

1

tbsp

paprika

1/2

tsp

salt

1

tsp

turmeric (for color)

3-4

slices

jalapeno pepper

1/2

cup

non-dairy milk
Instructions
In a large saucepan, add the drained jackfruit with 2 tbsp olive oil. Cook until the jackfruit is soft, and then shred it with a fork.

Add in the taco sauce, sriracha, and BBQ sauce and mix until the jackfruit is well coated. Set aside.

Cook the corn and chop the onions and tomatoes. Set aside.

Mash the avocado and prepare guacamole. You can add any ingredients that you like. For this, I added in 1 tbsp lemon juice, 1 tbsp sriracha, and a dash of black pepper.

On a large platter or tray, add in the tortilla chips. Top with the jackfruit, corn, tomatoes, onion, queso, and guac. Serve and enjoy!
Vegan Queso
Soak the cashews overnight or for 20 minutes in boiling water.

Drain the cashews and then add them into a blender. Add the nutritional yeast, garlic powder, onion powder, paprika, salt, turmeric, milk, and jalapenos to the blender. Blend until smooth.