Add this smoothie to your daily meal plan for a little immune boost. Filled with antioxidants and powerful nutrients, this smoothie will leave you feeling refreshed and will give your body a little boost in the day. 
Well, we are currently in the middle of sickness central right now. With it being flu season and having a pandemic on top of that, our immune system is probably in overdrive right now. I've always believed that the best medicine is food. Not to say that food outweighs hospital care, procedures, and medications, but I believe that the basis of our health and the basis for traditional healthcare to be effective is our diet. You can't expect your body to fight off these illnesses without giving it the nutrients and fuel it needs.
One of my favorite ways to get in a bunch of nutrition is smoothies. It's so easy because you can add so many veggies in there that you normally wouldn't eat and cover it up with the taste of fruit or protein powder. I typically have a smoothie most mornings, and I find it to be the perfect way to start off my morning.
What's in the Smoothie
So I packed this smoothie with a lot and for a specific reason. Each of these ingredients serve a specific purpose in our bodies and provide specific immune-boosting nutrients.
Spinach
I always add spinach to my smoothies because of how awesome it is. Spinach is seriously a powerhouse food and it really provides your body with so many essential nutrients. Spinach is high in iron, vitamin A, vitamin C, folic acid, and calcium. Also, spinach contains a lot of fiber and phytochemicals which are also extremely beneficial for our health. Spinach is a huge way that I get iron on a plant-based diet, which is extremely important for oxygen transport in our blood and to prevent anemia. Spinach is also really high in phytochemicals, which aren't necessarily vitamins or minerals but they provide a health benefit to our body. Some of these phytochemicals are antioxidants and have been studied in the prevention of many chronic diseases.
Kale
A few years ago, kale was all the rage. I swear every single person was wearing a kale shirt and drinking kale smoothies. There's a reason that kale was labeled the superfood of the year because it contains so many beneficial nutrients and compounds. As a future dietitian, I wouldn't label any food the cure for all disease or a miracle worker, but if I could it would probably be kale. Kale is one of the most nutrient-dense foods on the plant. As a cruciferous vegetable, it is high in vitamin A, vitamin C, calcium, potassium, and a few other vitamins/minerals. It's also extremely high in antioxidants and phytochemicals. For me personally, I hate eating kale raw. It has such a thick, crunchy texture that it's a little hard for me to cook with. That's why I normally add it into smoothies, so I still get all the benefits but don't get the tough texture and taste.
Orange
I typically add in oranges to my smoothies for the taste and for the vitamin C content. Vitamin C is really important too for skin health, as it helps produce collagen and repair wounds. It also is an antioxidant, which means that it is really beneficial in fighting off illness and harmful free radicals in our body. Vitamin C can also help absorb iron, which is why I like to add this orange into this smoothie as it can help our body absorb the iron from the spinach.
Banana
I am sure you all have heard that bananas are high in potassium. I feel like everyone associates bananas with potassium, without understanding what potassium is or the importance of it. Bananas are a great addition to this smoothie for the sweet flavor they add and the nutrients they provide. Potassium is an extremely important mineral that most Americans don't get enough of. It plays an important role in fluid and electrolyte balance, muscle contractility (including heart contractility), and can help lower blood pressure.
Mango
I think mango is one of my favorite fruits of all time. I added these in to sweeten up the flavor of the smoothie and for the vitamin C content of mangoes. They are super high in vitamin C, which means that they are high in antioxidants and can help our body better absorb iron.
Turmeric
I think I am turmeric's biggest fan. This is one thing that I try to eat every day because of the amazing benefits that this spice brings to your body. I once had to write a research paper for a class on turmeric and that is when I realized how incredible this spice is. There is so much research going into turmeric's role in cancer prevention and cancer treatment. It has been used for centuries in different cultures as a medicinal herb. Again, I'm not saying that this spice is a cure-all or a miracle worker, but it does provide some amazing immune-boosting benefits to the body. Turmeric, or specifically curcumin which is the main compound in turmeric, has major anti-inflammatory properties and is extremely rich in antioxidants. The only downside is that it is poorly absorbed by the body, which is why I added a little bit of black pepper to the smoothie. Black pepper has been shown to help the body better absorb turmeric.
Chia Seeds and Flax Seeds
I'm going to group these two together because they have very similar properties. I try to eat chia seeds and flax seeds daily because they are both high in omega-3s. As someone who is plant-based, I don't eat fish, so I have to find other sources to get my omega-3s. Flaxseed and chia seeds are great option for this, and you only really need about 1-2 tbsps of each per day. They are also both high in protein and fiber, which helps to keep you feeling full longer.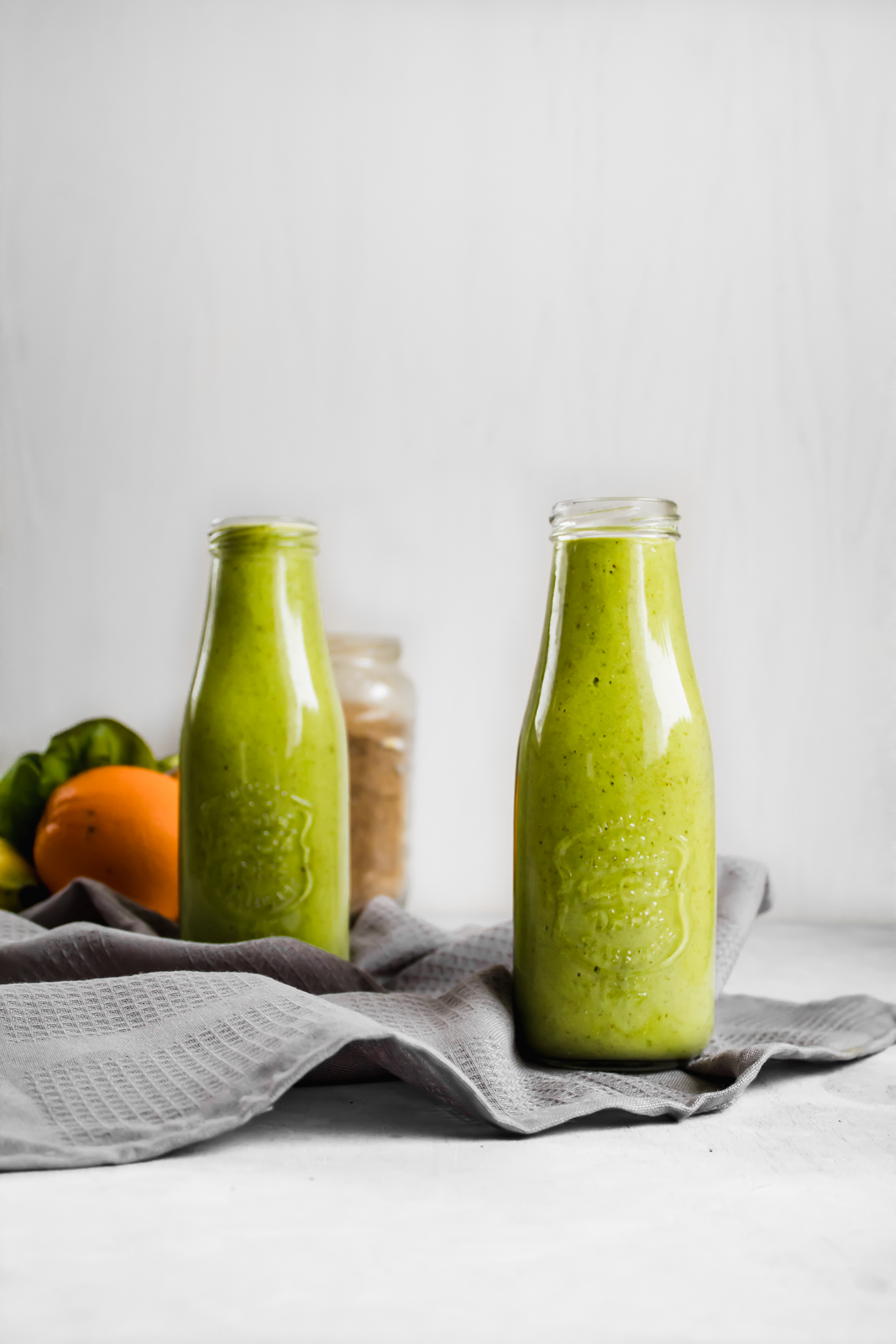 Overall, this smoothie is high in antioxidants like vitamin C, potassium, and phytochemicals which will all give you an immune boost during this high-illness season.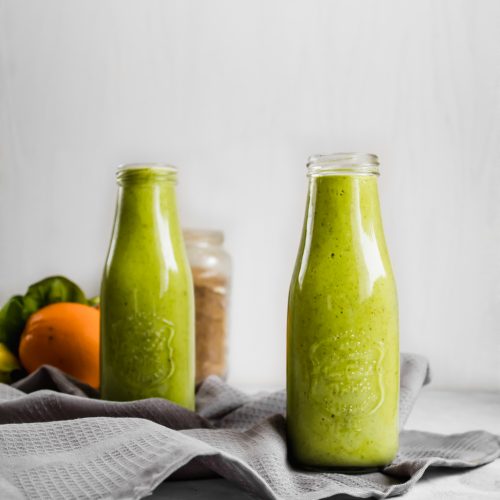 Immune-Boosting Smoothie
Ingredients
2

cups

spinach

1

cup

kale

1

banana

1

orange

1

tsp

turmeric

1

tbsp

flaxseeds

1

tbsp

chia seeds

dash of black pepper
Instructions
Add all of the ingredients into a blender with 2 cups of water and blend until creamy.