Looking to switch up your normal breakfast smoothie? Try one of these five easy, delicious, and protein- packed smoothie recipes. They are perfect for a great start to the day or for an on the go meal.
I say smoothie, you say smoothie, we all say smoothie. Who doesn't like smoothies? Especially when they taste like dessert. Honestly, I would drink a smoothie every day for breakfast if I had the option with no complaints. They are one of my favorite things to make for many reasons. One, smoothies are a great way to get a bunch of nutrients in first thing in the morning. Second, they take like 2 minutes to make. Third, they are super easy to take with you on the go. As a college student, that is the perfect combo for me.
Little Tip: Add in a bunch of greens to your smoothies. It's a great way to get a TON of goodness in during the day and you can barely taste them (especially if you add in a bunch of fruit and a banana).
It's very easy to get bored of smoothies super fast, especially if you are making the same one every day. That's why I have compiled a list of my five favorite go-to smoothie recipes. Each are delicious in their own way and contain different amazing foods that we should be incorporating into our everyday diet.
Smoothie Number One: Tropical Spinach Smoothie
Spinach is probably my favorite ingredient to add into smoothies. Why? Because it's packed with iron, fiber, vitamin A, vitamin C, and folic acid. Also, it has zero taste. So it's a perfect green to pack into a smoothie because it has so many amazing benefits and is super easy to mask the taste of.
This smoothie is perfect for my vegetable-haters out there and for kids. I remember my mom used to make me a smoothie like this in order to get me to eat my greens and I could barely tell that there was spinach in there.
What you need:
1 banana
2 cups frozen mango
2 oranges
1 cup orange juice
2 cups baby spinach
1 cup dairy-free yogurt
1 tbsp chia seeds
The oranges, orange juice, and mango are packed full of Vitamin C which helps your body absorb the iron in the spinach. I like to add in a banana to most of my smoothies because it helps to sweeten it up and is packed with potassium and fiber. The dairy-free yogurt helps to add in some extra protein and creaminess. I like to use Califia Farm's Probiotic Yogurt Drink in the Plain Flavor. Lastly, I always add in chia seeds to my smoothies to get in my omega-3 fatty acids for the day and some extra protein and fiber.
Smoothie Number Two: Chocolate Cherry Smoothie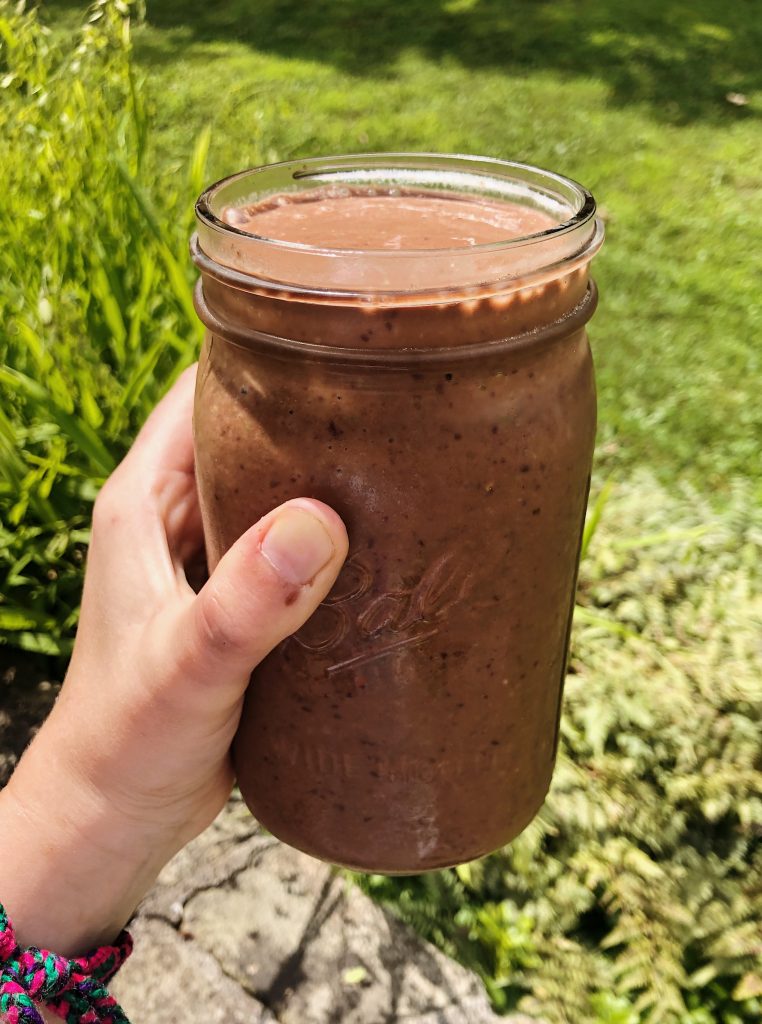 Where are all my ice cream loving, sweet toothers out there? Because this smoothie is for you. I swear it tastes like chocolate cherry ice cream in milkshake form. This smoothie is high in protein, rich in antioxidants, and perfect for kids.
What you need: 
2 cups frozen cherries
1/4 cup cacao powder
1 banana
3 medjool dates
1 cup frozen green peas
1 cup dairy-free yogurt
1 cup water
1 tbsp chia seeds
The cherries and cacao powder are both rich in antioxidants which help protect your body against free radicals. I added the banana and dates to sweeten up the smoothie. Frozen green peas are another favorite of mine to add due to their high protein content. They also help to thicken up the smoothie and have very little taste.
Smoothie Number Three: Blueberry Banana Smoothie
This is a go-to smoothie of mine, especially when you just want something simple and delicious. Blueberries are one of my favorites to add to smoothies because they are packed with antioxidants and have such a good taste.
What you need:
2 cups frozen blueberries
1 banana
2 cups spinach
1 cup dairy-free yogurt
1 tbsp chia seeds
1 cup water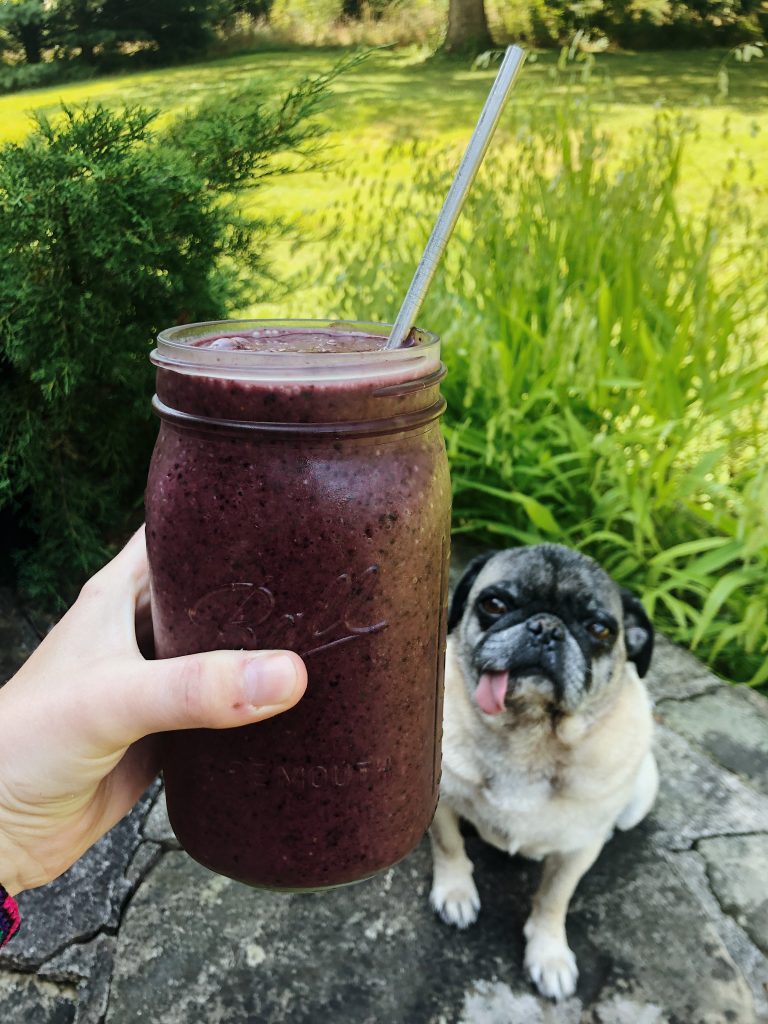 This smoothie is so good that it's 100% pug-approved.
Smoothie Four: Peach Blueberry Kale Smoothie
Kale aka the powerhouse ingredient of any smoothie. Kale is rich in calcium, antioxidants, vitamins A and C, and vitamin K. I like adding it into this smoothie because the peaches and blueberries mask the taste.
What you need:
1 can of sliced peaches, drained and rinsed (you can also use one whole ripe peach too)
1 cup frozen blueberries
2 cups kale
1 cup dairy-free yogurt
1 tbsp chia seeds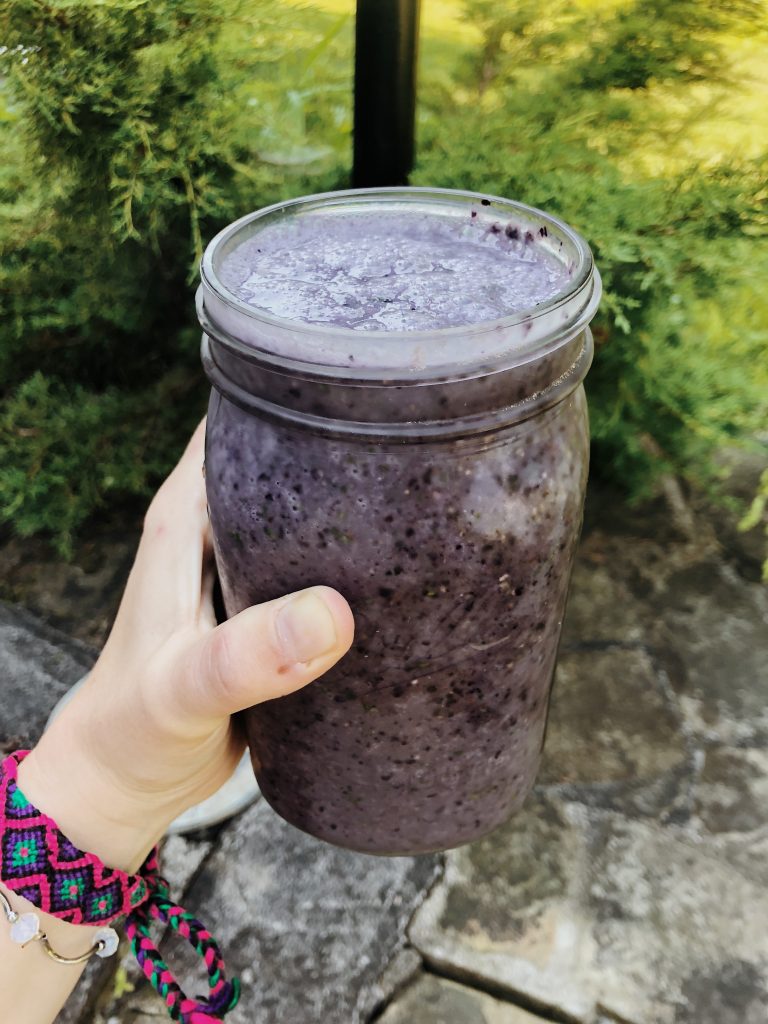 Smoothie Number Five: Orange Pineapple Turmeric Smoothie
If you know me, you know that I LOVE turmeric. I try and incorporate it into everything due to its anti-inflammatory, antioxidant, and cancer-preventing properties. This is one way that I get it into my daily diet: smoothies. All you need is 1/2 a tsp and you are good to go reap the benefits of this amazing spice. I add in a dash of black pepper because it helps the body better absorb the turmeric. The pineapple, orange, and banana help mask the taste since turmeric is a very potent spice. This is a smoothie that I sometimes add spinach to for an extra added benefit as well.
What you need:
1 can of pineapple, drained and rinsed
2 oranges
1 ripe banana
1/2 tsp turmeric
dash of black pepper
1 cup dairy-free yogurt