An easy, high-protein vegan dinner that anyone can make and enjoy. This stir fry is loaded with veggies, protein, and simple ingredients that make them the perfect dinner for families, couples, or just for you!
Let me tell you, it has been a crazy couple of weeks. I returned back to my apartment in the city after being home for about a week to help out while my mom was out of town and I started my junior year of college. This is my first year in my professional dietetics program, so I am super excited and a little overwhelmed. I'm also working a TON for you guys on this blog. Definitely upping my game in these next few weeks, starting with this post, so stay tuned. I've been working hard to make some improvements, especially in the photography area, as that was not my expertise at all.
I do have a new for you today though!! I've been loving making stiry-frys because they are easy, take under 30 minutes to put together, and require very few ingredients. Stir-frys have been lifesavers these last few weeks as I've been trying to balance school, work, this blog, cooking, and a social life.
This recipe is also perfect for meal prepping, so you can prepare it in bulk and eat it throughout the week. Who doesn't love leftovers? I know my worn-out college soul does.
General Tso's Tofu and Veggie Stir Fry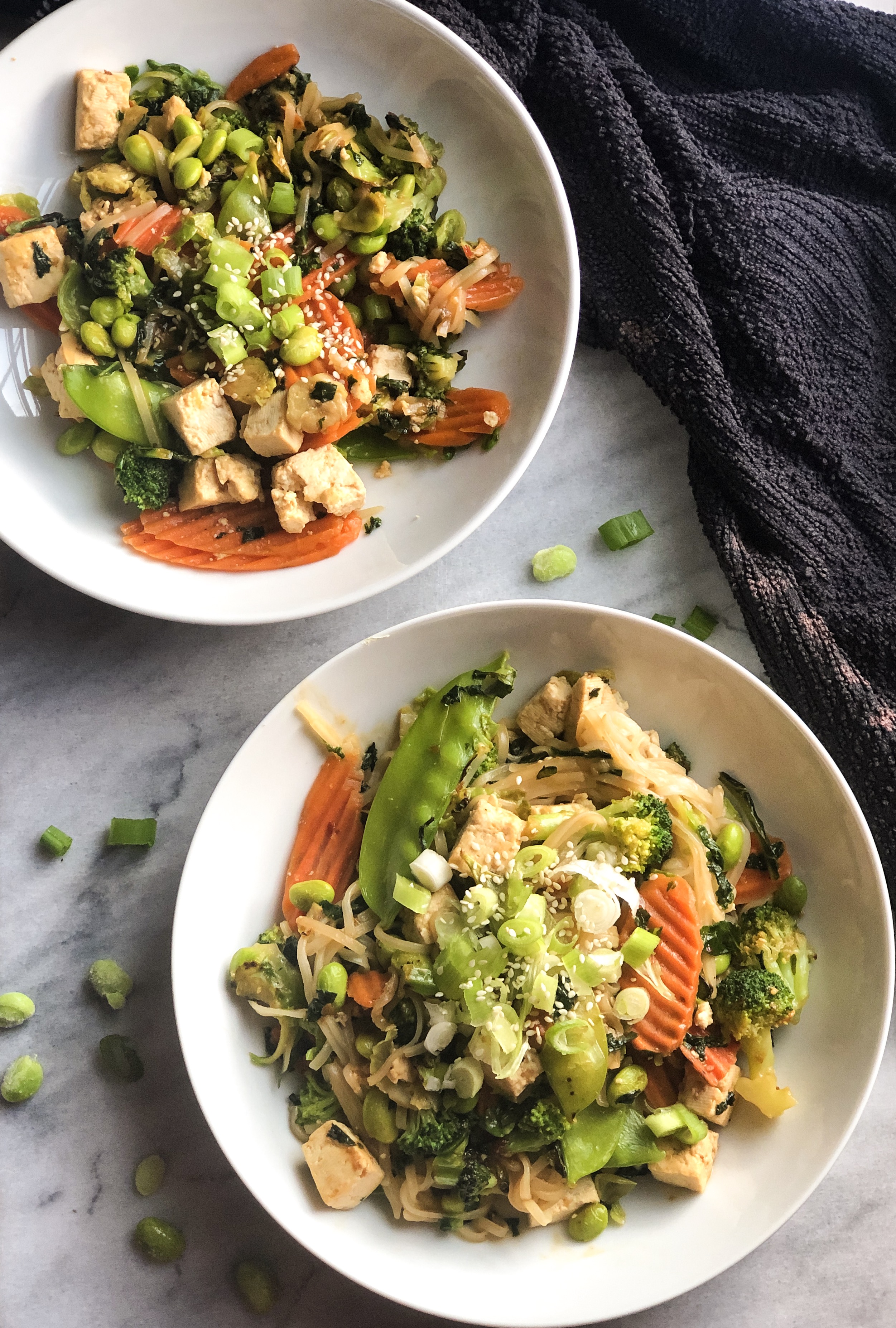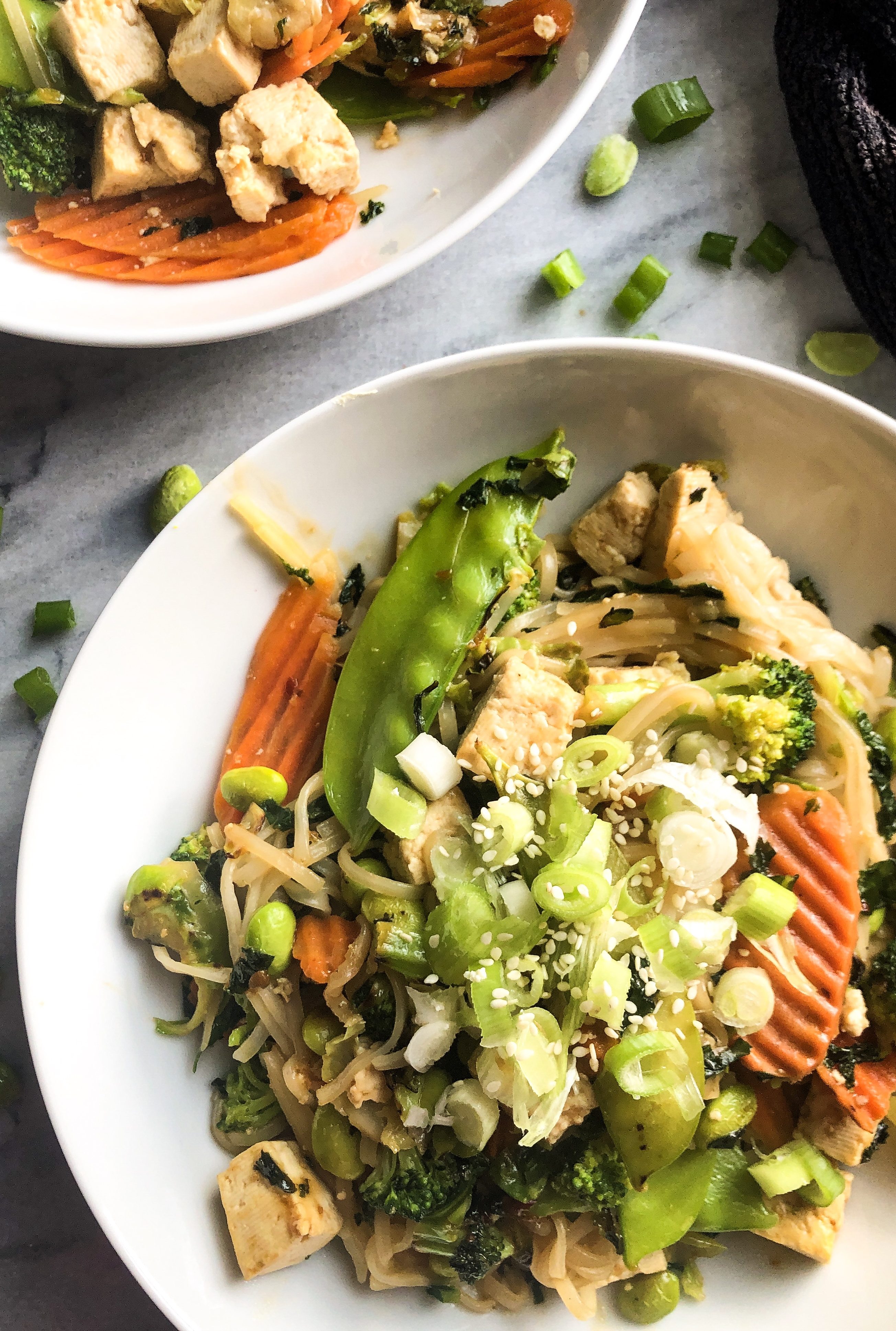 This meal has become one of my staples, and you could honestly make it with any veggies that you have in the fridge. The tofu and edamame provide 18g of protein in one serving, making this a super filling and protein-dense meal.
For the sauce, you could use a store-bought General Tso's sauce, Teriyaki sauce, or make your own using the recipe I have posted down below. Just mix everything together for the sauce in a separate bowl and then combine into the stir fry.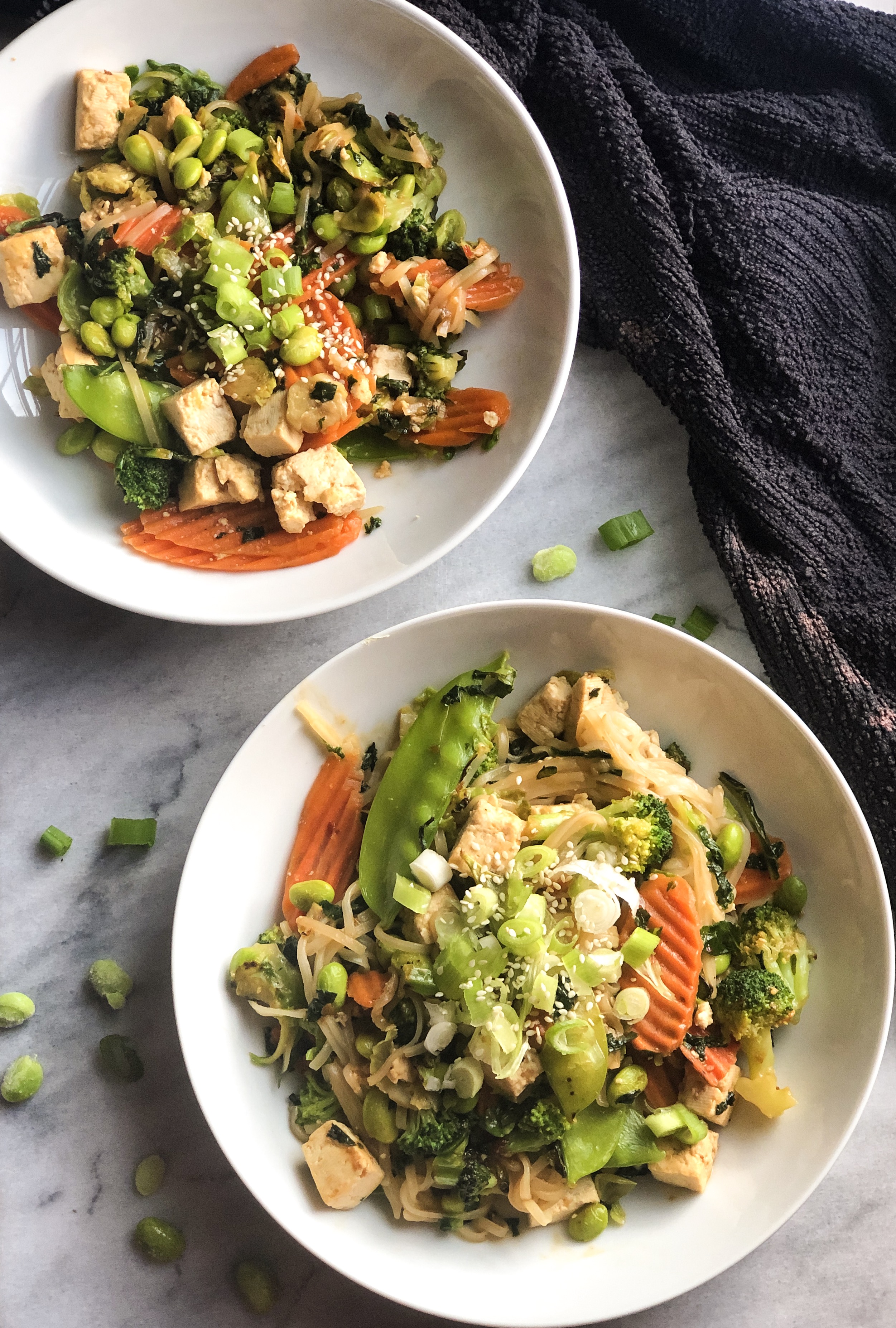 General Tso's Veggie and Tofu Stir Fry
A quick, easy, and nutritious recipe that anyone is guaranteed to enjoy.
Ingredients
16

oz

rice noodles

2

cups

brussel sprouts, sliced

2

cups

carrots, chopped

2

cups

onion

16

oz

extra firm tofu

2

cups

snap peas

1

cup

edamame

4

cups

spinach

2

tbsp

olive oil

2

cups

broccoli
For the Sauce
1/2

cup

General Tso's store bought sauce
OR
1/4

cup

soy sauce

1/4

cup

maple syrup

1

tbsp

minced garlic

3

tbsp

sriracha

1

tbsp

sesame oil

1

tsp

red chili flakes
Instructions
In a pot, add in the rice noodles and cook in boiling water until done. About 10-15 minutes.

While the rice noodles are cooking, combine the tofu, brussel sprouts, carrots, snap peas, spinach, edamame, and broccoli in a medium-sized saucepan with a little olive oil. Cook on medium heat for about 10 minutes, continuously stirring.

When the veggies and tofu are done, drain the noodles and add them into the saucepan. Add in the General Tso's sauce.

Mix together until evenly combined.

Serve and top with chives and sesame seeds