Add these gluten-free, vegan brownies to your list of things to bake. They are packed with fiber, protein, and contain no refined sugar.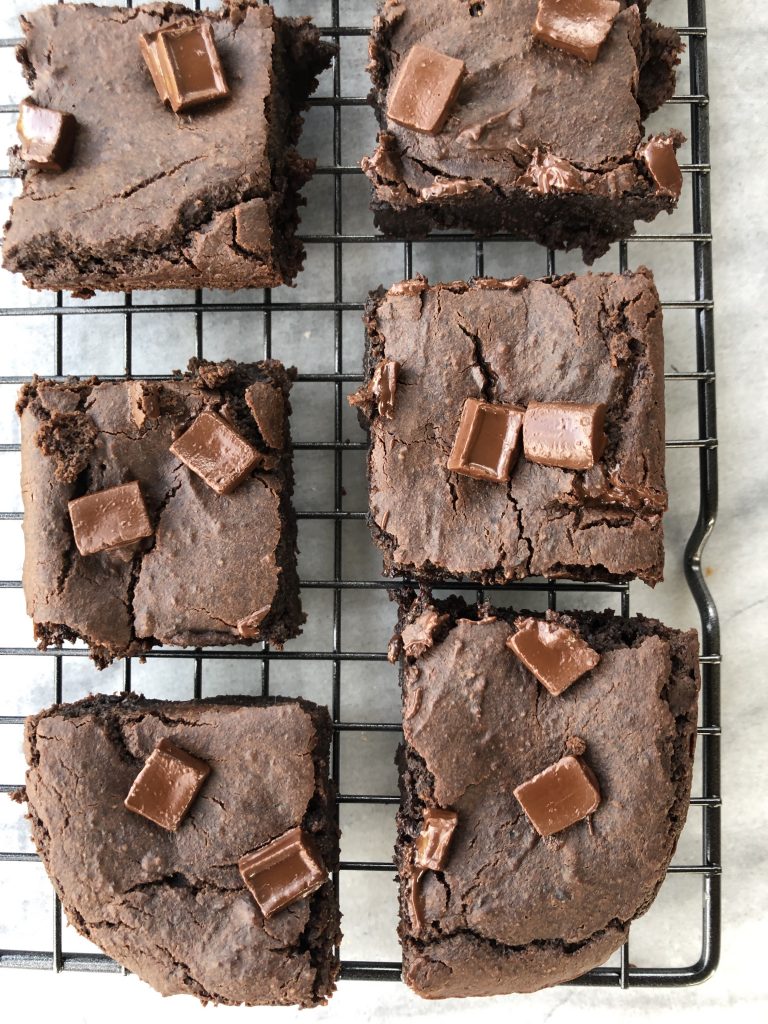 I don't think I've met a single person on this planet who hates brownies. I mean, they're gooey, chocolatey, and super delicious. I've seen recipes for ways to add in beans to brownies and was super skeptical to try them. That was until one of my professors last semester brought in her chickpea, golden brownies and I was sold. They were delicious and you couldn't even tell that they contained chickpeas or had half the sugar as regular brownies. Plus they still contained chocolate chips, which was an added bonus.
I was playing around in the kitchen the other day and decided I would try and make black bean brownies for myself. I used almond flour as the base, but you could use any gluten-free flour. I added in a whole can of rinsed black beans (don't need the sauce or salt in there) and used two flax eggs as the binding agent. I used a mix of maple syrup and coconut sugar to sweeten, which you could change based on your liking. I no longer have a super sweet tooth, so I tend to like things less sweet. If you want the batter to be sweeter, just add in more maple syrup.
How to Make: 
First, make sure that you rinse off the black beans, especially if they come in a can. Most canned beans have a salty sauce that they are in, which you definitely don't want to be added into your brownies. So make sure to wash them super well.
Then, you blend all the ingredients (except the chocolate chips) in a food processor or high-speed blender. You want to blend the mixture until it is pretty smooth so that you don't get any black bean chunks in there.
Add in the chocolate chips next. I used vegan dark chocolate chunks and they made the brownies taste SO good. They slightly melted in with the batter and it just added an extra chocolaty layer that was perfect.
I then poured the mixture into an 8×8 pan and baked for about 40 minutes. I would consistently check yours though. Mine took a little longer to get fully baked, but that's partly because our oven doesn't bake super well. Also, if you want your brownies to be gooier then I would only baken them for about 25 – 30 minutes. As always, use a toothpick to check. Since these are vegan though, it doesn't matter if they aren't cooked all the way through. Perks of using no eggs!!
Black Bean Brownies
August 12, 2019

12 Brownies

1 hr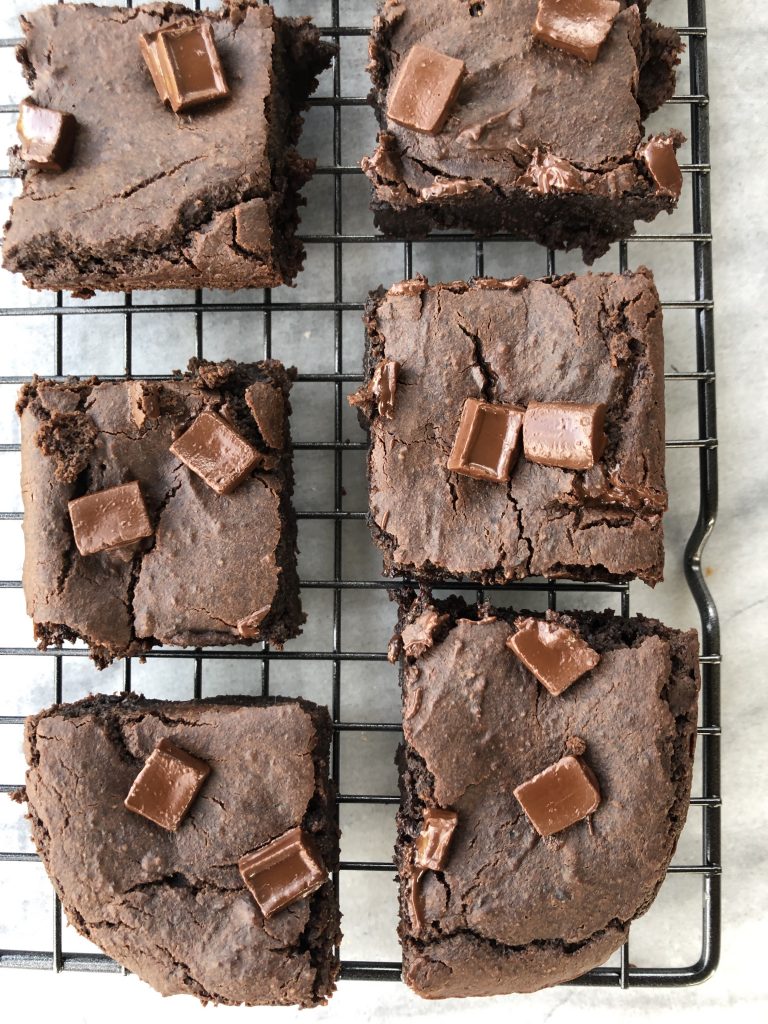 Ingredients
1 can black beans, drained and rinsed
½ cup gluten-free flour
½ cup cacao powder
2 flax eggs (2 tbsps flax seed + 6 tbsps water)
¼ cup almond butter
2 tsp vanilla extract
1 tsp baking powder
¼ tsp baking soda
¼ tsp salt
1 tbsp vegan butter (melted)
1/4 cup coconut sugar
1/4 cup maple syrup
½ cup dark chocolate chips
Directions
Step 1

Preheat oven to 350

Step 2

In a blender or food processor, blend the almond flour, almond butter, black beans, cacao powder, flax eggs, vanilla extract, baking powder, baking soda, salt, butter, coconut sugar, and maple syrup

Step 3

Then add in the chocolate chips

Step 4

Pour into an 8×8 pan.

Step 5

Bake for 35-40 minutes