This loaded spaghetti sauce is perfect for a busy weeknight and feeds up to four people. It is packed full of nutrients and whole foods and is the perfect chunky sauce for any member of the family. 
Spaghetti is always my go-to on nights where I don't feel like spending hours in the kitchen cooking up a huge meal. Its simple, quick, and easy and is the perfect meal for feeding a large group of people. I decided to try and use up what I had in the fridge by making my own loaded sauce. I love sauces like this on spaghetti because it adds texture and flavor and is packed full of awesome plant foods. In this sauce, you'll find mushrooms, spinach, garlic, onions, and tomatoes. Five awesome foods that we should all be trying to incorporate more into our diets.
HOW TO MAKE:
First, you want to start by cooking your spaghetti in a saucepan with boiling water. Then in a separate large skillet/ saucepan, add-in the sliced mushrooms, onions, and 1/2 cup of veggie broth. Also add in 1/8 cup of soy sauce. Throughout this recipe, I slowly added in the veggie broth in 1/4 cup and 1/2 cup amounts. At the end, you can always decide if you need more. I find adding it in slowly allows the vegetables to absorb the flavor and also prevents the sauce from becoming too thin.
Saute the onions and mushrooms for a few minutes and then add in the garlic. Add in another 1/4 cup of veggie broth if needed.
Then after about 7 minutes or so, add in the spinach, chopped fresh tomatoes, and canned tomatoes. Add in another 1/2 cup of veggie broth and add in the rest of the soy sauce (1/8 cup). Then allow the veggies to saute together for another 10 minutes or so. Your mixture should have some liquid, but should not be super thin. When the veggie broth is almost fully absorbed, add in another 1/2 cup. Once the mixture is fully cooked and bubbling, turn down the heat.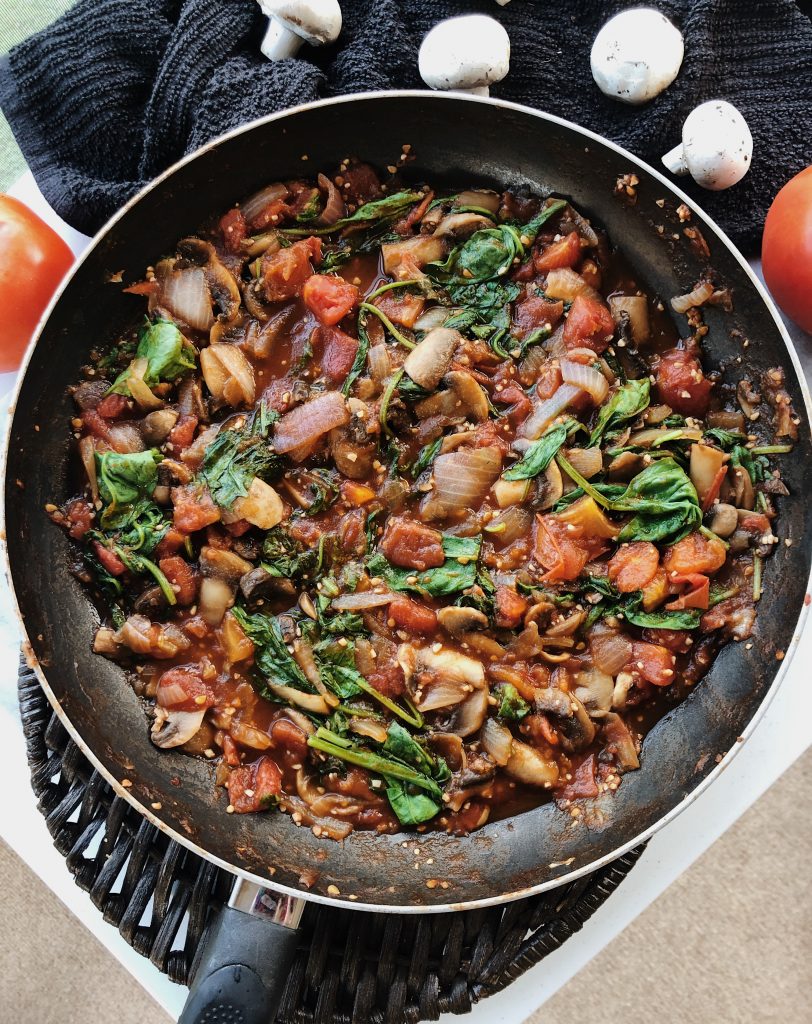 Once the spaghetti is fully cooked, spoon some into a bowl and add the sauce mixture on top. Serve and enjoy xx. The sauce should serve 4 people, depending on how large of portions you would like, you may need to make more spaghetti.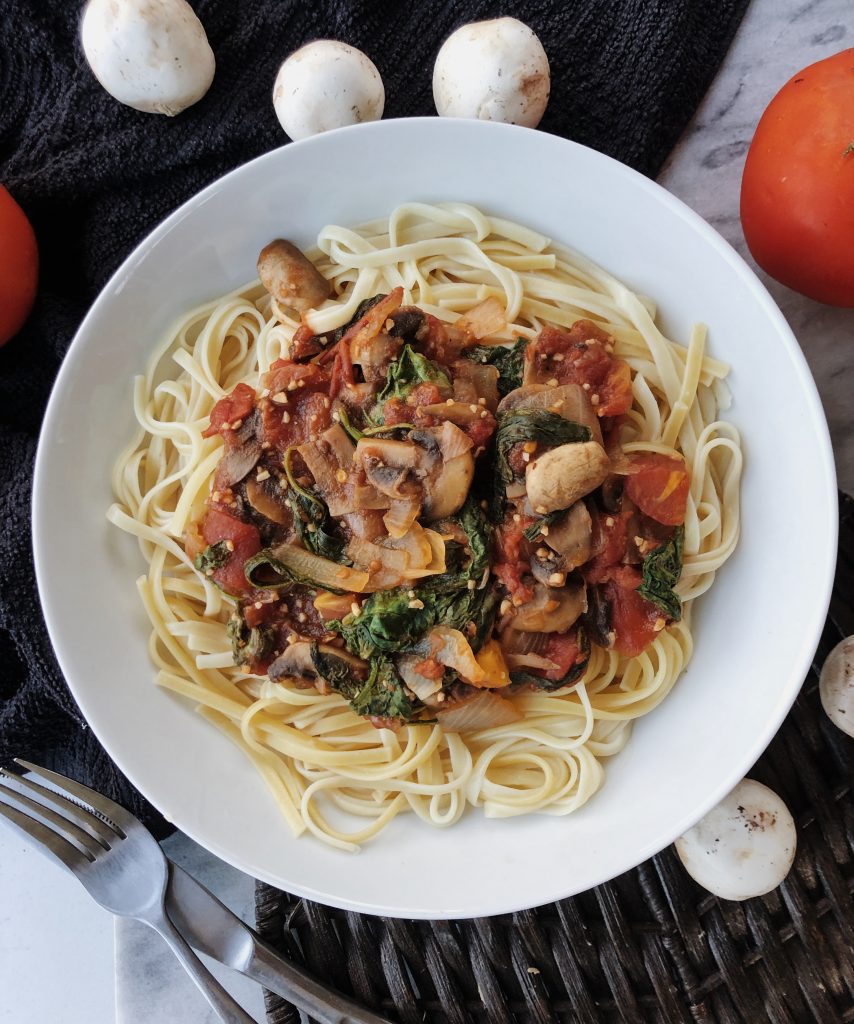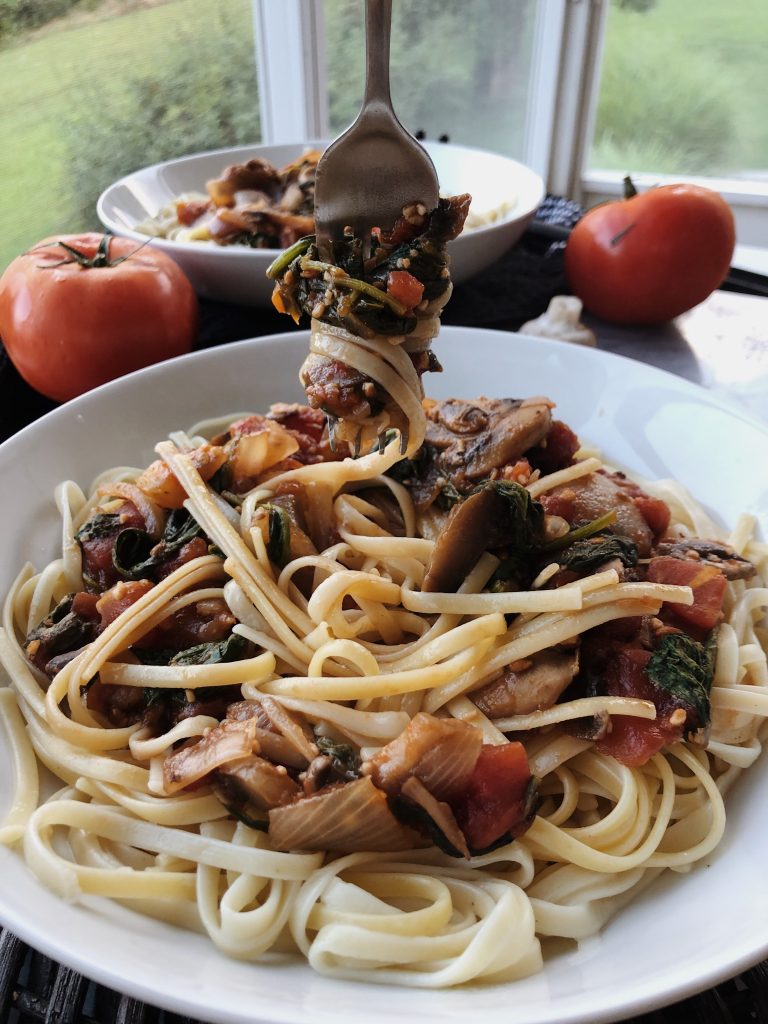 Loaded Spaghetti with Homemade Sauce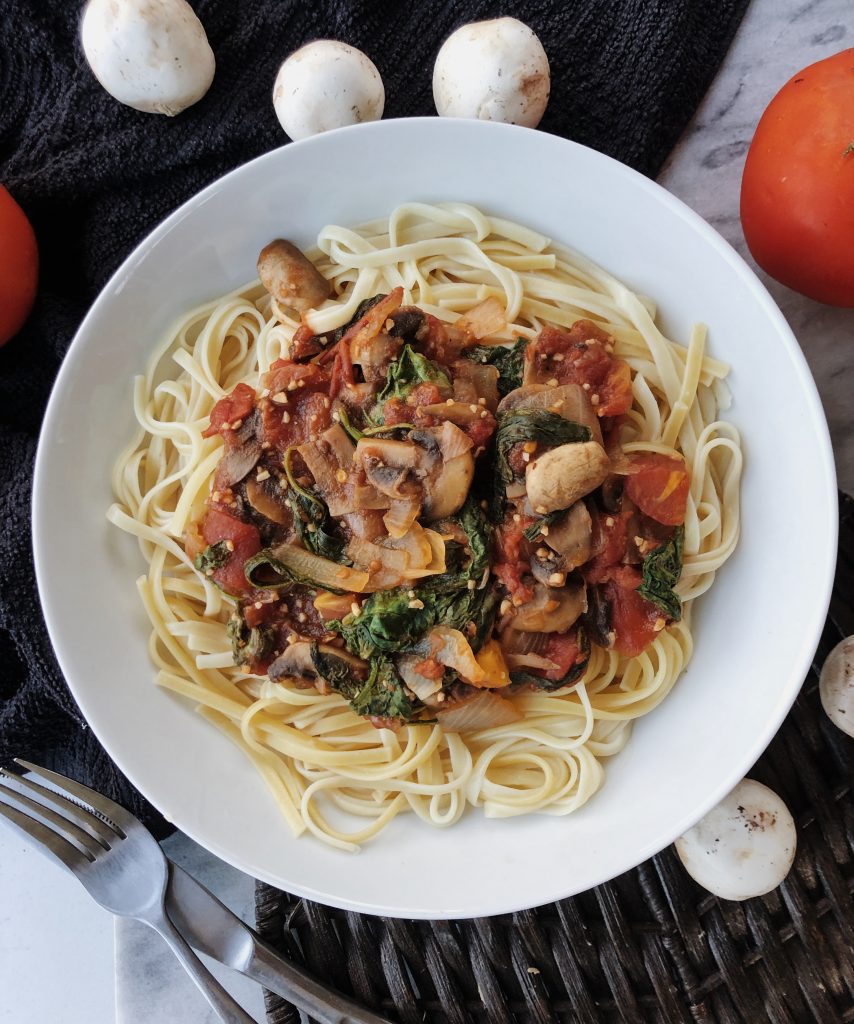 Ingredients
1 16oz package of spaghetti
2 8oz packages of mushrooms
4 cups baby spinach
2 large tomatoes
1 large white onion
1 can of diced tomatoes
2 1/2 cups veggie broth
2 tbsps minced garlic
1/4 cup soy sauce
Directions
Step 1

Pour the spaghetti into a saucepan and cook in boiling water.

Step 2

In a large skillet/ saucepan, combine the sliced mushrooms, sliced onion, garlic, 1/8 cup soy sauce, and 1/2 cup of veggie broth. Cook until the mushrooms and onions have softened. Keep adding in 1/4 cups of veggie broth at a time as the mixture absorbs the liquid.

Step 3

Add in the spinach, tomatoes, 1/8 cup of soy sauce, and another 1/2 cup of veggie broth. (if the mixture dries out while cooking, add in more veggie broth).

Step 4

Let cook together for about 10 minutes and keep adding in veggie broth as it dries out. At the end, the mixture should have some liquid, but should not be super thin.

Step 5

On a plate add some spaghetti and scoop some sauce to go over. Serve and enjoy.
Cost Breakdown of Meal:
1 16oz package of spaghetti: $1.50
2 8oz packages of mushrooms: $2.38 ($1.19 each)
Veggie Broth: $1.69 for 32oz from Aldi
Baby Spinach: $2.99 for 6oz (about 4 cups)
2 large tomatoes: $1.50
1 white onion: $0.75
1 can diced tomatoes: $0.99
Soy sauce:(Walmart, 15 oz): $1.32
Minced garlic: $1.59 for an 8oz jar