Healthy, high protein baked blueberry donuts that are the perfect way to start off your morning. Eat this for breakfast, have them as a snack, or even have them as a dessert with some banana nicecream on the side. 
I am finally putting to use the donut pan that I bought a few weeks ago, and this time I'm making a healthy donut recipe. The first time I tried making donuts, they turned out to be a complete flop. Nowww I'm trying again and they turned out the be a success. Plus they are healthy, packed with protein, and loaded with fiber. What's not great about that?
Instead of using flour, I just blended up some oats and used that as the base. Oats are great because they are low calorie, high protein, and high fiber. They will keep you full longer and provide a great base for many baking recipes. This recipe I actually use a lot for baked oats and pancakes as well, just with a few tweaks and changes here and there.
The binding agent in this recipe is the bananas, which are super important so please don't substitute them for anything! The riper they are the better because they will work better to bind the recipe but will also sweeten it up. I also added in a little maple syrup to sweeten it, but if you don't want to, then you don't have to.
Healthy Blueberry Baked Donuts
Ingredients
2 cups quick oats
1 cup soy milk
2 ripe bananas
1 tsp baking powder
½ tsp baking soda
1 tsp vanilla extract
¼ cup maple syrup
1 cup blueberries
Directions
Step 1

Preheat oven to 375

Step 2

In a blender, add in the oats, soy milk, and bananas. Blend until smooth and creamy.

Step 3

In a medium-sized bowl, combine the wet ingredients from the blender with the baking soda, baking powder, vanilla extract, maple syrup, and blueberries. Mix well.

Step 4

Spray a donut tray with non-stick oil and pour in the mixture.

Step 5

Bake for 25 to 30 minutes.
If you want to make a glaze, combine a cup of frozen blueberries, 1/2 cup dairy-free yogurt, and 3 tbsps maple syrup to a blender. Dip the donuts and serve.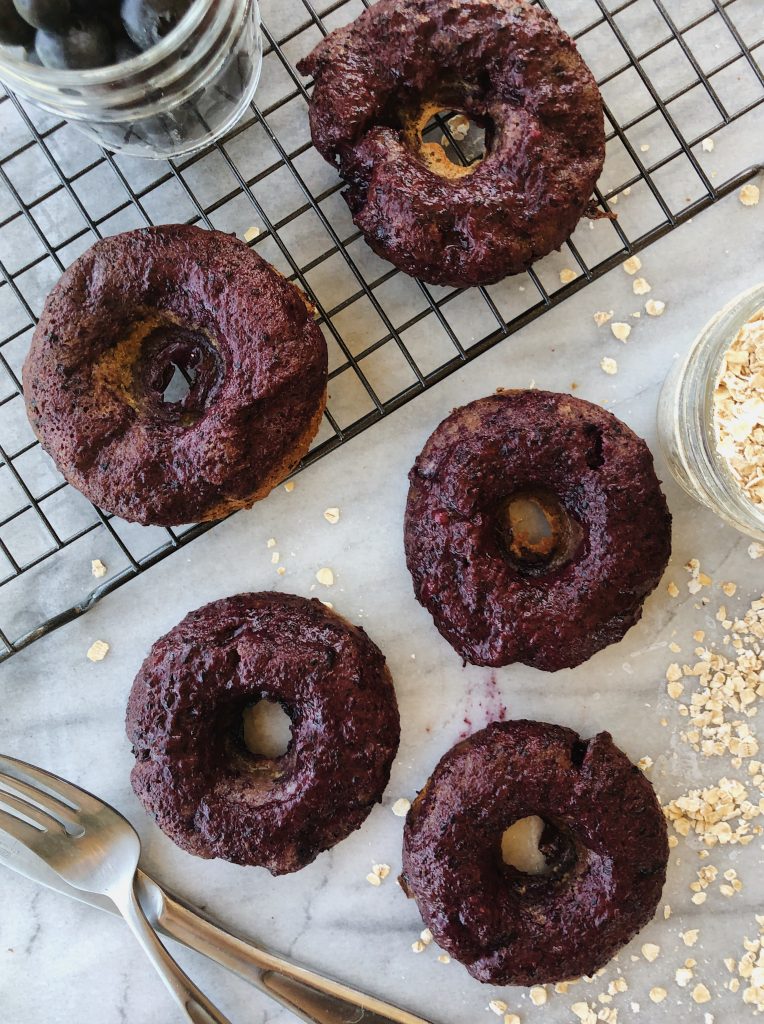 I hope you enjoy this healthy take on donuts! Such a super simple recipe and an easy thing to take with you on the go.
Cost Breakdown of Recipe:
One full container (42 oz) of quick oats: $2.50
Two bananas (at $0.44 per pound): About $0.17
One carton of Soy Milk: $2.19 from Aldi
Carton of Blueberries: $2 from Aldi
Baking powder: $0.99
Baking Soda: $0.49
Vanilla Extract: $4.19
Maple Syrup (Archer Farms brand from Target): $2.29
Total Cost of Items: $14.82
Total Cost of Meal: $10.29
Yes these donuts may seem to be a little on the pricier side, but $14 is for the full price of each item. You can make other meals with these ingredients, including oatmeal, pancakes, etc. So, the $14 gets you about two or so other meals.