Enjoy these four-ingredient strawberry crepes for breakfast or dessert. A family favorite turned completely vegan with a delicious, sweet cream sauce to go with it.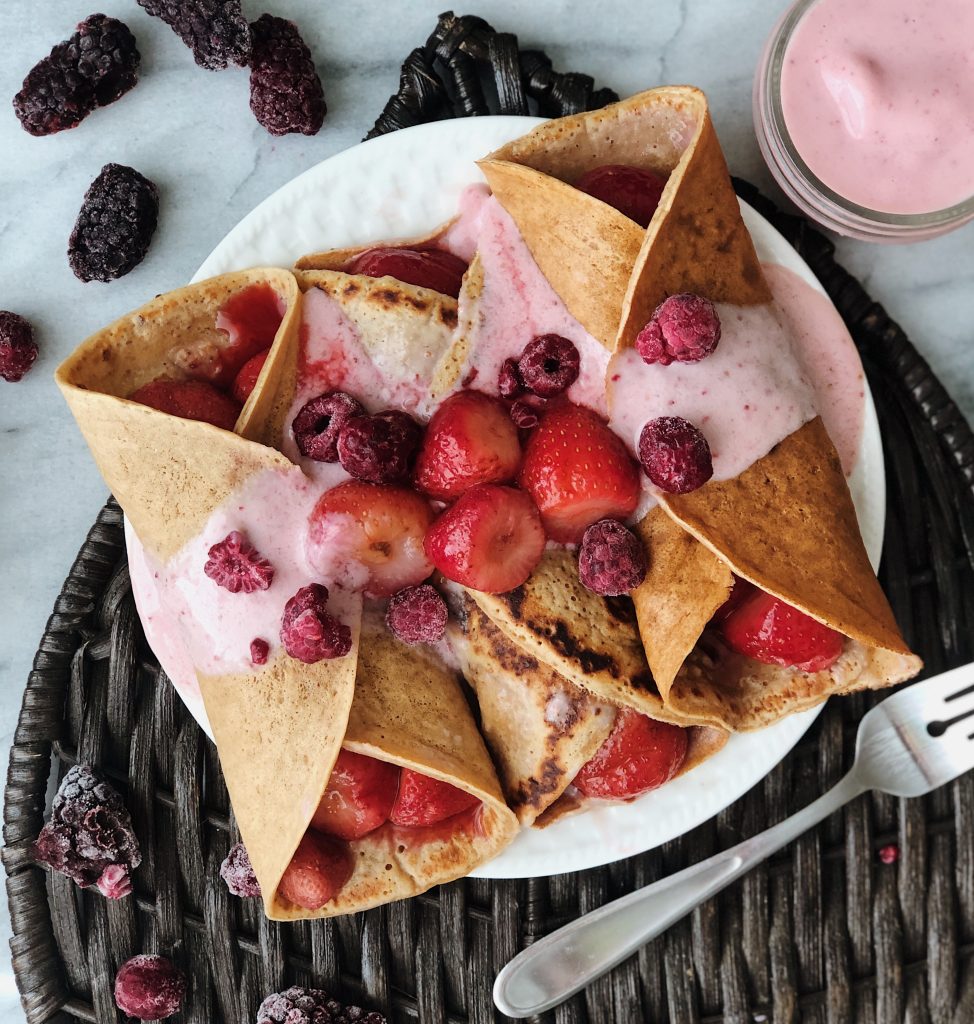 I used to eat crepes all the time as a kid. They were one of my favorite things that my mom would make us for breakfast. She would always do a three-ingredient recipe of flour, eggs, and milk. Then we would top it off with orange or lemon juice and sugar. Since it's one of my favorite foods, I, of course, had to make a vegan alternative.
This recipe, you guys, turned out so well. It pairs perfectly with any topping and tastes exactly like the ones I used to have as a kid. It even met my mom's stamp of approval.
All you need is flour, soy milk, coconut sugar, and a flax egg. I prefer to use coconut sugar because it's not as sweet but adds the perfect taste to the mix. You can also use any non-dairy milk, but I prefer to use vanilla soy milk. The vanilla slightly sweetens the batter and the soy milk makes it extra creamy. When you mix all the ingredients together, you want to make sure that the batter is more runny than thick. This is so that it's easy to scoop onto the saucepan and spread out into the thin crepe shape. If you have too thick of a batter, the crepes will end up being more like pancakes. I also recommend using a ladle to scoop the batter and spread it onto the saucepan. This is what I have found to work the best.
Vegan Strawberry-Raspberry Crepes with Cream Sauce
July 20, 2019

6 crepes

30 min
Ingredients
Crepes
1 1/2 cups all-purpose flour
1 1/2 cups vanilla soy milk (or any non-dairy milk)
3 tbsp coconut sugar
1 flax egg (1 tbsp flax seed + 3 tbsp water)
Cream Sauce
1 cup non-dairy yogurt (I used plain soy yogurt)
2 tbsp maple syrup
2 cups strawberries (fresh or frozen)
1 cup raspberries
Directions
Step 1

In a medium-sized bowl, mix all the crepe ingredients together until the mixture is smooth and runny.

Step 2

Spray a medium-sized saucepan with cooking oil and heat on medium to low heat. Using a ladle, scoop up an amount of the batter onto the saucepan and spread out into a thin, circular shape.

Step 3

Cook the crepe on both sides for about one minute or until slightly browned. Make sure not to overheat, because it will burn easily.

Step 4

For the cream sauce, combine all of the ingredients into a food processor. The mixture will be more liquidy than thick. If you want it thicker, add in more strawberries and raspberries.

Step 5

Stuff the crepes with whole strawberries and raspberries and then drizzle the sauce over the crepes or inside the crepes.

Step 6

Serve and enjoy.