Needing a change to your traditional lunch sandwich? Try out this Mediterranean pita sandwich instead! Packed with roasted eggplant, cauliflower, zucchini, and sauteed mushrooms this pita is delicious. Spread on some hummus and you've got yourself the perfect lunch.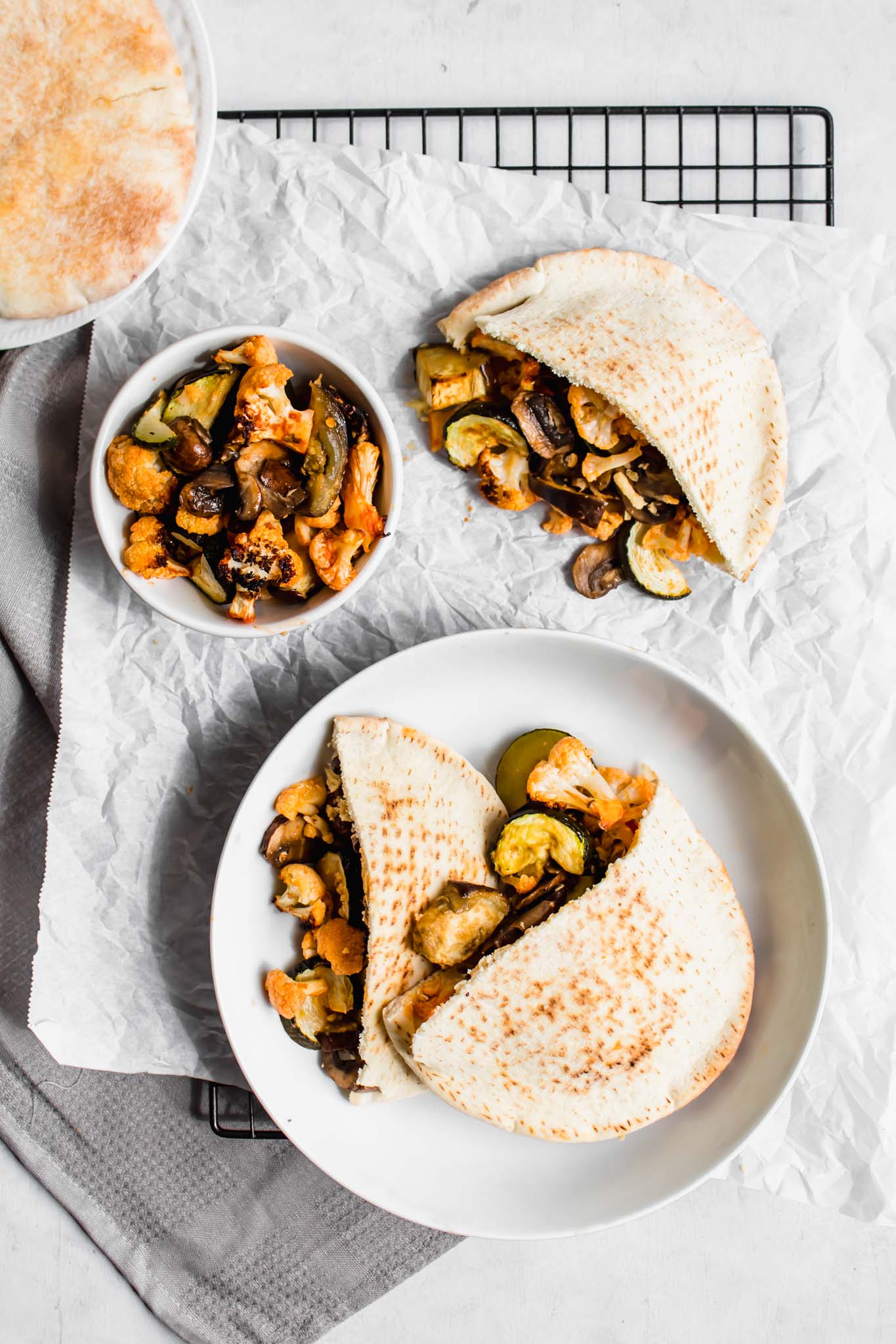 One of my all-time favorite restaurants in Columbus is this place called Brassica. It's a build-your-own pita sandwich Mediterranean place and it is absolutely delicious. They stuff a pita with hummus, eggplant, fried onions, cauliflower, falafel, other veggies, and the best sauce ever. With restaurants being closed, I have been missing some of my favorite foods, including this pita sandwich. So, I looked at what I had in my fridge and tried to make my own. Dare I say, it turned out pretty good.
How to Make:
Eggplant
Ok, I weirdly love eggplant. I know it's one of those foods that you either love or hate but I think it's absolutely delicious. But, then again, there are very few vegetables I don't like. I think eggplant tastes the best when it's on the verge of being too crispy. There are so many different ways to make eggplant, but for this pita sandwich, I chopped the eggplant into small cubes and sprayed it with olive oil. Then I broiled it for about 20-30 minutes until it was slightly crispy.
Cauliflower
I coated the cauliflower in sriracha sauce to make it a little spicy before baking it. I made a mixture of sriracha and olive oil and doused cauliflower in it. Then I broiled it with the eggplant. I think the cauliflower adds the perfect contrast of texture to the eggplant. While the eggplant is softer, the cauliflower has a little crunch and crisp to it.
Zucchini
The zucchini I cooked the same as the eggplant. I sliced it, coated it in olive oil, and broiled it. The zucchini may cook before the eggplant so watch to make sure that it doesn't burn.
Mushrooms
For the mushrooms, I sliced them and sauteed them in a little bit of olive oil in a frying pan.
Pita Bread
For this recipe, you could use any kind of pita bread that you choose. In the past, I've made these sandwiches with pita pockets that I bought from the store. This time, I bought plain pita and sliced it myself. I also toasted it a little bit too to get a better texture and flavor.
Other Ingredients to Add:
Honestly, I just added anything else in my fridge/ pantry that I could think of. I had fried onions and added those in. You could also make your own by broiling onions in with the rest of the veggies. I also added hummus too, to provide some extra flavor.
Some other things that would work really well with this recipe:
falafel
chickpeas
pickled onions
cabbage
olives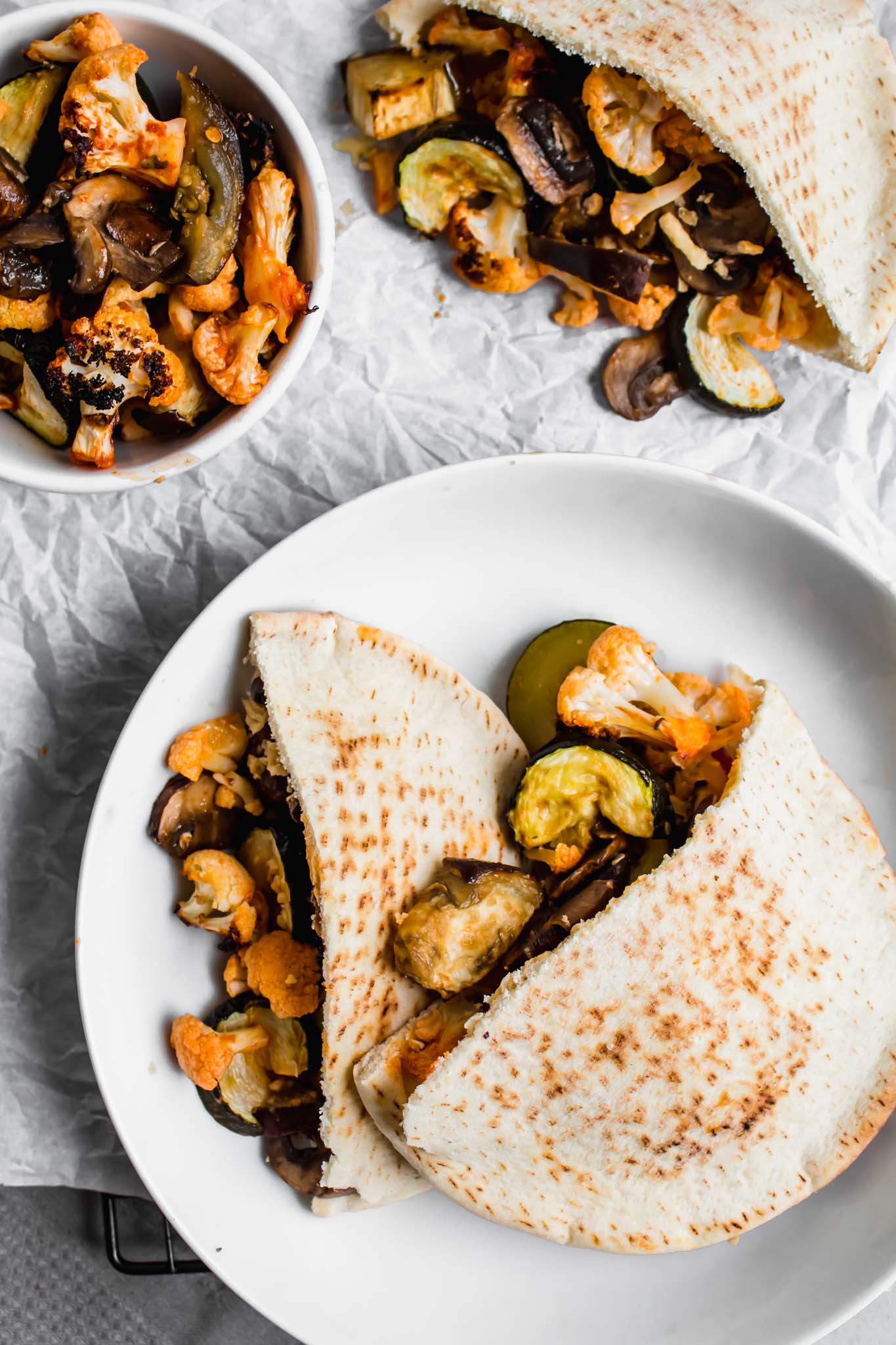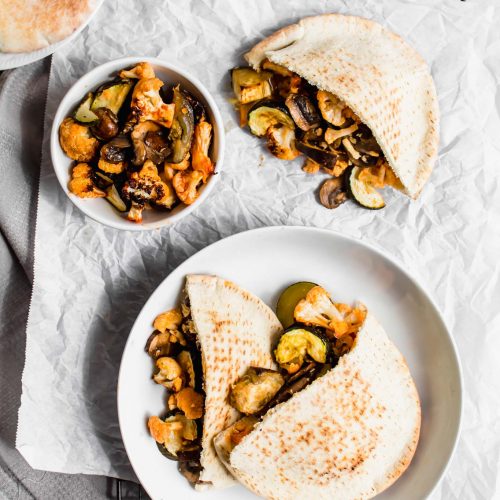 Mediterranean Pita Sandwich
Ingredients
4

slices

pita bread

1

large eggplant, cubes

1

head of cauliflower, chopped

1

large zucchini

1

8oz

container of mushrooms, sliced

1/4

cup

hummus

1/4

cup

fried/ crispy onions
Instructions
Preheat the oven to broil.

Spray the eggplant and zucchini with olive oil. Coat the cauliflower in sriracha sauce and olive oil. Place on a baking tray and broil for 20-30 minutes, until slightly brown and crispy.

In a saucepan, saute the mushrooms with a little bit of olive oil until fully cooked.

Slice the four pieces of pita bread. Slightly toast until a little crisp and brown.

Spread hummus on the inside of each pita bread. Sprinkle in the fried onions to the desired amount.

Once all the vegetables are done, add them into the sandwiches. Then serve and enjoy.